Broadband essential for rural Iowa's economy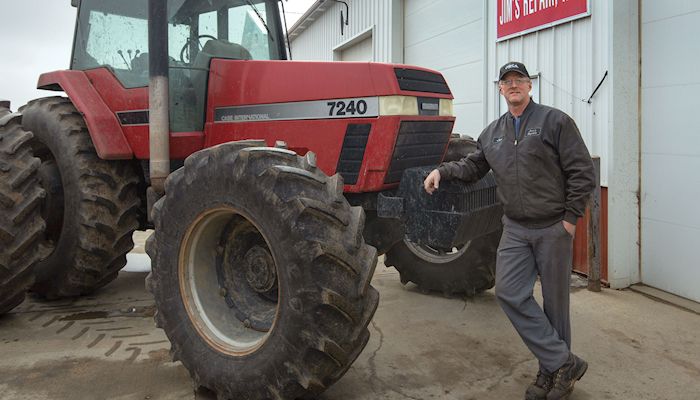 Running a repair shop without access to high-speed internet was getting to be a challenge for Jim Viet, the owner of Jim's Repair in rural Sioux County.
"Out here, there was no high-speed internet to speak of. It was always satellite based. They were always sketchy as far as dependability," said Viet. "We could be down 10 times a day, and it could be for 10 minutes or a half an hour. It was just very unreliable."
The internet outages meant costly downtime for Viet and his four service technicians, who repair trucks, farm machinery and other vehicles at the family-owned shop located on a gravel road southeast of Hawarden. The mechanics rely on the internet for everything from ordering parts to downloading software needed for vehicle diagnostics and looking up repair specs on their tablets, Viet explained.
"It's just always being used," he said. "If our internet goes down, I don't want to say we're dead in the water, but of all the mechanics you have working, one or two of them might be up to a point (where they need to look up information for repairs). If the internet's not working, we don't get it."
Jumped at the offer
Viet jumped at the opportunity when Premier Communications, an internet provider based in nearby Sioux Center, asked if he would be interested in a project to bring fiber internet with connection speeds of up to 1 gigabits per second to his doorstep.
"I said, 'The sooner, the better.' I couldn't wait to get on board," Viet recalled.
Premier began construction on the project last April after landing a $7.2 million grant from the U.S. Department of Agriculture's ReConnect Pilot Program. It was the first project in Iowa to be funded by the ReConnect program, which was established by $600 million in funding from Congress. The USDA has since awarded another $674 million for projects in the second round of funding.
Moving quickly
The company moved quickly after receiving the USDA grant, installing 422 miles of fiber optic cable to make high-speed internet service available to 868 households, 17 businesses and 27 farms in northwest Iowa and southeast South Dakota by the end of 2020.
"We were very aggressive in our construction. We had five years to build this, but we had no desire to wait five years. Our desire was to get this constructed and start serving those customers," said Premier Communications CEO Doug Boone. "As soon as the announcement was made, immediately we were getting calls from customers wondering when it would be available to them."
Premier's goal is to bridge the divide for rural customers who need high-speed internet connections to keep pace with digital advancements in business, health care and education, said Boone.
Clear need for internet
The need became even more evident as the COVID-19 pandemic forced students into re­­mote learning at home and heightened the use of telemedicine in health care settings. Before the upgrade, Boone said many customers were frustrated with lagging internet speeds of 1 to 4 megabits per second. Now, with speeds up to 1 gig available, Boone said customers have told him large file transfers that used to take hours are now accomplished in minutes.
"I can't imagine living without it. If you don't have broadband, you don't have the opportunity to really live life as you want," he said. "This really moved those customers from the old days into the future."
Grants from the USDA and other government entities help private companies like Premier make financial sense of efforts to extend fiber internet into sparsely populated rural areas, where building costs can reach $13,000 to $15,000 per customer, Boone said. The total cost of the project covered by the USDA ReConnect grant was around $13 million, he said.
Costly investment
"We want to provide the service, but there's a point when you'll never recover that (investment) without some kind of support," he said. "(The USDA grant) at least allows us to say we can rationally do this. Without a program like this, I just don't know how we would have done it."
In another project last year, Premier installed 150 miles of fiber in rural Lyon County in about two months with the help of a state grant provided through the CARES Act. When the project is completed, Boone said 100% of residents in Lyon and Sioux counties will have access to 1 gig internet service.
"We're excited about that, and we're looking for other opportunities," he said. "We're willing to invest a significant amount of our own money, but in these rural areas, there has to be some form of state or federal (support)."
Investing in Iowa
Last year, USDA Rural Development invested $35.8 million to support rural broadband expansion in Iowa through the ReConnect Pilot Program and the Telecom Infrastructure Program, ac­­cording to Grant Menke, USDA Rural Development state director for Iowa. The funding helped bring high-speed internet to more than 6,000 rural households, farms and businesses.
"The investments made by USDA Rural Development are supporting Iowa's rural communities as the agency bolsters economic opportunities and en­­hances the overall well-being for rural Iowans," said Menke.
Boone said he's hopeful that 2021 will bring continued support for rural broadband de­­ployment as state and federal lawmakers develop COVID-19 ec­­onomic recovery plans.
"I know there's a lot of challenges that the governor and our state legislature are going to have to work through when it comes to the state budget," he said. "COVID impacted things, but I really believe that there's a broad sense that action needs to be taken for these rural areas."
Want more news on this topic? Farm Bureau members may subscribe for a free email news service, featuring the farm and rural topics that interest them most!