Bringing pharmacies back to rural Iowa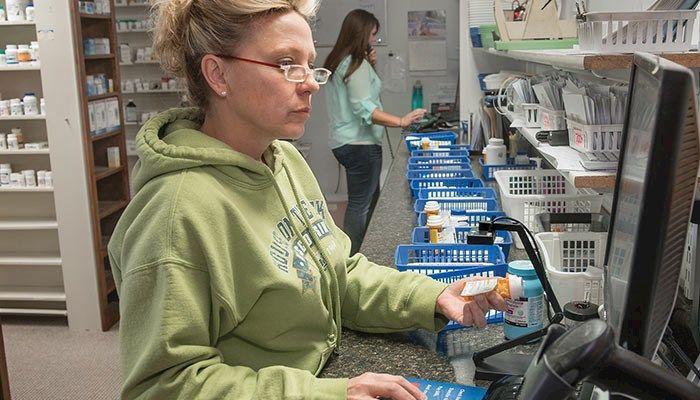 Walk into the pharmacy on Main Street in the east-central Iowa town of Brooklyn, and it looks like any other small-town pharmacy — cold and flu remedies on the shelves, birthday cards for sale and two friendly pharmacy technicians working behind the counter.

Yet what makes the Brooklyn Pharmacy unique is what's missing: the pharmacist.

An off-site pharmacist approves all the prescriptions before dis­tribution using teleconferencing technology and consults one-on-one with patients on a touchscreen if they have any questions.

The Brooklyn Pharmacy is part of a state pilot project to test a new-generation of telepharmacies in rural Iowa.

Iowa City-based company Tele­pharm helped launch the pilot project in a handful of eastern Iowa communities in 2012 to demonstrate how its software could help bring pharmacies back to rural towns.

Over the years, many rural pharmacies have closed their doors as they struggle with a declining population and competition from grocery and big-box pharmacies down the road.

Without a pharmacy in town, rural Iowans often must drive 20 miles or more just to refill a much-needed prescription.

Telepharmacies help lower the operating costs for small-town pharmacies by sharing the expense of an off-site pharmacist, while also freeing up the pharmacist's time to actually consult with patients, rather than trying to run the store, says Roby Miller, the young entrepreneur and now CEO who founded Telepharm after graduating from the University of Iowa.

"We are bringing a pharmacy to a community that needs it, creating jobs and creating a new store front," Miller says. "That's probably the coolest part. Whenever we do a grand opening, there are so many people there who thank us for doing this."

Miller's family has been in the pharmacy business in eastern Iowa for several years. However, the family was forced to close two of its traditional pharmacies, one in Wellman and the other in Solon, because the sales volume was too low.

Miller says he saw first-hand how upset the local residents were when the pharmacies closed.

Soon after, Miller learned about efforts in North Dakota to bring telepharmacies to its rural com­munities. However, many tele­pharm­acies relied on outdated equipment, such as automated pill-dispensers and software that couldn't keep up with the fast-changing technology.

So Miller, who helped out as the "tech guy" at his family's pharmacies, got the idea to develop software that allows pharmacists to connect with patients through teleconferencing, much like using Skype or Facetime.

"I didn't really know too much about the pharmacy (business) before. I was just the guy who came in if something was wrong, like if a computer was broken. So I would watch what (the pharmacists) did and how they document their workflow and how you could do this from a remote location," Miller says.

"But it was probably better that I didn't know the ins and outs. I was like: Why would you do it like that? There's got to be a better way to do it."

In 2012, Miller and his family got approval from the Iowa Pharmacy Board to open their first telepharmacy in Victor as a pilot project to test out the technology.

Since then, Telepharm has helped open pharmacies in Zearing, West Liberty, Brooklyn and State Center as part of the pilot project.

Under the Telepharm model, an on-site pharmacy technician takes the patient's prescription, counts the pills and fills the bottle. Then the pharmacy tech takes photos of the actual prescription, the prescription label, and the number and type of the pills inside the bottle.

Those photos are electronically sent to the off-site pharmacist. The pharmacist confirms that the dosage is correct and gives the technician permission to dispense the drug.

If patients have questions about their prescriptions, they can tele­conference with the pharmacist on a touchscreen next to the cash register when they are paying for their prescription.

Mindy Icenbice, a pharmacy tech­nician at the Brooklyn Pharmacy, says customers have caught on to the technology quickly. And the pharmacist, who is located at Reliant Long Term Care pharmacy in Washington, Iowa, is always "just a phone call away" if the patient or pharmacy tech has any questions.

Icenbice says the Brooklyn Pharmacy fills about 60 to 80 prescriptions a day and brings in customers from surrounding communities as well.

"When the (nearby) Montezuma pharmacy closed, it was quite a shock to have a small-town pharmacy there for years and then all the sudden, you have to drive elsewhere. So it's been convenient for folks here to just come down," Icenbice says.

Because Telepharm is the first software company of its kind in the nation, demand for its services has stretched beyond Iowa's borders. Telepharm is now operating in nine states, including Montana, Texas, Wyoming and the Dakotas and 121 telepharmacy locations.

However, Miller says one of the challenges for his company is that each state has its own regulations on how a pharmacy can operate.

The Iowa Pharmacy Board has approved Telepharm to run a pilot project in select communities, but the company is now seeking a change in state law to open more new-generation telepharmacies in Iowa. Currently, Iowa law only allows telepharmacies to use automated pill dispensers.

Sioux Rapids in northwest Iowa is one of several communities trying to bring a telepharmacy to their Main Street. The town has been without a pharmacy since its long-time pharmacist retired about 20 years ago, explains Sioux Rapids City Clerk Heather Baier.

Sioux Rapids once had a tele­pharmacy, with an automated pill dispenser, at the town's medical center. However, the machine couldn't keep up with the software updates, so the telepharmacy pro­ject was eventually scrapped, Baier says.

Currently, Sioux Rapids residents must drive 20 miles to either Storm Lake or Spencer for their medications, Baier says.

"Unfortunately, it's probably hurt specifically the older generation, because they don't want to drive unless they have to," Baier says.

"And not only that, but even for young people like me, with kids and their activities, sometimes if I have to drive 20 miles just for (medication), it's kind of a hardship. Or even just to get refills, like last week, that's all I had to do was go to Storm Lake to get a refill. That's kind of a waste of gas. But I had to have it."

Telepharm has also opened nine pharm­acies in neighboring Illinois, where the state law allows the telepharmacies to operate.

Communities that want to open a Telepharm location must raise $50,000 to help establish the pharmacy, Miller explains. In return, Telepharm will donate 25 percent of the profits back to the community.

"Then they have skin in the game too to keep that pharmacy open, because these telepharmacies aren't always the most profitable thing," Miller says. "We aren't really doing it for the profit. We just want to provide more services there.

"Last month, we had 46,000 consults that went through our system. You talk about what kind of positive impact we can make with that, because we create a connection between the patient and the pharmacist. So it's kind of cool to think that the bigger we grow, the bigger the impact we can make," he adds.

Want more news on this topic? Farm Bureau members may subscribe for a free email news service, featuring the farm and rural topics that interest them most!