Bringing help to flooded SW Iowa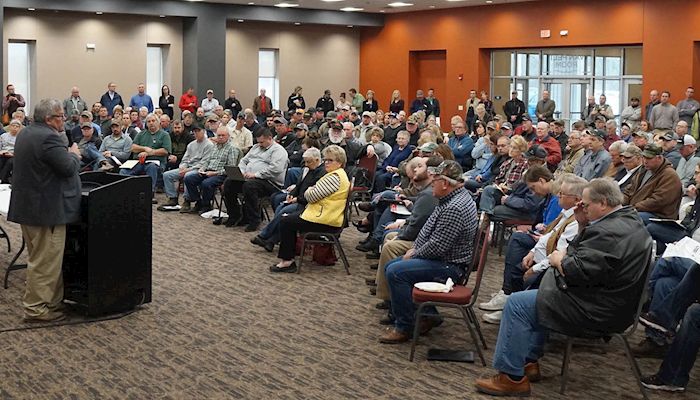 The Iowa Farm Bureau Federation (IFBF), along with lawmakers, state and federal agricultural officials and others, last week continued efforts to aid farmers in western Iowa still struggling to recover from catastrophic flooding.
IFBF announced it is donating $35,000 for flood relief efforts to help manage the immediate needs of Missouri River flood victims. The don­­ation includes $20,000 to the Red Cross and $15,000 to the Nebraska Farm Bureau Disaster Fund.
"Farmers are known for coming together in times of crisis, and the flooding going on in southwest Iowa and for our neighbors to the west is no exception," said Craig Hill, a Warren County farmer and IFBF president. "Our members are proud to do what we can and show our community, neighbors and friends that we are there for them, in every way."
In addition to funds to help emergency responders get the materials and assistance they need, IFBF is also coordinating flood recovery information at IowaFarmBureau.com/Floods. The site highlights farmer resources for guidance on managing flooded grain, livestock information, safety information for homeowners, tips for keeping food and water safe during a flood, information on filing claims for insurance, links to help flood victims find stress relief during this time of crisis and more.
Iowa Gov. Kim Reynolds estimated the preliminary damages in the state from 2019 flooding, thus far, at $1.6 billion. That includes $214 million in damages to agriculture; $350 million to repair U.S. Army Corps of Engineers levees and $175 million to repair non-federal agriculture levees;
An IFBF analysis showed that there were more than 99,000 acres of cropland flooded in Fremont, Mills and Pottawattamie counties alone. "With the flooding extending to other parts of the state, the impacted acres are well above 100,000," said Sam Funk, IFBF director of agricultural analytics and senior economist.
In addition, ethanol plants which create a large demand for Iowa's corn crops have been severely impacted by damage to railroads and highways, the IFBF analysis showed.
The federal government has a range of programs that can help crop and livestock farmers in Iowa and other states affected by the flooding, said Bill Northey, U.S. Department of Agriculture (USDA) undersecretary of Farm Production and Conservation. Farmers will be able to access emergency conservation programs and others to help offset the cost of flood recovery, he said last week after touring flood areas in southwest Iowa with Iowa Agriculture Secretary Mike Naig.
However, Northey cautioned, the USDA programs will help, but they won't make these farmers whole from the severe flood losses. "There is just a lot of big losses out there for farmers and the government programs will only pay a cost share to help cover them."
In addition, Northey said, the flooding has hit as farmers are struggling with low commodity prices and weaker balance sheets. "We know these are tough economic times and farmers don't have the assets to fall back on like they might have had in 2011 or other years with flooding."
Northey and Naig, along with Iowa Sen. Charles Grassley and other officials, held a townhall meeting in Malvern late last week to address questions of farmers and rural residents hit by flooding. Hill and several local Farm Bureau leaders also attended the meeting. President Donald Trump, acting on a request from Iowa Gov. Kim Reynolds, issued a disaster declaration on March 23 for the majority of counties in Iowa because of the flooding. Earlier Trump issued a similar disaster declaration for larger parts of Nebraska that were also hit hard by flooding.
Reynolds said the emergency declaration "will be instrumental to Iowa's recovery. The road to recovery will be long, but it's clear that Iowans will have the resources we need to rebuild."
While programs from the USDA and other agencies will help, there are gaps, especially in helping farmers whose stored grain was destroyed in the flooding, Naig said.
"We will be working with our Congressional delegation and Gov. Reynolds to make sure that we identify the gaps and see what we can do through the Congressional effort," he said.
The U.S. Senate last week amended legislation to include flood recovery in a $13.45 billion measure to provide supplemental funding for states and territories impacted by a range of disasters over the past two years. That legislation is currently being considered by the Senate.
Grassley and Iowa Sen. Joni Ernst both spoke on the Senate floor this week about the devastation the flooding has caused in Iowa and the need for federal assistance.
"In my years as a member of the Iowa National Guard, I was on the front lines of several major floods—including the 2008 Cedar Rapids flood and the 2011 Missouri River flood," Ernst said in her remarks. "I can tell you that the flooding and destruction I witnessed last week was as bad as I've ever seen. It will take a lot of hard work and determination to get our communities back on their feet, but Iowans are resilient people and I know they are up to the task," she said.
Northey, formerly Iowa Agriculture Secretary, said a lot of the damage from the flooding will not be clear until the water recedes. "You see a lot of damage now, but in my experience, it's even worse when the water goes back down and you see all the trees, holes and piles of sand that you have to deal with," Northey said. "You know that some of that land will never be back to what it was because of the erosion and other damage. That to me is often more sobering than just looking at the water."
While the focus now is on high water in southwest Iowa, Naig cautioned that other areas of the state are still vulnerable to flooding.
"It's a very dynamic situation this spring," Naig said. "You are talking about record snowpack in Minnesota and the Dakotas that has to move this way. So we need people all across the state to be vigilant."
Want more news on this topic? Farm Bureau members may subscribe for a free email news service, featuring the farm and rural topics that interest them most!