Bringing broadband to the country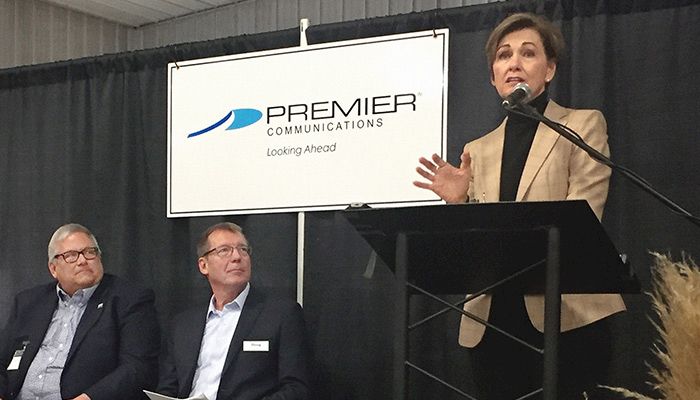 A $7.2 million U.S. Department of Agriculture (USDA) grant is boosting high-speed internet service for farmers, businesses and residents in western Sioux and Plymouth counties.
Premier Communications will use the ReConnect Program grant to deploy a state-of-the-art fiber optic network capable of upload and download transmission rates of 1 gigabit per second across a 519-square-mile project area serving more than 2,000 residents.
"We all know how important having access to data and communication is," said USDA Under Secretary Bill Northey, who an­nounced the grant at Charlie Van Driessen's farm near Hawarden. "There was a time it was looked at as a luxury. We know it's essential now because of the equipment we have and the advances that are coming."
High-speed internet connectivity is vital to ensuring rural Iowans are positioned to thrive in the information economy, said Iowa Gov. Kim Reynolds.
"You ought to be able to start a business no matter where you live," she said. "We used to think of infrastructure as roads, bridges, brick and mortar. Now it's broadband fiber optics and speed, too."
Spotty service
Van Driessen said he uses internet and bluetooth technology to collect and transfer data from his planter and combine as well as to track the feed intake of his livestock. Like most farmers in the area, he currently relies on a satellite internet connection that is unreliable at times.
"There's a lot of areas that do not have good service at all. It just depends where the hills are in this rolling hill area," said Van Driessen, who raises hogs, cattle and row crops. "We have a decent line of sight (at his home farm) so it's OK, but you can go a mile down the road and they don't have service. My son-in-law and daughter live only six miles from here, and they use a hotspot on their phones. That's the only way they have any service."
Premier Communications will invest an additional $2.4 million in the project, which will deploy 370 miles of fiber optic cable to connect 868 households, 17 businesses and 27 farms in northwest Iowa and southeast South Dakota. Premier Communications CEO Doug Boone said the company is aiming to complete construction and start connecting customers by late next year.
The project is the first in Iowa to be funded by USDA's ReConnect Pilot Program, which was established by $600 million in funding from Congress.
Funding requests far outweigh­ed the money available under the program as the USDA received 146 applications requesting $1.4 billion to expand broadband in­­fra­structure and services in rural America, Northey noted.
Iowans will also be served by a $41.6 million combination grant/loan received by Grand River Mutual Networks of Princeton, Missouri, to bring fiber-optic con­­nectivity to more than 2,200 households in northern Missouri and southern Iowa.
Building out networks
Northey said the pilot projects will provide an opportunity to learn the best ways to build out internet networks in rural areas and prove their value in order to stimulate more funding in the future.
"I think we create some momentum that will (encourage) Congress to say $600 million went a long way, and we need to put some more dollars into that," he said. "We know there's a lot of interest beyond those receiving these grants and loans. I think it's important that we encourage Congress that this is an important investment of resources into something that matters to folks on the ground."
Want more news on this topic? Farm Bureau members may subscribe for a free email news service, featuring the farm and rural topics that interest them most!