Bringing back the bees and butterflies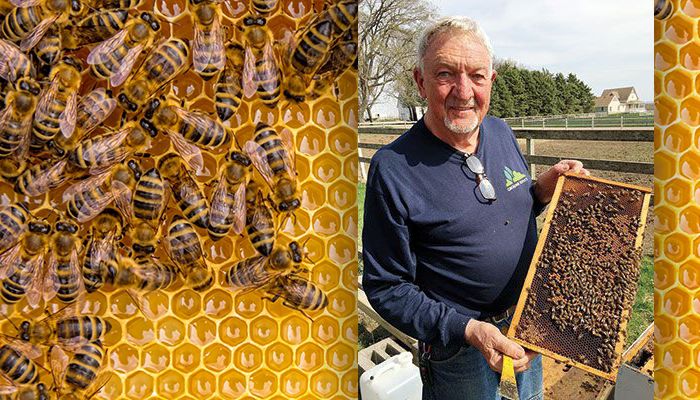 If you were a honeybee in Sioux County, you'd likely realize you're in somewhat of a pollinator habitat desert, and perhaps search for someplace else to call home.
That's how Ron Rynders explains it…the absence of native flowers that make the region viable for bees, butterflies and other insects. 
"Definitely not much here," said Rynders, who hopes to improve upon that by spearheading a pilot project that will bring back native flowers to the region as increased habitat for pollinators.
Rynders calls it responsible stewardship, and the effort is gaining traction in his region on multiple fronts — from the county conservation department and county engineer to Pheasants Forever, the Sportsman's Club, the Iowa Department of Agriculture and Land Stewardship, and Rynders' own Siouxland Beekeepers Club.
They're on board, with local farmer support, to plant native flowers as pollinator habitat when possible. The first seeds are expected to be in the ground this fall.
"These pollinators need to be protected and that's my passion," Rynders said.
Long-time beekeeper
Rynders has been a beekeeper for roughly 30 years and currently manages eight hives in Sioux County. He's seen, over the years, what effect a lack of pollinator forage can have on traditional pollinators, such as monarch butterflies or honeybees.
Monarchs all but disappeared once the milkweeds disappeared from waterways and roadside ditches, but replanting of the milkweeds in recent years brought them back.
"No one noticed until they were gone," Rynders said.
Rynders was appointed to the Sioux County Farm Bureau board of directors recently and immediately was encouraged to represent that aspect of farming that rarely gets talked about, "and that is pollinators.
"We have become absolute champions of using the wonderful black soil to plant corn and beans. The roadsides and waterways are planted with grass. These aren't really for the honeybees."
As pollinator forage has declined over the decades, so have the pollinators, Rynders said, and in turn, the birds who rely on them for food. "It's all of a piece," he said.
Pollinators include everything from bees and butterflies to wasps, bats and beetles. "Basically, anything that flies," Rynders said. "The word pollinator stands for an awfully lot of insect life."
Native seeding
Pollinator habitat includes anything that blooms, he explained.
At a meeting of the Siouxland Beekeepers Club last year, Rynders suggested sponsoring a program to increase the amount of pollinator habitat on the roadsides in Sioux County. 
The proposal led to conversations with area conservation individuals and groups and eventually the county, which pledged to plant native flowers in project areas once those projects are completed.
County engineer Joel Sikkema said the working group has developed a roadside vegetation pilot program plan, and his office identified locations where ditch grading work is under way.
"During the summer, our maintenance crews plan to perform ditch grading work at a number of locations along gravel and dirt roads in the southwest part of the county," Sikkema said. "The conservation board plans to seed these areas afterwards, if permission is received from the landowner."
He said the county is happy to facilitate the work and be part of the pilot project.
Sioux County Conservation Director Rob Klocke said the conservation department has the equipment and services available to custom seed when applicable.
"We have done several pollinator (plots) the last several years on private and public property," Klocke said, "one being a school. They all look good."
The pilot program is voluntary and will focus on areas people are willing to have seeded, he said. He called it a good beginning for Sioux County. For farmers, "it's good for their crops and food for the ecosystem," he said.
Environmentally-friendly
Partnership with local farmers is also key, said Rynders. Farmers own the land up to the middle of the roadway, and many bale the roadside ditches and use the grasses for their livestock. He sees that as very important.
In other areas, however, the banks are steep and difficult to access. "These are the ones we're going to target," for seeding, he said. "All of this is based on getting the farmers to agree."
"We want this to eventually be self-sustaining," Rynders said. "It will not only provide pollinator habitat, but habitat for pheasants, foxes, wildlife in general."
Colton Meyer, environmental specialist with Iowa Department of Agriculture and Land Stewardship, has assisted the group with education and discussion topics.
"Much of our local soil's fertility, which has allowed us to prosper for generations, can be attributed to the organic matter from native tall grass prairies," Meyer said.  "Bringing that type of habitat back to Sioux County is a great way to visualize and appreciate what the first settlers would have seen, while also helping insects that play a vital role in our nation's food chain."
Rynders encourages everyone to be their own version of a beekeeper, farmers and homeowners alike. Consider planting daisies in the back yard, he said.
"All of us can become more mindful of the environment of which we live," he said.
Want more news on this topic? Farm Bureau members may subscribe for a free email news service, featuring the farm and rural topics that interest them most!