Blazing a trail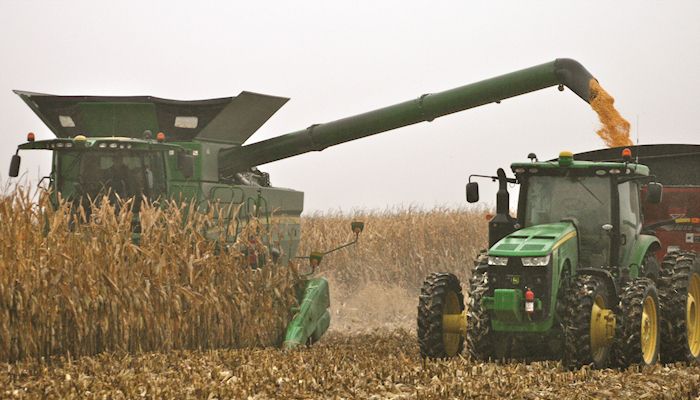 Self-driving tractors can help farmers be more efficient by solving labor challenges during the busiest times of the year, says Smart Ag CEO and founder Colin Hurd.
Until now, farmers have gained labor efficiency by running bigger and faster equipment. But that approach comes with compromises, such as soil compaction resulting from heavier equipment, Hurd notes.
"As an industry, we're compromising a lot to gain efficiency in labor," he says. "We've kind of been doing the same thing since the tractor was invented, just bigger and faster. Is there a limit to how big and fast machinery can get? I think there is."
Hurd realized the far-reaching impacts of farm labor challenges during extensive conversations with farmers while developing a previous invention that reduces compaction.
"They all said, 'Harvest is our busiest time. We never have enough labor,'" he recalls. "It really highlighted to me how big of an issue labor is on the farm. The labor pool is increasingly getting smaller."
Two years ago, he set out to solve those critical labor shortages by developing a self-driving grain cart.
Smart Ag's AutoCart, officially launched this year as the first cloud-based platform for driverless tractors, fully automates a grain cart tractor. It allows a combine operator to summon the grain cart on demand and return it to a staging location without a driver on board.
The company successfully ran AutoCart on a couple farms last fall and is launching the product with limited availability for the 2018 harvest.
"This isn't about getting rid of your grain cart operator," Hurd emphasizes. "It's about having a grain cart available when you don't have one."
Using existing equipment
Unlike autonomous solutions being developed by equipment manufacturers, Smart Ag's technology lets farmers automate their existing equipment instead of investing in expensive new iron, Hurd notes. Its initial offerings are compatible with John Deere 8R series tractors, but Smart Ag is developing systems for other tractor brands based on customer demand.
Hurd reports that an Arizona farmer will be running AutoCart during the upcoming barley harvest, and a custom wheat harvester will be using AutoCart for this year's wheat run starting in Texas and moving north.
"Everything is ready," says Hurd. "We're hoping to have a pretty significant number of farmers run it in the fall."
Smart Ag received positive feedback following a comprehensive beta test of AutoCart on Midwest farms during the 2017 corn and soybean harvest. One of those test sites was Kyle Mehmen's fifth-generation MBS Family Farms near Plainfield.
"The AutoCart system performed extremely well for us during our corn harvest, and I fully expect it to be a game changer for agriculture," Mehmen said. "These are the kind of technologies that we're going to adopt on our farm one way or the other. It's simply a matter of when and which ones."
The on-farm tests helped refine the AutoCart system by overcoming real-world challenges, such as unreliable cell phone or satellite signals, Hurd notes.
That led to a unique connectivity approach that doesn't depend on cell service or an internet connection. The system also has integrated safety features, including the ability to detect unexpected obstacles in the field, to prevent mishaps.
"We learned on the farm. We didn't develop this in the lab," says Hurd. "Farmers are very good at taking something and giving you feedback on how improve it."
Useful for any farmer
He says the technology could be useful for any farmer scrambling to find tractor operators at harvest. The complete Smart Ag AutoCart kit costs $30,000, plus an annual $2,500 software fee. "It's geared for the farmer that's short-handed. It doesn't really matter what size of operation," he says.
Smart Ag is planning to demonstrate AutoCart at field days this summer near its Ames headquarters as well as at the Farm Progress Show. Updates regarding the demos will be posted on the company's website (www.smart-ag.com) and social media channels. Farmers can also sign up for a mailing list to get the latest information on new technology advances.
In the future, Hurd says the self-driving tractor technology could be applied to planting, spraying or tillage operations.
"Our goal is to help farmers do more with less help and allow them to do it in a way that is sustainable," he says. "Always counting on bigger, faster equipment is not sustainable."
Want more news on this topic? Farm Bureau members may subscribe for a free email news service, featuring the farm and rural topics that interest them most!