Between the Lines: A day in the life of an Iowa farm dog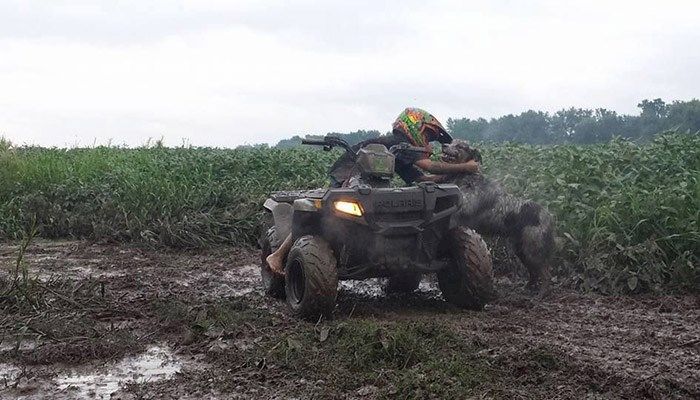 His name was Grouch. He was a German Shepherd dog; black, broad, and taller than most, with a white blaze on his chest. My dad always claimed Grouch was 'part wolf,' mostly because it kept salesmen within earshot off our farm. Even as Grouch's black muzzle was graying with age, he was a fearless herder of livestock, protector of barn cats and tractor-riding companion on our Century Farm. He was always there to greet us when the school bus brought us home, his daily exploits visible on his matted fur.
Memories came flooding back this week, as my husband stumbled across the live broadcast of the 140th annual Westminster Kennel Club Dog Show. I found myself watching, rooting for Rumor, the German Shepherd, even though he looked nothing like 'Grouch.'
I was also rooting for the handlers and the announcers, who happily reminded people of the 'true purpose' of each breed. I love how the New York Times captured Westminster color commentator David Frei's descriptions: The beagle is "a nose with four feet attached." The Shiba Inu is "smart in an evil sort of way — don't send me cards and letters." Otterhounds "look like they're always 20 minutes late." And CJ, the German Shorthaired Pointer who won it all this year? "They are 'bred to be a high performance hunting dog," as the breed standard clearly indicates: http://www.westminsterkennelclub.org/breedinformation/sporting/germshor.html.
I am reminded of the true purpose of our dogs, as I gaze down at my own less-than-perfect specimens: "Spot", our Japanese Chin, is twice the size the breed should be, and snores through the night and is the favored 'snuggle spot' for our cats; "Gabe" our rescue Chihuahua, warmly snuggles against my leg but always springs to action, moments before someone rings our doorbell. They are 'toy' breeds, doing what they're born to do; to be our companion. Job well done!
It's the same with Iowa farmers and their farm dogs. Are their dogs 'Westminster worthy?' I wouldn't even dream of asking them that, because these farmers are more proud of their dogs for the things they do, not the way they look! Sound familiar?
Tucker, the beloved Australian Shepherd for the Fishback family of Washington County, waits at the end of the lane for the kids to get off the bus. He chases their son, 11-year-old Clay, around the farm no matter where he goes or what he does. Rachel Fishback says at the end of the day, it's hard to tell who had more fun mudding through their fields and pastures.
Same goes for Zach, the Hinnah family's beloved black lab, who doubles as an active playmate when the grandchildren visit.
Blaze, the Dammann family's beloved Border Collie, keeps a watchful eye for wandering cattle or predators at their Page County farm, but never tires of corralling their two young children. Jennifer Dammann marvels at her dog's talents in keeping clean: "She can be mud head to toe in an evening and by next morning perfectly clean."
Yes, the Iowa farm dog always has a job to do; one that blissfully is never done. Just like the families they serve to please, they are happiest when allowed to do what they know best. Farm dogs, just like the farms they call home, are diverse and proud. We love them despite their muddy paws, digging of flower beds, or ill-fated chasing of skunks. In fact, if you ever want to see a grown man cry, ask him about his early memories of his favorite farm dog; it turns out, we all have a 'Grouch' we'll never forget.