Beefing up demand for beef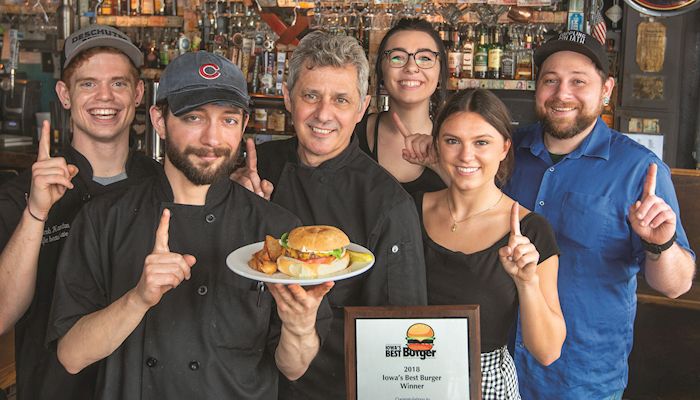 Iowa's cattle raisers are beefing up their efforts to promote beef demand, not just during May Beef Month, but throughout the year.
Brooke German, director of marketing for the Iowa Beef Industry Council (IBIC) says the council's popular best burger contest is just the start.
Cattle raisers are building their online presence. They are working with nutrition experts to showcase beef's nutritional benefits. And they are investing promotion dollars in high population states, where there are lots of people and not many cattle.
In this year's best burger contest, sponsored by the IBIC and the Iowa Cattleman's Association, judges found that Café Beaudelaire in Ames topped the competition.
The contest began with consumers nominating their favorite restaurant to be crowned winner of the best burger. For a month, burger lovers went online and voted for their favorite Iowa burger, submitting nearly 10,000 votes representing around 700 restaurants, according to German. At the end of the nomination period, the 10 restaurants with the most votes were declared the "Top 10."
From there, anonymous judges visited each of the restaurants, focusing on the burger patties and scoring them based on taste, doneness and presentation. This year's winner, announced last week, was Café Beaudelaire, in Ames.
German says restaurants who make the Top 10 in the contest typically see an uptick in restaurant traffic. That means more beef sales, she says.
"For those restaurants named in the Top 10, it's very common for them to double the numbers of burgers they serve each week," she said.
Being where consumers are
They've found that digital marketing and presence through social media is a place where they can focus their efforts, German said.
"Consumers are going online to find information. If we're not there, someone else is. It's so important to be in front and engaging with consumers," she said.
German said consumers are interested not only in their food, but how their food is raised. Videos introducing Iowa cattle farmers posted to the IBIC website help to clear up any misinformation and put a face to cattle farming, she said.
"Consumers want to know where beef comes from. They are making food decisions and purchasing decisions based on how they're (cattle) raised," she said.
Research shows consumers trust dietitians and health professionals. So the Iowa State Beef Checkoff, in collaboration with the National Beef Checkoff, hosted a workshop for dietetic interns and students at Iowa universities. The workshop provided the students with science-based information about beef nutrition and health benefits. The IBIC continues to reach out to medical professionals with science-based information about the benefits of including beef in the diet, German said.
Nutrition information doesn't stop there. Along with farmer videos comes recipes and cooking information to help build confidence among home cooks.
May kicks off summer grilling season, a prime time for grilling beef, German said. The IBIC will continue throughout May Beef Month and the summer to share grilling tips and recipes, as well as promoting food safety.
On the coasts
The IBIC has invested money to tap into states like California and New York, where there's a low cattle population and high human population. The efforts piggyback on the National Cattlemen's Beef Association, a contractor to the Beef Checkoff, which is investing in advertising through Google and YouTube. The IBIC has invested in advertising through Pandora Music. The summer advertising will last through Labor Day weekend, she said.
Soon there will be billboards across the state located in high-traffic areas including near point-of-sale locations like grocery stores.
"As consumers are traveling through the state, we want to keep beef top of mind, and ultimately at the meat counter, make beef the protein of choice," she said.
On May 7, the IBIC unveiled a semi-trailer wrap, a partnership with Fareway Stores Inc., to celebrate May Beef Month and their support of the beef industry.
Domestic demand crucial
Steve Rehder, a cattle farmer and chairman of the Iowa Beef Industry Council, says building domestic demand is important for the industry, especially during a time when more beef is expected to hit the market.
"We're right where we need to be and utilizing the dollars the best we can," says Rehder, who feeds cattle with his son near Hawarden.
He especially thinks the efforts reaching out to consumers outside of the state and country are important. "Most everybody carries a smartphone, so being online, advertising through digital marketing, makes a lot of sense. If we aren't there, they won't know anything about us," he said.
Rehder says the IBIC will continue to research and promote the Iowa beef industry on behalf of the cattle farmers in the state.
"We are out there and working hard," he said.
Want more news on this topic? Farm Bureau members may subscribe for a free email news service, featuring the farm and rural topics that interest them most!