Aspiring chefs season their way to top culinary prize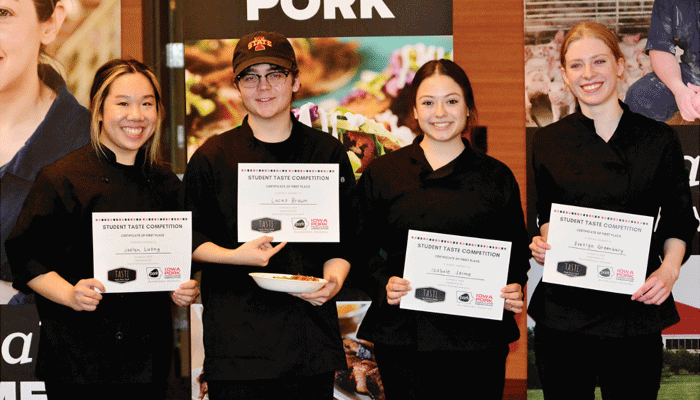 Iowa State University (ISU) Culinary CYentists' Japanese and Korean influenced pork blade steak cooked in a sweet and spicy gochujang sauce brought home top honors in this year's student Taste competition hosted by the Iowa Pork Producers Association (IPPA).
Chefs Jaelyn Luong, Des Moines; Izabele Jaime, Mason City; Evelyn Greenbury, Arlington Heights, Illinois; and Lucas Brown, Des Moines, prepared a Japanese noodle soup topped with the pork blade steak and gochujang sauce along with enoki mushrooms, a soy-marinated egg, kimchi (Korean dish of spicy pickled cabbage), green onions and toasted sesame seeds — a winning dish judges called the most flavorful entrée of the day.
"It was the most tender pork blade steak that we all tasted," said judge Jesus Ojeda with Clive Behavioral Health. 
Ojeda took the premier prize in the IPPA's professional Taste competition in January, creating his own braised pork blade steak entrée with Yukon mashed potatoes fused with chorizo, and sauteed mushrooms and asparagus.
"The pork was done perfectly. The students really put a lot of thought into what they were cooking," Ojeda said.
Ames influence
Held at the Iowa Culinary Institute at Des Moines Area Community College (DMACC) in Ankeny, culinary students from four Iowa colleges and universities were challenged to create their tastiest pork blade steak dish. 
Provided two hours in the kitchen to prepare their recipes and present them to the judges, the teams, consisting of two to four students, prepared entrées that were judged on taste, appearance, complementing side dishes and design.
It was the second year ISU students Jaime and Greenbury had participated in the competition, with teammates Brown and Luong joining them as first-year students. Competing last year was a definite benefit in preparation for this year's competition, they said.
"This year we came in knowing we needed good communication skills," said Jaime. "We needed to take the feedback we got last year into this year's dish. Communication played a really big role today because we all worked well together, down to the last minute."
Greenbury said their dish was inspired by a popular Ames restaurant ISU students love that serves Japanese and Korean influenced dishes. "Korean barbecue has been super popular lately," said Greenbury. "We wanted to do a little Japanese influence in the dish, with some Korean added in."
The group also found ways to take tidbits from their classes and apply them in the kitchen. Recently learning about the function of sugar, Greenbury explained, "We tried adding sugar to our gochujang sauce, and that made it stick to our pork steak better, when it hadn't before. Learning about the science of it all and applying it has been fun."
Student competition
Joining Ojeda as judges were Adam Darland of Knoxville, a long-time chef and instructor at Indian Hills Community College who now is food and beverage director for Wesley Life in Pella, and Steve Kerns, a purebred Berkshire and Magtalitsa pig farmer from Clearfield in Taylor County.
Judges selected The Spice Girls, a team from Iowa Western Community College, Council Bluffs, as runner-up. Team members McCartney Sanny, Oakland; Evelyn Martinez, Council Bluffs; Alayna Chapman, Polo, Missouri; and Yazmyn Sanchez, Omaha, prepared Mexican-inspired fajitas featuring citrus-marinated pork from Gettler Farms in Red Oak.
Third-place was awarded to the Rowdy Parsnips from Kirkwood Community College in Cedar Rapids. Students Katie Murdock, Anamosa, and Victoria Fox, North Liberty, prepared pork blade steak roulade, rolled around an oyster mushroom and pine nut filling.
Teams from DMACC also participated in this year's contest.
building pork demand
Kelsey Sutter, IPPA's marketing and program director, said this year's competition was a success.
"These aspiring chefs help make the pork industry successful," Sutter said. "This competition is a learning opportunity and hopefully encourages them to serve pork wherever their careers take them."
Each member of the winning team was awarded $100 from IPPA. In addition, ISU's culinary food service program received $750 for scholarships or educational supplies. 
Second-place students earned $50 from IPPA, and their school received an additional $500, while third-place students received $25 each and $250 for the school.
Ojeda said he couldn't have been more thrilled to be part of the competition day. He's excited for the aspiring chefs' futures.
"I love to cook, I love to teach, and I love to share what I know," said Ojeda. "
"All of the dishes were really good. This is a great event."
Want more news on this topic? Farm Bureau members may subscribe for a free email news service, featuring the farm and rural topics that interest them most!