Aquaculture offers exciting new market in Iowa, but not without some obstacles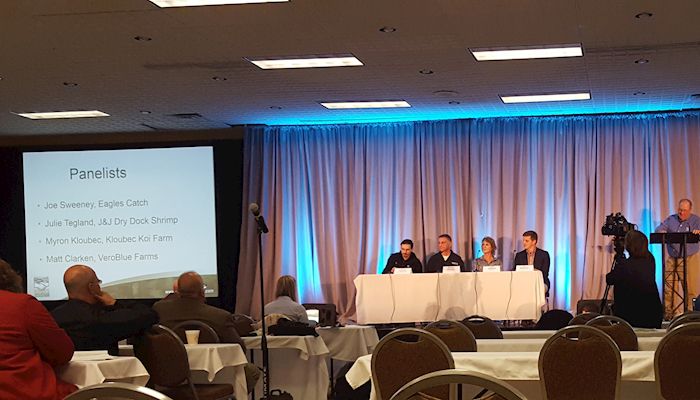 Last week I attended the 2017 Aquaculture Conference in Ames organized by the Coalition to Support Iowa's Farmers. While I have limited knowledge of this type of livestock production, I'm a big fan of shrimp tacos and excited to see another example of the diversification of Iowa farming today.
Dr. Joe Morris with Iowa State University touted aquaculture as another way to meet protein needs, especially with an expanding worldwide population. Although we tend to think of the ocean as an endless supply of fish, experts say it's important to respect the natural ebb and flow of wild-caught fish, shrimp and other crustaceans, as the supply may not be able to keep up with our growing taste for seafood. That's just another reason to be excited about this emerging market in Iowa.
Dr. Morris said many years ago, if he walked into Hy-Vee one of the only fish products available was bullheads. Only in Iowa would you find a supermarket selling bullheads, he said. I probably laughed louder than anyone at this knowing my husband and his dad take yearly trips to northwestern Iowa to fish for bullheads. In Iowa, there are farmers who are raising Tilapia, shrimp and Barramundi. There are various hatcheries that supply fish for ponds on acreages and at the conference, there was even a farmer who raises Koi fish and ships them direct to customers across the country for their landscaped water features. (I checked out his website, and I couldn't believe the different colors and varieties of Koi that exist!)
Currently, about 90 percent of seafood in the U.S. is imported, and four short years ago aquaculture surpassed beef production. This creates an exciting opportunity for farmers looking to add value to their farms, but there's also many obstacles.
First, there are hurdles such as big startup costs and competitive markets overseas. Carole Engle with Engle-Stone Aquatic$, LLC says the key is differentiating your product and services and asking yourself what can you do better than anyone else to meet your customer's needs. Engle said a fish farmer she knew won over his customer by honoring not just their birthdays, but remembering the names of their pets. That kind of personal 'family first' service is part of his successful business model.
Iowa doesn't quite have the infrastructure yet to make aquaculture as simple as raising traditional livestock. There aren't any fish co-ops to deliver to and no local processing plants so farmers entering this line of work really need to have their ducks—or fish—in a row. Feed is also imported and additional shipping costs can eat into overall profits. There are also specific rules, regulations and licenses for fish farming, just like there are regulations for traditional livestock farming. One fish farmer on the afternoon's "Farmer Panel" said when fish are being transported, you need separate licenses for the states they pass through or in certain states, a plane wouldn't be able to touch down with a certain fish that may be deemed "invasive" in that location.
Despite the challenges, I also saw a lot of similarities between raising fish and other livestock, particularly the focus on animal care. Each species of fish requires its own stocking density, lighting preferences, level of noise and social behaviors (they almost sound more like gremlins, really). Water quality was mentioned by each academic speaker as being key and the top resource to monitor for fish health. This means checking the water's temperature, pH level and dissolved oxygen and knowing how to adjust if one of those is off track. Fish farmers also must be cautious with biosecurity measures, making sure equipment is sanitized and limiting cross contamination from tank to tank. Basically, it's a lot more difficult to care for fish than I thought as a kid putting my quarter into a fish feed container at the zoo and tossing a small handful of kibbles into the water.
As more farmers consider value-added agriculture in seafood, it will be interesting to see whether Iowa responds to this growth with feed mills producing fish food, plants that can process fish and even local restaurants and grocers welcoming these local products on their menus and shelves. Aquaculture has the potential to create jobs and add to our state's economy. Plus, I know I'll appreciate those fish tacos tasting even fresher when I know they were raised right here in Iowa, 1,000 miles from the nearest ocean.
By Caitlyn Lamm. Caitlyn is Iowa Farm Bureau's public relations specialist.
Want more news on this topic? Farm Bureau members may subscribe for a free email news service, featuring the farm and rural topics that interest them most!