An intense local food culture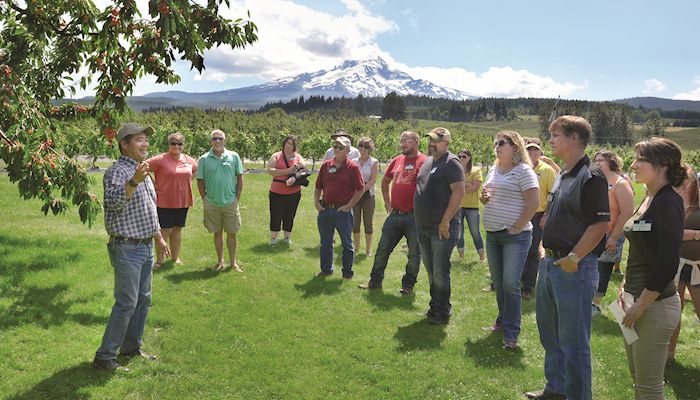 An intense local food culture is a blessing and a curse for farmers in western Oregon, a group of Iowa Farm Bureau leaders learned last week on the annual county Presidents Incentive Trip.
This year's trip took county leaders on tours of diversified farms around Portland, where farmers enjoy emerging market opportunities from the growing metro area's nearly 2.4 million residents. However, they learned those residents can also sway regulations that pose challenges for farmers.
An abundance of orchards, vineyards and nurseries featuring "U-Pick" produce and consumer events populate the Hood River Valley and Willamette River Valley farmers surrounding Portland.
"Their consumers are their biggest worry. They want to make sure the consumers are pleased with their products," said Wapello County Farm Bureau President Calvin Van Genderen. "Any time you can get a consumer on your farm to see first-hand how you raise your crop and how you handle your goods is better for them to be more farmer-oriented and pleased with where their produce comes from."
Divided in half by a mountain range, Oregon has a unique climate that allows farmers to grow more than 220 different commodities in eight agricultural zones. Rainfall ranges from around 10 inches per year in eastern Oregon to more than 100 inches per year on the coast.
Top crops by value are greenhouse and nursery products, beef cattle, hay, milk and grass seed. Other leading crops include wheat, potatoes and a range of berries and other fruit.
"Farmers here will have half a dozen different crops, even if it's a small operation," said Brent Koller, Lee County Farm Bureau president.
That was the case at every farm stop throughout the week, including Kiyokawa Family Orchards in Parkdale. The family-owned farm, located in the shadow of Mount Hood, sells more than 120 varieties of apples, pears and other seasonal fruit directly to consumers at food stands, farmers' markets, restaurants and other venues.
Seeing what works
"We try a lot of things and see what works," said Randy Kiyokawa, whose grandfather started farming in the Hood River Valley in 1911 after immigrating from Japan. Kiyokawa's parents met in an internment camp after the Pearl Harbor attack, and later purchased a 25-acre orchard in Parkdale that became the nuc­­leus of the current 200-acre farm.
The orchard employs 35 work­­ers year-round, picking fruit and caring for thousands of fruit trees, bushes and grape vines. Another 30 employees help with seasonal marketing and sales, Kiyokawa explained.
Employment issues
Finding employees is one of the biggest challenges for the orchard and other Oregon farmers, the Iowa Farm Bureau members learned.
"All of it is so hands-on," said Mills County Farm Bureau President Curt Frazee. "They have to micromanage it, compared to the way we manage our farms. We can go treat a couple hundred acres a day if we have a certain issue, but they have to do everything by hand."
Verna Jean Nursery also found its niche in consumer-direct sales after struggling when its wholesale markets dried up during the 2008 housing market crash.
Located about 40 minutes west of downtown Portland, the nursery specializes in ornamental and flowering trees including Japanese maple, European beech, dogwood, Monkey Puzzle and Magnolia, which are grown from seed in greenhouses, graft­­ed, planted and cared for by hand by owners Larry and Angie Bailey along with a handful of employees.
"This is all very labor-intensive. We're touching all of these trees multiple times a year," ex­­plained Larry Bailey. Finances are also a constant challenge, since it takes three to five years of growth before trees are ready to sell, Angie Bailey pointed out.
Urban dominance
While the proximity to Portland provides a steady customer base, Oregon's farmers say they are also pressured by policies shaped by a predominantly urban state legislature that doesn't understand farmers' needs. Issues such as land use, endangered species, water rights and co-existence of crops can create conflicts, said Mary Anne Cooper, Oregon Farm Bur­eau vice president of public policy.
Portland's push for local
Portland residents have also embraced a food culture that emphasizes locally grown products, exhibiting a passion in how their food is grown.
"Some of their problems are similar to our problems in trying to relate to and educate our legislators, our customers and the general public," said Koller. "It just feels like Oregon has the whole state really leaning on them constantly, starting at the statehouse. It gave me a good perspective on how they're dealing with it, bringing people to the farm and trying to educate and relate to them that way."
Want more news on this topic? Farm Bureau members may subscribe for a free email news service, featuring the farm and rural topics that interest them most!