America needs food — and farmers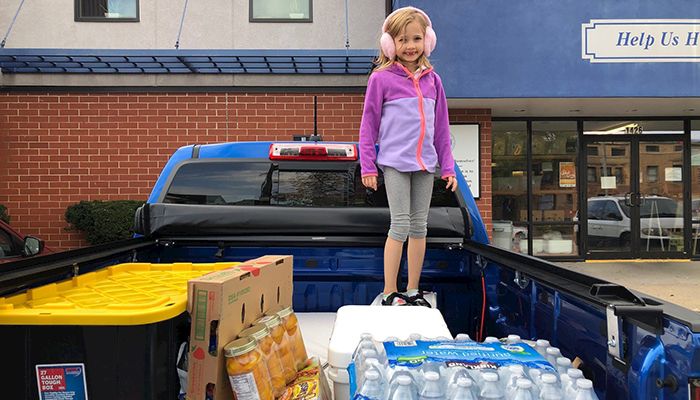 Food plays a big role in my life, providing a unique sense of joy in bringing together family and friends. And, with football season and tailgating in full force, nothing brings people together like the aroma of burgers, brats or hot dogs sizzling on a grill.
I had the opportunity to visit several tailgates with a group of young farmers during the University of Iowa's America Needs Farmers (ANF) game. The farmers were so excited to meet the fans and thank them for supporting Iowa's livestock industry. And the fans were equally excited to talk with real farmers about today's farming practices. Questions ranged from grain-fed to grass-fed beef and the difference between organic and natural. The day was a celebration of the food choices we all enjoy.
Despite all those choices at the tailgates, however, I couldn't ignore the Facebook posts from local food banks begging for donations with photos of empty shelves. The Iowa Food Bank Association says that 16 percent of Iowa children go to bed hungry and one in nine Iowans face hunger, a particularly alarming statistic. Additionally, 360,000 Iowans face hunger every year.
As a child who thankfully never faced hunger, I felt it was an important lesson to share with my own kids. So, with my six-year-old daughter tagging along, we loaded the car to make some clothing and food donations to local food banks and shelters in town. I told my daughter that while we are very fortunate, not everyone has enough to eat or wear or shelter or safety. The receptionist beamed at us as we walked in with a few boxes of non-perishable food as well as some produce and dairy. You could clearly see relief on her face at any donation that came through the door.
While peanut butter is a staple at our house, it was practically gold at this food bank. Protein is in high demand at food banks and peanut butter, along with canned tuna, are two highly sought-after food bank donations because of the high protein content and long shelf life.
I was instantly humbled as a woman around my age with children of her own, quietly thanked us for our donation as she placed some items in her cart. Then, my daughter noticed an elderly couple, pulling up to collect food. They smiled at us and nodded in our direction.
One thing is for sure, Americans and Iowans need food, and we certainly need the farmers who raise and grow our food now more than ever. The ANF symbol is a reminder that we are all connected through food. However, forcing a one-size-fits all approach to farming or returning to farming practices of decades ago, only assures that choices will be fewer -- and more expensive. After all, shouldn't we all be offered the opportunity to buy the food we can afford? Without affordable food choices, we'll likely see an even greater increase in need at food banks.
ANF is more than just celebrating the importance of farmers to Iowa. Since the relaunch of the ANF campaign nine years ago, more than $180,000 has been raised from the sale of ANF-branded merchandise for the Iowa Food Bank Association. Our farmers wanted that, because they believe in providing food for more people, especially those who are doing their best but need a hand.
With the holidays around the corner, please remember the food banks and donate if you can and share that opportunity with your kids. My intention for the day out with my daughter was to provide a learning experience, and it certainly was one, but it was a learning experience for me as well.
By Andrew Wheeler. Andrew is Iowa Farm Bureau's public relations coordinator.