Adjusting spring plans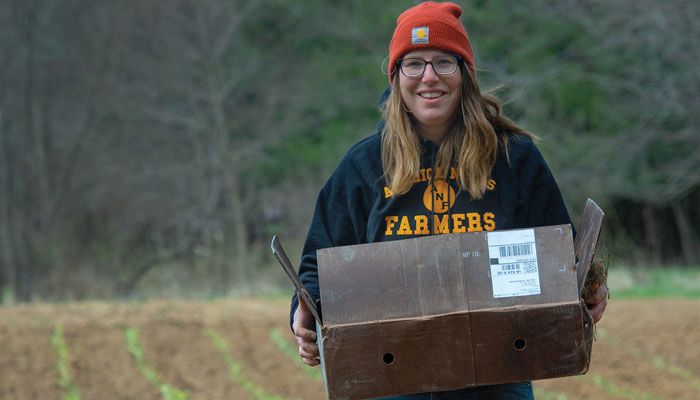 Specialty crop growers in Iowa are working to find new outlets to sell their produce and adjust how they interact with customers after many normal distribution channels were upended by the COVID-19 outbreak.
Social distancing measures aimed at slowing the coronavirus have delayed the opening of many farmers markets across Iowa, including in the state's two largest cities, and decimated local produce sales to restaurants. Also, growers who operate Community Supported Agriculture (CSA) farms are incurring additional costs for making no-contact deliveries or on-farm pickups.
"It's going to be hard on a lot of these vegetable producers," said Greg Rinehart, whose family is a fixture at the Downtown Farmer's Market in Des Moines. "The farmers markets are important for a lot of producers."
The Des Moines market, which was due to open May 2, has delayed its opening indefinitely until restrictions on large gatherings are lifted. Cedar Rapids also pushed back the anticipated opening of its downtown farmers market until at least June 6. Spring is often a prime time for farmers market sales, Rinehart noted.
"For our family, the May and June markets are some of the best markets of the year. Everybody is ready to get out and enjoy the weather," he said.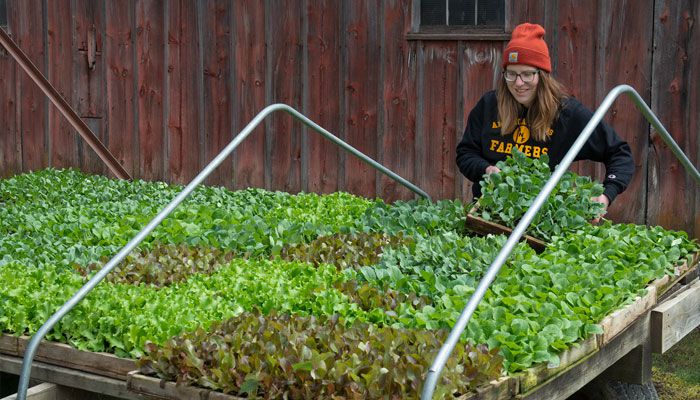 Adjusting sales patterns
Kate Edwards, who operates a Community Supported Agriculture (CSA) farm in Johnson County, said the coronavirus has led to increased interest in locally grown produce but will also mean more costs for her farm to serve its 200 customer members.
Instead of buffet-style pickup, where her customers load their weekly produce items into their own bags, Edwards is changing distribution to pre-packaged boxes. That will mean increased labor and packaging costs in addition to other improvements needed to handle the increased traffic at the farm.
"That's going to cost us some money. I'm estimating implementing changes for coronavirus will probably cost us around $8,000 with the different measures we need to take," Edwards said.
Those unexpected costs are why farmers need access to the Economic Injury Disaster Loan (EIDL) program under the coronavirus stimulus package (CARES Act) passed by Congress, Edwards said.
Initial rules from the U.S. Small Business Administration (SBA) exclude farmers from participating in the program, even though language in the CARES Act says it's open to all businesses with fewer than 500 employees.
Farm Bureau is among 31 organizations and businesses that have petitioned the SBA to include agricultural businesses in the EIDL program as Congress intended.
Although customer interest in purchasing local foods has increased following the coronavirus outbreak, Edwards said it won't mean increased revenue since shares at her Wild Woods Farm CSA are limited and already sold out for the year. She has a waiting list of 15 to 20 customers and has started referring inquiries to other area CSA farmers. The increased interest could have long-term benefits for local produce farms if purchasing shifts continue in future years, Edwards noted.
Home deliveries
Steve Strasheim of Twisted River Farm in Mitchell County said a surge in home delivery orders since the coronavirus outbreak has made up for lost sales to restaurants that he normally supplies. Strasheim grows microgreens year-round indoors and plants lettuce, spinach and small root vegetables during the summer season.
"We have replaced what we lost on restaurant sales with home delivery," he said. "We have always had a little online store. We kind of bolstered that up a little bit."
He said sales have also re­mained strong at five local grocery stores that carry his produce in Osage, Clear Lake and Mason City.
"Restaurants used to be a pretty big part of our business, but we started transitioning to put more weight on grocery sales," said Strasheim, a Mitchell County Farm Bureau member. "That's been a blessing. If this would have been two years ago, I don't know what would have happened."
Wait-and-see mode
Rinehart said he's in "wait-and-see" mode until he knows when farmers markets will open. The Des Moines Farmers Market is the largest in the state, supporting nearly 300 vendors and drawing an average of 25,000 visitors each Saturday from May through October.
"What I'm kind of leaning toward is not planting as much early season veget­ables and going to more later stuff like sweet corn and tomatoes," he said. "Our strawberries will start to come in mid-to-late June. If (the farmers markets) don't open up by then, I guess we could open up a stand at the farm and let people come and pick things up."
The Iowa Department of Agriculture and Land Stewardship estimates that farmers markets in Iowa contribute an estimated $59.4 million in gross sales to the state economy, generating $17.8 million in payroll and supporting nearly 600 jobs in Iowa.
Want more news on this topic? Farm Bureau members may subscribe for a free email news service, featuring the farm and rural topics that interest them most!