Adaptive Sports Iowa athletes truly represent "Farm Strong"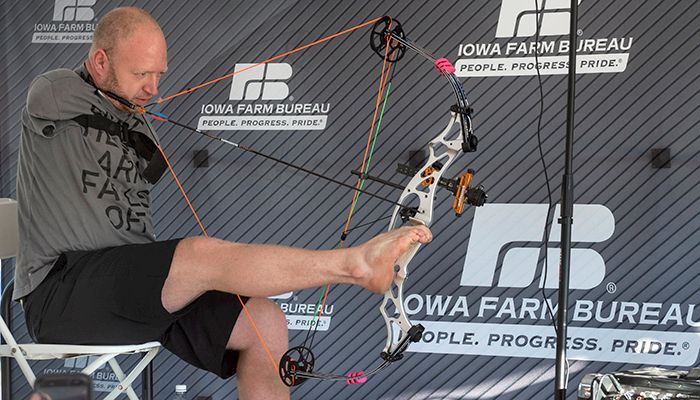 Every July, I get a knot in my stomach when I see photos and video of the cyclists rolling through Iowa on RAGBRAI, jealous that I'm not riding along with them.
I always make excuses for why I can't go: It's too hot (or rainy), I'm not in good enough shape, I hate camping, I don't have a speedy bike.
My list of "why nots" is longer than the actual RAGBRAI route.
Yet for the athletes on the Adaptive Sports Iowa cycling team, they ignore the excuses and achieve what many of us only fantasize about. They battle the weather, the crowds, the distance and their physical limitations to achieve their dreams – and inspire others along the ride.
Adaptive Sports Iowa (ASI) provides support for more than 50 athletes from across the nation with physical and vision disabilities, allowing them to join the annual Iowa cycling tradition.
The Iowa Farm Bureau Federation is proud to support the hard work and accomplishments of the ASI cycling team as the group's title sponsor. ASI doesn't charge a user fee for any of the volunteers or athletes who want to join the team. During the week-long ride, cyclists sport jerseys and hats emblazoned with the hashtag #ASIfarmstrong.
The team has included a visually impaired five-time Ironman triathlete, several military veterans and others who have turned to the sport of cycling as a way to increase their physical activity and improve their mobility.
This year, in honor of their achievements, the Iowa Farm Bureau teamed up with Fareway to treat the ASI cycling team to a pork chop dinner during the overnight stop in Ames.
The private event featured Iowan Matt Stutzman, known as the "Armless Archer." Stutzman, who was born without arms, is a U.S. national champion archer, world record distance holder and Paralympian.
Stutzman told the group that he spent hundreds of hours teaching himself how to shoot a bow with his feet, just because no one had ever done it before.
Stutzman said he aims to be the best archer in the world – able-bodied or not. Last year, Stutzman won gold in the USA Archery Outdoor National Championships. Stutzman also successfully qualified for the U.S. Archery Team.
It takes courage to escape your comfort zone and face challenges head-on, whether you are conquering a week-long bike ride or enduring uncontrollable weather, markets and politics to keep on farming.
Stutzman and the ASI cyclists truly represent the "Farm Strong" values of hard work, commitment and perseverance. And just like Iowa farmers, the athletes prove that anything is possible if you dream big and don't give up when life gets in the way.
By Teresa Bjork. Teresa is Iowa Farm Bureau's Senior Features Writer.