A taste of Iowa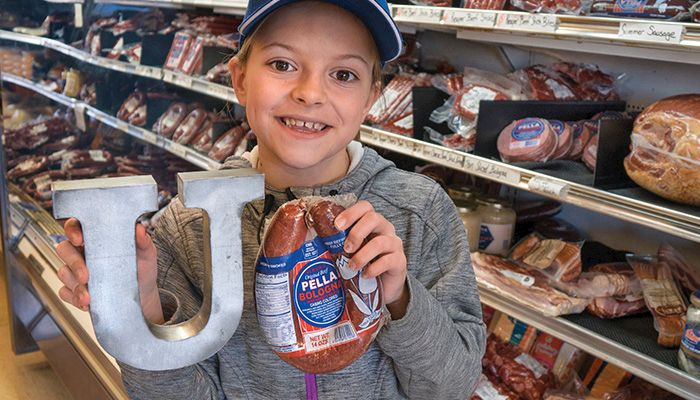 Where can you get a cup of coffee, fresh cheese curds, the best Bloody Mary in the state (and maybe the country!) and a chocolate-covered caramel with sea salt on top, all in one day? On the "A to Z" Foodie Trail in southeast Iowa, that's where.
Tourism organizations in Marion and Mahaska Counties had been wracking their brains for several years for food and beverage-themed ideas that would boost year-round tourism, says Deeann DeGroot, with the Oskaloosa Area Chamber and Development Group.
The group considered several themes but thought that identifying a unique location for each letter of the alphabet was a fun way to include a large number of area attractions. The group, which also includes the Pella Convention and Visitors Bureau, Mahaska County Agricultural & Rural Development and Marion County Development Commission, looked for stops that are in Marion or Mahaska County and are located on a loop trail. DeGroot says the group hopes that as the trail evolves it will lead to opportunities for other foodie retail, local restaurants and lodging to connect with the trail.
Let's get started on our foodie adventure! To get us through our day on the trail, we'll probably need a strong cup of coffee, so let's start at Smokey Row in Oskaloosa, where you can get Vermont Maple Crunch coffee. If that's not sweet enough for you, maybe you need to stop at Jaarsma Bakery on your way out of town to pick up that classic pastry, the Dutch letter.
Then you can swing by Five Points Heritage Farm, on the outskirts of town, for something nutritious: produce, eggs and honey. As you make your way on down the road, you'll come across Frisian Farms Cheese House in Leighton, where you can watch brothers Mike and Jason Bandstra make cheese. "It's not something you see every day; a big room with wheels of cheese and a small producer making the cheese," Mike says.
The salty cheese may make you a little thirsty, and you're in luck if you make your next stop the Cellar Peanut Pub in Pella. Owners Marty and Betsy Duffy recently moved the business to Pella from its original home in Oskaloosa. The pub serves 50 craft beers, mostly from Iowa.
"Five years ago, we switched to craft beer and learned that local craft beer is our passion," Betsy says. "We have gotten to know all the local Iowa brewers and see how much the industry impacts real people."
But hold your horses. There's more. The Peanut Pub whips up a Bloody Mary that has been judged one of the top three in the country at the New York Wine and Food Festival sponsored by the Food Network. The pub doesn't serve food but they allow customers to bring their own food; Betsy says patrons often order from local restaurants, who deliver right to your table.
She didn't say whether Van Veen Chocolates, right down the street, will deliver to the pub, but it would be worth the stroll.
Marja Miller, co-owner of the store, says she's looking forward to the "A to Z" Trail bringing new chocolate enthusiasts to town. Her dad started the business 20 years ago, and she and her husband took it over a year ago in the heart of downtown Pella.
The store sells candies, with caramels being the specialty. Make sure you try that chocolate-covered variety with sea salt on top!
Let's leave Pella now and mosey on down the road to Knoxville. You can try a martini at the Atlantic and Pacific Pub, or maybe head over to Peace Tree for a Blonde Fatale craft beer or any of their other original brews.
And now, with your designated driver at the wheel, of course, you can end your tour in Pleasantville at Grape Escape Winery.
It's been quite a day. Sit back, put your feet up and reflect on your adventure as you whistle "Happy Trails to You."
Hall is a freelance writer from Des Moines.
'A to Z' Iowa Foodie Trail
Apple Cider and Apple Pie, Pella Nursery, Pella.
Blonde Fatale Brew, Peace Tree Brewing, Knoxville.
Chocolate Wooden Shoes, Van Veen Chocolate, Pella.
Dutch Letters, Jaarsma Bakery, Oskaloosa and Pella.
English Toffee Coffee, Smokey Row, Pleasantville, Pella, Oskaloosa.
Frontenac Gris Wine, Nearwood Winery Tasting Room, Knoxville.
Gouda Cheese Curds, Frisian Farms Cheese, Leighton.
House Dark Roast Coffee, Brew Coffee House, Pella.
Iowa Wines, The Wijn House, Pella.
Jaarsma Bakery, St. Nick Cookies, Pella.
King's Cup Coffee, Kahawa Cup, Oskaloosa.
Leighton Brats, Leighton Processed Meats, Leighton.
Mayan Mocha Martini, Atlantic and Pacific Pub, Knoxville.
Northcote's Bigfoot Tenderloins, Northcote Meats, Melcher-Dallas.
Oskyfizzante Wine, Tassel Ridge Winery, Leighton.
Pigs in the Blanket, Vander Ploeg Bakery, Pella.
Queen Bloody Mary, Cellar Peanut Pub, Pella.
Rose City Red Wine, Grape Escape Winery, Pleasantville.
Summer Sausage, In't Veld's Meat Market, Pella.
Top 25 beer bar in USA, Cellar Peanut Pub, Pella.
Ulrich's Genuine Pella Bologna, Ulrich's Meat Market, Pella.
Vermont Maple Crunch coffee, Smokey Row.
Windmill Wheat Flour, Pella Historical Village & Ver Meer Mill, Pella.
X-tra Fresh Eggs, Sunnyslope Greenhouses, Leighton.
Yoga Poser Pale Ale, Nocoast Beer, Oskaloosa.
Zucchini, Five Points Heritage Farm, Oskaloosa.

Want more news on this topic? Farm Bureau members may subscribe for a free email news service, featuring the farm and rural topics that interest them most!