A new farm blossoms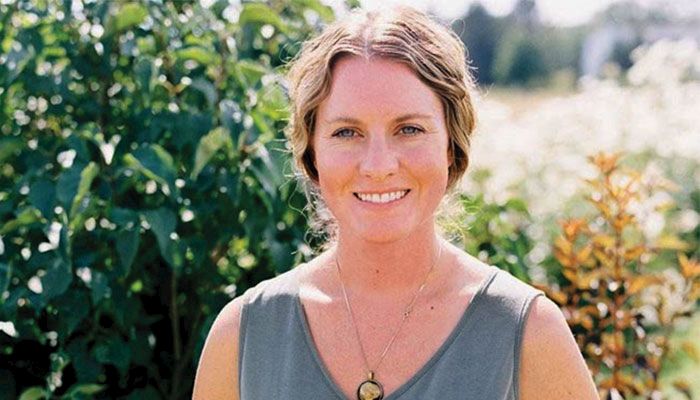 With spring right around the corner, many Iowans are an­­xiously awaiting the opportunity to get outside so they can prep their gardens for another growing season.
Cassandra Kubik is definitely one of these people. However, the sowing of new seeds comes with an added level of importance for this recent Iowa Farm Bureau Federation Grow Your Future Award finalist. She and her husband, Jacob, own Pine Hill Farm (www.pinehillfarmflorals.com) north of Cedar Rapids in rural Walker.
They purchased the farm in 2014 but couldn't decide what to grow. Cassandra's first job in high school was working as a florist. She then went to college for horticulture and landscape design, which led to a number of jobs working with flowers at greenhouses and garden centers. With this floral-focused background, Cassandra's husband suggested growing flowers on their property.
"We began our flower farm in 2017, and I couldn't imagine doing anything else," says Kubik. "We decided on raising flowers because of my past work experience and my passion for being outdoors. I also wanted the flexibility to set my own schedule and really craved using my own ideas and creativity."
A blooming venture
Pine Hill Farm specializes in un­i­que, heirloom flowers that local wholesalers are unable to source or ship. They are entering their third year of growing and selling flowers, all of which are started from seed each spring by Cassandra.
According to Kubik, their top sellers are garden roses, ranunculus, anemones, dahlias and heirloom mums — all of which offer unique color palettes. She uses these flowers in her own floral designs, including bridal bouquets and one-of-a-kind centerpieces she creates for clients.
Besides selling flowers at the Cedar Rapids Downtown Farmers Market, Kubik runs a subscription service that delivers flower arrangements weekly to customers and also sells to a number of florists who welcome locally grown flowers.
"We are very different. The flowers we grow are old fashioned varieties unaltered throughout time. They are delicate, beautiful and very fragrant; and we harvest fresh the day before an event, giving our flowers a great vase life for our customers," offers Kubik.
Small-scale farming
Kubik says they grow their flowers on a one-acre plot. She admits this seems like a small space, but there are many challenges with growing flowers and it requires a lot of work and care.
"We grow using high-intensity practices and very tight spacing, but we pull huge amounts of flowers off of our one acre," explains Kubik, who says during their busy season she works 70-plus hour weeks. "The difference with flower farming is that nothing is mechanical. All labor, aside from running a tiller, is done by hand. Flowers are very labor intensive, but they are such a joy to grow."
Like any other farmer, Kubik says one of the biggest challenges they face is the weather.
"We often get swinging temperatures in the spring, strong winds and storms in the summer, and fall brings the threat of frost, which decides when our season ends," she says. "To give us a longer season, we currently grow under two high tunnels. These structures ensure our season gets an early start and protects delicate flowers from heavy downpours and the wind."
And just like a row crop producer, bugs also play a big factor in Kubik's operation each year.
"We're surrounded by corn and soybeans, so bugs from field crops find their way to our flowers. Corn borers and Japanese beetles can destroy a flower crop in one day if not carefully monitored," says Kubik.
Looking ahead
Regardless of these challenges, Kubik is passionate about her job and says she is excited about their plans moving forward. For example, weddings account for a high percentage of their sales, and Kubik says most of their 2020 dates were booked a year in advance. Selling every other weekend at the Cedar Rapids Downtown Farmers Market will also remain a part of what they offer, as they typically arrange over 100 mixed bouquets and arrangements for the market and sell out each week.
"This is a very full year for us on the calendar, and the farm has already doubled its business from 2019," offers Kubik. "Our ultimate plan is to have my husband farming full-time with me and to keep expanding and growing flowers on more ground."
Part of this growth includes finalizing plans to build a small, flower processing building with a storefront. Kubik says they hope to open it in 2020.
Yontz is a freelance writer from Urbandale.
Want more news on this topic? Farm Bureau members may subscribe for a free email news service, featuring the farm and rural topics that interest them most!