A natural conservation focus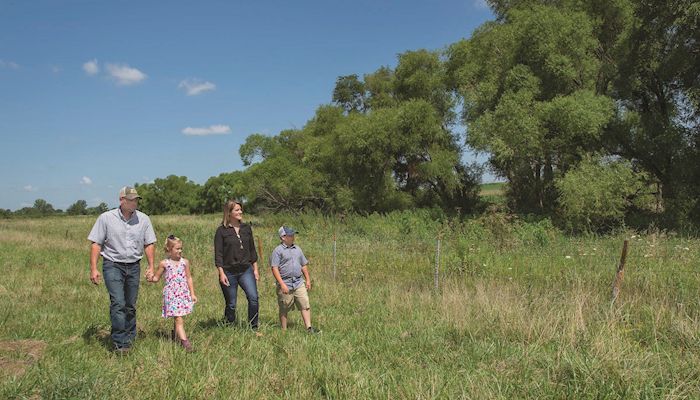 Chad Ide, who farms in the rolling hills of Union County in southwest Iowa, is a strong believer that going the extra mile to care for soil and protect water makes a lot of sense — both for the environment and for his pocketbook.
"Conservation just came naturally to me," said Ide, who was recently named the 2018 Iowa Conservation Farmer of the Year. "My dad has always been very conservation-minded, and it was something that just made sense to me too."
By adopting no-till, planting cover crops and using other conservation practices, Ide and his father, Monty, have seen significant improvements in the health of their soil. The conservation practices have also reduced weed pressure, helping them trim input costs.
But it's in their cattle operation, where the Ides have both a cow-calf herd and a feedlot, where the ongoing conservation practices have really paid off.
"Conservation just really fits well with cattle," said Ide, a Union County Farm Bureau member from Shannon City. "We plant cover crops after we chop silage and after soybeans. That gives you a chance for some extra forage in the late fall and the early spring. Having that extra forage can really be a big help, especially in a year like this one when the cold weather in the spring kept the pastures down for so long."
Rotational grazing
As well as cover crops, Ide and his father have planted buffer strips to stabilize creek banks, constructed ponds and have adopted a rotational grazing system on their pastures. Those improvements, made using funds through the U.S. De­partment of Agriculture's Environmental Quality Incentives Program (EQIP), protect both soil health and water quality while improving pasture performance.
Chad and Monty Ide have also built hoop buildings for feeding cattle and concrete manure storage structures, which help contain manure and reduce nutrient runoff and improve cattle performance.
Ide's dedication to reducing soil loss, improving water quality and protecting the environment earned him the state's top conservation award.
The award, sponsored by the Iowa Farm Bureau Federation (IFBF) and the Iowa Department of Agriculture and Land Stewardship (IDALS), will be presented in early September at the Conservation Districts of Iowa annual meeting in Des Moines.
For earning the statewide conservation award, Ide will receive the free use of a John Deere 6E Series Utility tractor for up to 12 months or 200 hours. The tractor award is sponsored statewide annually by Van Wall Equipment of Perry and John Deere with additional local John Deere dealer sponsorship occurring for some recipients.
Quiet, steady leader
In their nomination, the Union County Soil and Water Conservation District (SWCD) described Chad Ide as a "quiet and steady leader in soil and water conservation in our county."
Along with the broad range of conservation practices that the Ides have adopted, the district noted their willingness to promote conservation education through field days, tours and training. The SWCD district office also noted that the Ides, who farm a combination of owned and rented land, work with landlords to apply for conservation funding through EQIP and adopt conservation practices.
"We are working on rolling ground down here in southern Iowa, so we put the steeper slopes in pasture and we farm the more level ground. That just makes sense for us," Ide said.
Ide, 35, said that earning the state conservation award has been a "humbling" experience. "I see so many farmers doing so much on conservation these days, it's really an honor to get this award," he said.
Ide and his wife, Francine, have two children, Nolan and Charlotte. Along with earning the statewide award, Ide was a regional conservation winner.
Regional awards
Other regional winners for 2018 are:
John and Roger Wilcox, Woodbury County; the Patricia L Smith Family Trust (owner) and Howard Farms and Mark Howard (operator), Fayette County; Dennis and Cheryl Crall, Adair County; Dan and Ila Jean Taylor, Dallas County; Paustian Enterprise LTD, Scott County; and John Peck, Jefferson County.
Want more news on this topic? Farm Bureau members may subscribe for a free email news service, featuring the farm and rural topics that interest them most!