A cut above the rest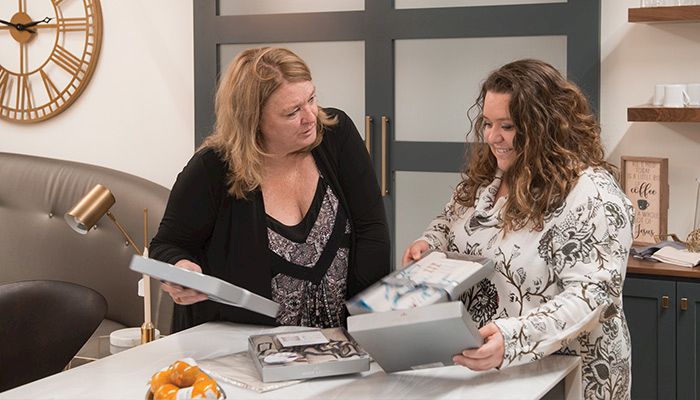 A mention of Iowa conjures up images of vast cornfields and serene rolling pastures spotted with grazing cattle. But nearly 6 percent of the state is forest. The state's moderate climate and rich soils produce hardwoods desired by consumers around the world, creating a $1.5 billion industry.
Much of that industry is located in northeast Iowa, where the timberline adds beauty to the landscape and economic viability to communities.
Edgewood, population 861, is one of those communities. Straddling the line between Clayton and Delaware counties, it is home to Kendrick Forest Products, a profitable example of Iowa ingenuity and family values.
"My husband and I bought a failing lumber mill in 1984, towards the end of the farm crisis. We paid $1 for a company that had $400,000 in assets and $600,000 in debt with 12 employees. We were just 26 at the time," tells Rhonda Kendrick. "Since then, we have weathered two economic downturns, started four new companies, purchased three more and sold two. Today we have 85 employees, are the largest mill in the state, have assets in excess of $20 million, and best of all, all four children have joined us."
Kendrick companies include Ken­drick Forest Products, Forever Cabinets, Shimlee and The MARKKET, selling everything from lumber and custom cabinetry to wall art and colored bagged mulch.
Kendrick grew up in the lumber business. Her father owned, and sold, the sawmill at Edgewood. When it closed, the family bought it back. Rhonda decided to try her hand at marketing and found her niche.
"There are always new, fascinating ways to market — brick and mortar, online, direct to customers. It's been a fascinating, fun experience, and I'm fortunate to be a part of it," says Kendrick.
Kendrick Forest Products focuses on hardwood products. The Kendricks own 800 acres of Iowa forest. Additional woods are purchased within a 100-mile radius of the mill to ensure uniform color and growth rings. Lumber is cut by skilled sawyers and sold in green or kiln-dried form. Eleven varieties of trees go into the solid lumber and veneer products, in­­cluding pallets, railroad ties and an array of other products sold across the nation. Walnut leads in sales, but red oak, white oak and hard maple also top the popularity list, along with ash, basswood and elm. The sawmill also sells sawdust and colored wood mulch.
In 2001, the Kendricks purchased a small cabinet company and created Forever Cabinets by Kendrick. The handcrafted, custom cabinetry is sold direct to the consumer, offering significant savings from traditional retail outlets. Made primarily from walnut, cherry, hickory, oak and hard maple, they have become popular from Chicago to St. Louis to Kansas City. Just for You in Dyersville, owned by Kendrick Inc., showcases the line, along with home decor, gifts and apparel.
Kendrick opened The MARKKET in Edgewood earlier this year in its 36,000-square-feet cabinet manufacturing plant. More than 6,000 square feet of retail space covers two stories in an open display concept and offers home decor, lighting, furniture and a host of other items. The MARKKET took top honors as the 2017 winner of Iowa Tourism's Outstanding Retail Experience award.
"It was an honor to receive that award," says Kendrick, highlighting not only the product line and unique approach to display, but the store's reputation for customer service. The store is open extended hours seven days a week. "We're open the hours people want to shop." Forever Cabinet customers earn a lifetime 20 percent discount in the store.
Shimlee was introduced in 2017 and recycles wood waste from the sawmill into a unique photography product. The customer's photos are printed with ECO-UV ink on shims, the side of the log discarded in the sawing process, dried and processed in the cabinet plant. The product is sold online around the world.
Kendrick HOME uses the same printing process on shims and lumber to produce wall art for brick and mortar stores. Local photographers and artists join a staff of professional artists to create the one-of-a-kind works of art. Each Kendrick HOME piece has a tree hidden within the artwork or scenery.
The future of a logging enterprise is nothing without an emphasis on sustainability. Kendrick says when her father was in business, experts predicted the demise of the industry due to forest depletion. Now, Iowa sawmills are harvesting at the rate significantly below the growth rate. To further reduce its environmental footprint, the Kendrick mill and manufacturing facility have been powered with recycled wood waste since 2006.
Kendrick is a family business. All four of the Kendrick children and their spouses have found a place there, as have many multi-generation employees. Nestled in the timber are 33 miles of four-wheeler trails, a shelter, 10 camper hook-ups and a spring-fed pond stocked with more than 5,000 fish, all for employee use.
"Our employees are our family," says Kendrick, "and to us, this is family living. We work together. We play together. And all those good people have made us stronger."
Queck-Matzie is a freelance writer from Greenfield.
Want more news on this topic? Farm Bureau members may subscribe for a free email news service, featuring the farm and rural topics that interest them most!