5 things veterans and farmers share in common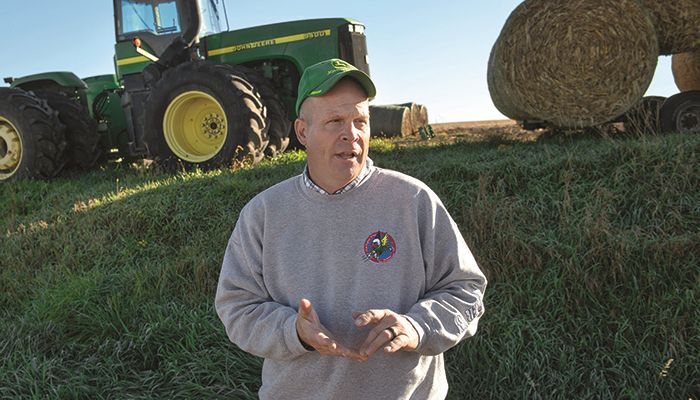 When I think about Veterans Day, I think about the men and women who have served in the military—some who have made the ultimate sacrifice. I think about my grandpa who served during World War II, a host of aunts and uncles who served in the military in various roles, and also my dad, an Army veteran who served during the Vietnam War.
My dad was different from other family members who served our country, however. When my dad finished his time in the Army, he came home to farm. He had opportunities to continue a military career in Washington, D.C., but turned it down. The farm called him home. After meeting more veteran-farmers recently, it got me thinking about how service men and women and farmers are a lot alike:
1. Research. Recently I met Paul Havran (pictured above). He's a recruitment and retention manager for the Iowa Air National Guard and started a farming career. He put it this way: "Farming is research, research, research. And farming is very similar to the military where you gather as much intel as you can and then make a decision," Havran said.
2. Discipline. David Baker, a U.S. Air Force veteran, explained that, like the military, farmers are disciplined.
"The discipline that the military demands of you carries over (to farming)," Baker said. "The discipline of getting up early in the morning to take care of the chores you need to get done, and strategize about what you can do today that improves your situation, improves the farm."
Baker returned to northwest Iowa after a career in the military to farm. He now works with other veterans who are interested in a career in agriculture get their start.
3. Love of country. Military men and women certainly have a love of America. Farmers show that same kind of love, Baker said.
"Farmers are loving, caring people. They care about the soil, the earth, the environment," Baker said.
4. Like military men and women, the farmers I've met are humble. When recognized with an award or other recognition, farmers will often comment that they're not doing anything different from other farmers. The veterans I know show the same sort of humble characteristics.
5. Farmers and veterans respect others, and are often the first to volunteer for community activities. They're often the first to respond to other farmers or other people in need.
And like farmers, veterans and service men and women are people I greatly admire.
By Bethany Baratta. Bethany is Iowa Farm Bureau's commodities writer.