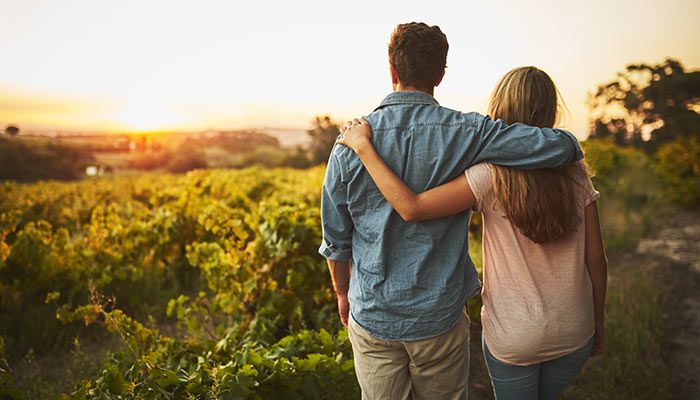 Resources to Cope with Farm & Rural Stress
Farming is demanding and can be a stressful occupation. Add difficult financial challenges, isolation and factors out of your individual control such as weather and markets, and stress is multiplied for farmers and farm family members. It's not uncommon to find yourself overwhelmed and unsure where to turn.
There are resources available to help you.
Seeking help to deal with stress or crisis is a sign of strength, not weakness. It's critical for your health and well-being, and free expert help is available right now. Please see the list of resources below.
Are you dealing with anxiety or depression? Are you concerned for the life of a loved one or friend who may be depressed?

Personal Assistance Services – Free Support for Iowa Farm Families
Dealing with anxiety, depression, stress, or other challenges? Iowa farm families have access to free, one-on-one, on-going counseling 24/7 through Personal Assistance Services. Call 1-833-999-FARM (3276) or for general information visit: https://farmfamilywellness.com/
---

FREE 24/7 Counseling Services for All Iowans
COVID Recovery Iowa offers free virtual counseling and assistance for all Iowans affected by COVID-19. Counselors are available 24/7 by phone @ 
1-844-775-WARM
---
National Suicide Prevention Hotline
Free and confidential support for people in distress, prevention and crisis resources for you and your loved ones.
Call (800) 273-8255
Text ANSWER to 683-9863
National Crisis Text Line
(Text with a trained counselor from the Crisis Text Line for free, 24/7)
Text HOME to 741-741
---
Substance Abuse and Mental Health Services Hotline (SAMHSA)
SAMHSA Disaster Distress Hotline
(Crisis counseling and support for people experiencing emotional distress related to natural or human-caused disasters.)
Call 1-800-985-5990
---
Iowa Concern Hotline
Stress counseling, financial concerns and legal education.
Call (800) 447-1985 Email: caringexpert@iastate.edu Online chat TEEN Line (800) 443-8336
---
American Counseling Association of Iowa (AMCA)
Talk to someone at no cost today. AMCA has licensed mental health counselors with immediate openings for Clinical Telehealth. For a complete list visit: https://feelgoodiowa.com/
---
Your Life Iowa
A resource for individuals facing problems with alcohol, drugs, mental health or suicidal thoughts.
Call (855) 581-8111 Text (855) 895-8398 Live chat at YourLifeIowa.org. Or for more valuable resources visit YourLifeIowa.org.
---
Veterans Crisis Line
Support for veterans in crisis.
Call (800) 273-8255
---
National Institute of Mental Health
Helping individuals overcome post-traumatic stress disorder (PSTD).
---
Farm State of Mind
Tips and resources for managing stress, anxiety or depression as well as research on Farmer Mental Health.
---
Ag Health and Safety Alliance
Focusing on health and safety of the next generation in agriculture.
Stress and mental health resources
---
National Alliance on Mental Illness
Education and support for individuals and families in need.
---
Iowa Mediation Service
---
What can I do to help family and friends?
American Farm Bureau Federation
(Any Farm Bureau member can register for this FREE online training)
Rural Resilience Online Training
Resilient Minds: Managing Stress on the Farm Resources
---
Rural Health Information Hub
---
Iowa Concern
(Provided by Iowa State Extension and Outreach)
Resources for talking about and managing stress.
---
Healthiest State Iowa – Make It Okay
Resources about mental illness and how to be supportive.
Become an Ambassador for your community.
---
I-CASH
(Iowa's Center for Agricultural Safety and Health)
QPR training empowers one to intervene and help prevent suicide.
Mental Health First Aid training for rural, veterans, fire/EMS, teens, older adults.
Talk Saves Lives: An Intro to Suicide Prevention Video
---
University of Wisconsin Madison Extension
Managing & Breaking the Cycle of Chronic Farm Stress resources
---
Substance Abuse Resources
Drug Disposal
Disposing of drugs safely is one way to prevent misuse and abuse. Learn more here:
https://safe.pharmacy/drug-disposal/
---
Generation RX: Safe Medication Practices for Life
We can all do our part to prevent the misuse of prescription drugs by engaging in safe medication practices at home, as well as educating others in our community. Learn more here.
---
#FarmTownStrong
Farm Town Strong- The opioid crisis has struck farm and ranch families much harder than the rest of rural America. Farm towns will overcome this epidemic through strong farmer-to-farmer support and the resilience of our communities. Learn more here: https://farmtownstrong.org/
---
Senior Care Resources
Mental Health Assistance for Seniors
Assisted Living Resources for People with Mental Health Disorders. Learn more here:  
https://www.assistedliving.org/assisted-living-for-people-with-mental-health-disorders/
---
Helpful Podcasts
Spokesman Speaks
Managing farm stress in the midst of COVID-19 (3-part Series)
Overcoming Adversity (Episode 29)
Farmer/counselor shares tips for managing stress during a busy harvest (Episode 141)
---
FarmHer
---
Land O'Lakes
The Struggle: A Mental Health Crisis in Rural America
---
Tackling Stress - Recorded Webinars
Iowa Farm Bureau
An Iowa Farmer Shares: Families feel stress...talking about it helps
Stress on the Farm: Strategies to Help Each Other
Emotional Stress on the Farm: Implementing Practical Strategies to Cope
Managing Stress in an Era of Ag Uncertainty
---
Michigan State University Extension and University of Illinois Extension (American Farm Bureau recommended)
Bury Seeds, Not Stress Webinar Series
---
American Farm Bureau Federation
---
Resources in Spanish (Recursos En Español)
National Suicide Prevention Hotline (in Spanish)
Línea directa nacional de prevención del suicidio
Call (888)-628-9454 / Website
---
Anxiety & Depression Association of America (ADAA)
Asociación de la depresión de América (ADAA)
---
Iowa Concern
Preocupación de Iowa
(Provided by Iowa State Extension and Outreach)
(Proporcionado por Iowa State Extension and Outreach)
Call (800) 447-1985 / Email: caringexpert@iastate.edu / Website