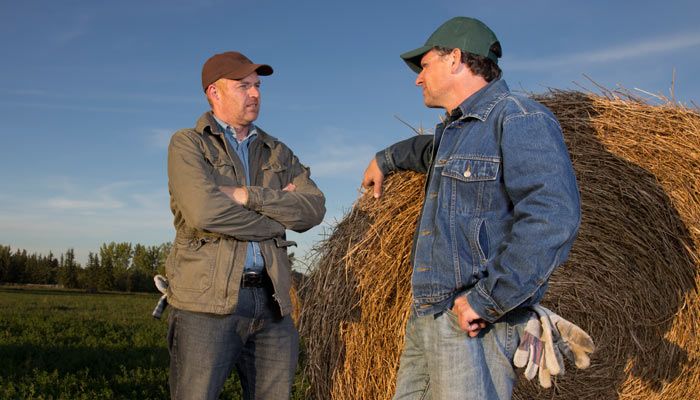 Risk has always been a part of agriculture. But farming has changed dramatically over the past few years. The most successful farmers are looking for an innovative approach to risk management as a critical part of their overall strategy. Farm Bureau's goal is to help producers find ways to better manage their risks through effective, market-based risk management education.
Farm Bureau offers education that can be delivered in a variety of methods from local workshops to webinars. For more information on Farm Bureau's Risk Management programs, please contact Zach Brummer, Commodity Services Manager.
Webinars/Webcasts
Archived Webinars:
Soybeans, Renewable Diesel, and the Future (Webinar)
an update on the current expansions & explores the potential implications to the soybean market. .
2023 Grain Stocks and Planting Intentions: Market Implications Webinar
After a volatile year, these reports can set the tone for the upcoming months.
Planting and Growing Season 2023 – What Can We Say About Drought, La Niña and Other Issues?
Dr. Dennis Todey, Director of the USDA Midwest Climate Hub at Ames, will discuss current drought conditions and other impacts to planting and the growing season in Iowa and other areas of the Midwest.
Putting U.S. Meat on the World's Table Webinar
Exports support and increase the value of Iowa livestock products.
International Trade: Crucial for Iowa Crops Webinar
Iowa farmers rely on international trade to provide essential demand for ag products.
Crop Insurance - 2023 Spring Farmer Meeting Webinar
 Join us on Thursday, January 19, to learn how you can use Enhanced Coverage Option(ECO) or Supplemental Coverage Option (SCO) to provide an additional band of coverage.
Search for a Pre-Harvest Crop Marketing Advantage Webinar
In these volatile markets, setting a crop price is a difficult decision. It doesn't need to be complicated though! Historically, early sales have been some of the best for a portion of the crop.
Understanding Ag Contracts: What You Need to Know
Contractual agreements are an important part of agriculture. Regardless of the type of contract, farmers should be aware of basic contract components.
2022 Iowa Farm Income Tax Webinar Recording
 Thursday, November 10
2022 Transportation Rules for Farmers Webinar
 Monday, August 8, 2022
Livestock Risk Protection: Protecting your Owned Livestock Revenue Webinar
 Wednesday, August 3, 2022
July WASDE, Planted Acres & Stocks: Market Implications Webinar
USDA will release the July World Agriculture Supply and Demand (WASDE) report on July 12..
Cybersecurity 101 for Farmers: Risks and Protection Strategies Webinar
Iowa Farm Bureau will host a timely, informative webinar to raise awareness of cybersecurity for farm operations.
Third Thursday: 2021-22 Crop Marketing Series
This unique webinar series will be held at 1:00 pm on the third Thursday of the month from November 2021 through April 2022. Crop marketing education will be delivered in small portions to facilitate learning along with updates on the current markets.
2022 Grain Stocks & Planting Intentions: Market Implications Webinar

After a volatile year, these reports can set the tone for the upcoming months. What do they mean for new crop pricing? What shifts are being anticipated in acreage? What is the risk?

Planting/Growing Season 2022 – Soil Moisture, La Niña and Other Issues Webinar

La Niña has influenced our winter; what will it do for spring/summer? And what other things may affect the 2022 growing season?

What's Driving Rising Farmland Values?

Land values in Iowa have been rising and are breaking records. What are the factors behind the trend?

Reap the Benefits of Farm Financial Records Webinar

Keeping good farm records is work! But the benefits are enormous and can make the farm more profitable and resilient!

The Economic and Local Impacts of African Swine Fever Webinar

Expert speakers will provide the most recent information on the potential economic and local impacts of an outbreak in the U.S.

Utility-Scale Solar Energy Contracts: What You Need to Know Recording

While Utility-scale Solar Energy is a topic of much discussion in Iowa. If approached with a land contract, what issues should be considered? What are the components of a contract? Is a solar lease right for your farm?

New Services for Managing Farm Stress Webinar

While stress in life is normal and can move people toward positive change or action, when it crosses the line of impacting decision-making, relationships and physical health, it needs to be addressed.

Innovative Livestock Price Risk Management Webinar Series Recordings

The intent is to help livestock (pork and beef) farmers learn about price risk management methods available to them.

Introduction to High Tunnel and Produce Production

Using a high tunnel gives growers the potential to increase production of certain crops, expand into different crops, and extend the growing season.

Successful Grazing and Pasture Management for Beef and Dairy Cattle Webinar

In order to be efficient as possible using your grazing forage, dairy and cattle producers should have a grazing plan.

Livestock Risk Protection: An Improved Risk Management Tool Webinar

Livestock Risk Protection (LRP) is an insurance plan designed to protect against a decline in market price. LRP is typically available for fed cattle, feeder cattle, swine and lamb.

An Iowa Farmer Shares: Families feel stress…talking about it helps

Take an important step to understand stress responses and improve your family's ability to cope during this uncertain time.
Farm Programs and Activities