Yields variable, promising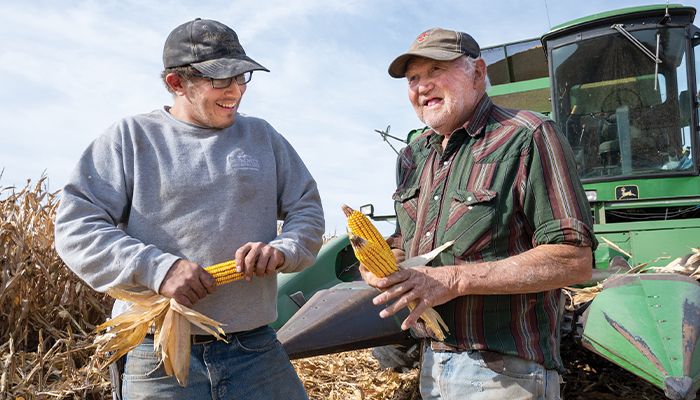 Ethan Lambert was amazed last week at the numbers that began to roll in showing his corn coming in at about 250 bushels per acre the first few days into the 2022 harvest season.
Lambert, who farms near Dows, said farmers in much of north central Iowa got into the fields a little later than the rest of the state due to a wet spring and delayed planting season that pushed back the growing season as well, but early indications signal the lag has been well worth the wait.
"Corn yields in our area have been very nice," Lambert said Oct. 5. "We've seen yields consistently around 220 bushels per acre or more depending on the quality of the ground.
"Yields for beans have been around the upper 50s to mid-upper 60s, which is quite a bit better than last year."
Harvest thus far has been a pleasant surprise following a 2021 drought year that limited high-end yields in north central Iowa, said Lambert.
"Last year our area was in a pretty bad drought, and this year with timely rains our yields have been significantly better throughout the area," he said. 
Harvest weather also has been cooperative this year, he added. 
"The beautiful weather definitely has helped the soybeans stay dry and helped farmers get those soybeans out in a timely manner.
"I think it's also helping corn dry down a little. Our 102-day hybrid was testing around 17.6% for moisture as of October 4."
Lambert estimated that 50 to 75% of soybean harvest was completed by mid-week last week, and corn harvest really was just getting under way.
Variable yields
Harvest looks to be ahead of schedule in some parts of Iowa. The Iowa Department of Agriculture reported as of Oct. 2, 11% of the corn crop and 26% of soybean acres had been harvested statewide, but by week's end the percentage was expected to increase substantially. Nationally, the USDA estimated 20% of soybeans and 22% of corn had been harvested.
Rebecca Vittetoe, Iowa State University Extension field agronomist for southeast Iowa, said harvest in her area started a couple weeks ago with roughly 10% of fields combined as of Oct. 2.
Despite later than normal planting in early May, there's been little delay in harvest. Drought conditions in southeast Iowa caused some plants to shut down early, she said.
"Yields are variable, and a lot of that does go back to rainfall during the growing season and the haves and have nots when it came to getting rain," said Vittetoe. North of Interstate 80 looks to have better yields than south of the interstate.
"But I've heard some have been pleasantly surprised with their bean yields even with the dry conditions," she said.
Josh Michel, ISU Extension field agronomist in northeast Iowa, said on Oct. 5 that less than 10% of corn and 20% of beans had been combined in his area, and yield reports have been widely variable.
"Generally harvest has been going well, but slow for most of northeast Iowa," Michel said. 
"Although variable, corn yields so far seem to be on track with average to slightly above average county yields," he added. "Soybeans seem to be a similar story; variable reports, but overall initial yields have been slightly better than average so far."
Favorable weather has helped to dry down grain, so the harvest pace should pick up this week, Michel said. Forecasted frost and freeze conditions for late last week also were expected to put a stop to corn and soybean plants further maturing if they hadn't reached full maturity already, he said.
Western Iowa conditions
In southwest Iowa's Page County, Andy Rine said there are still a lot of green stems on soybeans, slowing down harvest a bit. 
"Guys have told me that yields are variable this year," Rine said. "Soybeans have come in at 40 to 70 bushels per acre. Around here, 55 bushels per acre is about average." 
Much of the corn is still too wet to harvest, running from 18 to 25% moisture. The few fields he has heard about have yielded between 180 to 210 bushels per acre. 
"For the summer and year we've had, that's pretty good. Maybe a little below, but still good," Rine said. 
Some equipment challenges showed up early in the season. Rine works as a John Deere service technician and said augers were running short a few months ago, but most of the farmers he works with have been able to keep running. 
In Dickinson County, Emily Boettcher was about 75% done with her soybeans on Oct. 5. 
"There is a little bit of green stems out there, especially on replanted bean fields, but they seem pretty much ready to go," Boettcher said. 
Soybeans were about 8% moisture, causing some shattering, but test weights have been pretty good despite the dry conditions. 
"They're heavy beans, it's nice to see that little bit of extra weight," she said. 
Soybean yields are variable, "depending on whether you got rain or not," she said. A range of mid-40s to mid-60s bushels per acre is common across her region.
Green soybean leaves
Reports from across the state indicate drought conditions will impact yields in the driest areas. Tar spot has been easily found, and although it will affect yields this year, there's ample time to consider mitigation efforts for future years such as hybrid selection or crop rotation.
Spider mite and corn aphid issues also have been reported, but impacts on yields are yet to be determined.
Vittetoe said she's had many comments and has observed soybean fields with green leaves sticking on the plants, but the crop from a moisture perspective is ready to harvest.
"This could be due to different biotic or abiotic factors," she said. "The best recommendation is to harvest when the grain is at the right moisture content, and farmers with this will want to make sure the sickle bar on the combine is sharp. 
"They may need to slow down some to account for the biomass going through the combine."
Michel concurred, although he said green stems and leaves in his area have been isolated.
"I don't believe this will slow down harvest very much or at all," he said.