Weller embraces learning and leading by example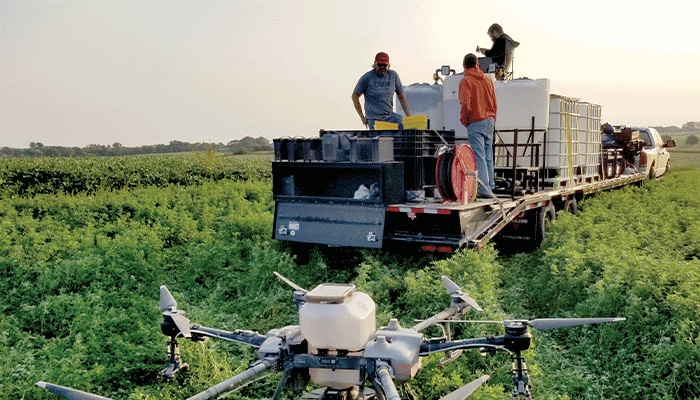 "You have to adapt and change," says Chase Weller. "Farmers have to keep moving and learning."
That's Weller's mantra for his seed business, Weller Seed Supply, and on his own acres.
Chase and Jess Weller were this year's winner of the Secretary's Ag Leader Award – Leader in Conservation given by the Iowa Department of Agriculture and Land Stewardship (IDALS).
Located in the tiny burgh of Sharpsburg in Taylor County, Weller Seed Supply isn't only an area go-to for corn, soybeans, forage seed and cover crop seed. Chase and Jess, who have three children, also actively advocate for cover crops and nontraditional cash crop rotation.
"Microbes in the soil need more than just corn and beans," says Weller. He planted 80 acres of prime cropland to a cover crop mixture for a season. He was able to graze his cattle on that mix and has seen increased yields on his corn and soybeans since. "Just breaking that cycle for one year made a difference." 
It's only one of many approaches to building soil health Weller has tried on his farm. 
He's planted cover crops since he and Jess settled into his roots in 2009. Like most in the area, he plants rye in the fall. To avoid the negative impacts of planting corn into rye in the spring, he is developing a mix of clover, radishes and turnips, under the theory that the broadleaf plants will cause fewer problems for the corn.
"They should be compatible," explains Weller. "Otherwise, the rye has to be terminated 10 days before corn can be planted, and the weather just doesn't always give us that kind of planting window." He sowed 100 acres last fall with the clover mixture.
Jess also planted a Christmas tree farm, a long-term investment in the farm and the environment.
And Chase is about to take up another acre with a test plot showcasing 15 varieties of cover crops near the seed store.
Some friends and neighbors question the Wellers' use of prime farmland for such experimentation, but it makes perfect sense to Chase.
"People are more willing to experiment when someone else is doing it," says Chase, "when they don't have to be afraid of looking like they're the craziest person out there."
The Wellers hosted a tour to show and educate fellow farmers; they participate in cover crop education meetings; and Chase never misses a chance to have a meaningful conversation with his seed customers.
For Chase, the motivation is simple: "We simply must take better care of our soil health."
Making it pay
Weller goes beyond talking about cover crops and providing examples.
Chase and Jess work closely with the Taylor County Soil and Water Conservation District (SWCD), where Jess is an assistant commissioner, and the local NRCS office in Bedford.
Fluid communication allows for Chase to refer seed customers with interest in cover crops, and they know who to refer to him to fly on rye.
The partnership has aided in developing a program to incentivize soil health conservation practices.
Beginning in 2016, they created a unique three-year water quality initiative. The result: More than 100 producers have committed 4,000 acres in 260 fields to the project.
The project has now been funded through 2024 and has been expanded to include Page County.
Four programs encourage farmers to seed down marginal acres and increase forage production. 
The Crop to Hay or Pasture program offers $50 per acre per year for a maximum of 40 acres per farmer to seed down current row crop or expiring Conservation Reserve Program (CRP) acres on marginal sidehills to a five-year pasture or hay field.
The Summer Fall Grazer of­fers $80 per acre per year for a maximum of 40 acres for planting and livestock grazing a third crop in their crop rotation.
The Calving Covers offers $20 per acre per year for 20 acres to seed calving lots with a cover crop, providing cover when vacated for the season and grazing when cattle return in the fall.
The 10-year Pasture Program offers $400-$600 per acre for a 10-year seeding of up to 80 acres, taking row crop or expiring CRP  and regenerating it into a rotational grazing system, as well as cost-share assistance for water and paddocks. 
Weller, along with SWCD and NRCS office staff, also helps farmers tap broader government programs, and Chase works to solve local logistical problems.
He used to take cover crop seed, seed tenders and maps to Creston, 30 miles away, where he arranged aerial application of rye with pilots at a cost to the farmer of about $16-$17 per acre.
Meanwhile, the nearby Bedford airport was unavailable because it couldn't accommodate the heavy trucks on unpaved areas.
Weller arranged use of a seed truck from MFA Incorporated, a regional farm supply co-op out of northern Missouri. Pilots can now sow cover crop from the Bedford airport at a savings of $4-$5 per acre.
Not only is the airport closer, lowering fuel usage, there is little other air traffic, making the process more time efficient for pilots and farmers. 
"Farmers are able to break even on putting their cover crops in," says Chase. "People seem a lot more willing to try things if they're not going to lose money on it."
Chase and Jess are seldom without such new ideas. Jess is starting the first seedlings in their new geothermal underground greenhouse. 
"The fun is in the learning," says Chase. He sees farmer at­titude changing and interest increasing.
He relishes the conversations. "They make me a better farmer and a better person. They make me think," says Chase. "There's no right answer for everyone. You have to adapt new practices for your own place. You just have to take care of your soil. It's an ongoing effort, not just a one-year thing."
Queck-Matzie is a freelance writer from Greenfield.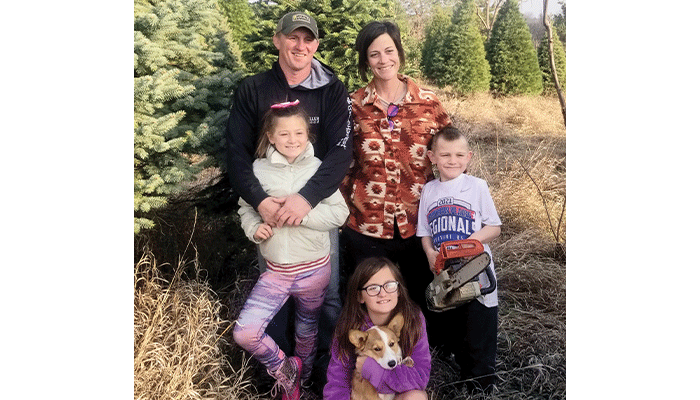 (Pictured above: Chase and Jessica Weller, with their children Jemma, Realee and Bo, advocate for cover crop adoption and nontraditional crop rotations.) PHOTO CONTRIBUTED
Want more news on this topic? Farm Bureau members may subscribe for a free email news service, featuring the farm and rural topics that interest them most!