Water quality progress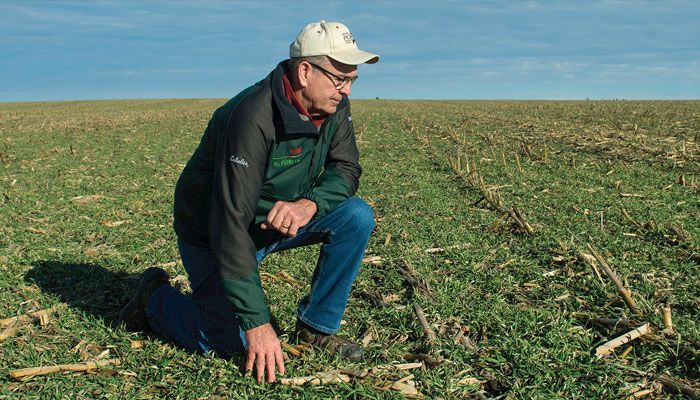 Despite a tough economy and unprecedented upheaval from the COVID-19 pandemic, Iowa farmers continue to take on the challenge of improving our state's water quality through the statewide, comprehensive Iowa Nutrient Reduction Strategy (INRS). The latest INRS pro­gress report, just released by Iowa State University (ISU) and the Iowa Department of Agriculture and Land Stewardship (IDALS), shows how farmer initiative has produced significant results in the seven years since the strategy was adopted and outlines the path for continued gains.
How do we know that Iowa's water quality progress will continue? Because we've already produced a tremendous reduction in the amount of phosphorus leaving fields and entering Iowa's streams, rivers and lakes (one of the key goals in the INRS).
Decades of conservation work on Iowa farms have slashed phosphorus loss by 22% since the 1980s and early 1990s, ac­cording to a recent ISU study. That data dovetails with 2015 data showing that Iowa's soil erosion is down 28% over the past three decades. Both pieces of data are proof that Iowa is on the right track and close to meeting the 29% phosphorus reduction goal outlined in the INRS.
Pivoting to nitrogen
Now, farmers and their partners are applying that same prov­­en approach to address Iowa's nitrogen challenge.

As farmers pivot to focus on reducing nitrogen loss, they are using an array of scientifically verified practices outlin­ed in the INRS. One of those is planting cover crops, which ISU research shows can reduce nitrogen losses by approximately 30% or more. In 2018, farmers planted more than 2 million acres of cover crops, a 26% increase from the previous year, according to the Iowa Nutrient Research and Education Council's annual progress measurement system using re­­tailer and Certified Crop Advisor farm re­­cords. That's an astonishing in­­crease when you consider that the state's farmers planted fewer than 10,000 acres of cover crops a de­cade earlier.

Farmers are also ramping up their use of other tools, including edge-of-field practices, to reduce nitrogen losses. A good example is wetlands. Over the past 15 years, IDALS worked with farmers to restore 90 wetlands. And over the next three years, more than 30 wetlands in high-priority watersheds will be added to the Iowa landscape.

Farmer participation
For more proof of farmers' initiative, look no further than the attendance numbers from conservation field days and other educational events. The new INRS report shows that in 2019 more than 540 collaborative outreach events drew more than 50,000 attendees, showing the enthusiasm farmers share for conservation. Those numbers are even more impressive when you consider the fact that Iowa has roughly 86,000 farms.
The report tells a great story, and I'd encourage you to read it for yourself at
www.nutrientstrategy.iastate.edu/
.
Better yet, read the report and then consider how you can play a larger role in Iowa's water quality progress. Every Iowan can find a way to chip in. <
Future results will depend on committed Iowans, committed dollars and innovative technology. During the past several sessions, the Iowa Legislature has prioritized conservation funding and water quality improvement, and between farmer and landowner investments and public funding, more than $500 million was dedicated last year alone to collaborative solutions for our shared challenge of improving water quality.
New technology
The fact is new data and new technologies are being developed to improve water quality. Since the INRS kicked off in 2013, we've incorporated a brand new conservation practice into the strategy: saturated buffers.
Times are extremely tough in agriculture and throughout the American economy right now. But we can't slow down, and Iowa farmers won't. It's going to take time. But by working together — farmers, businesses, municipalities, government officials and others — we are producing results, and we know we are on the right track.
Hill is a crop and livestock farmer from Warren County and president of the Iowa Farm Bureau Federation.
Want more news on this topic? Farm Bureau members may subscribe for a free email news service, featuring the farm and rural topics that interest them most!