TikTok-trending pumpkins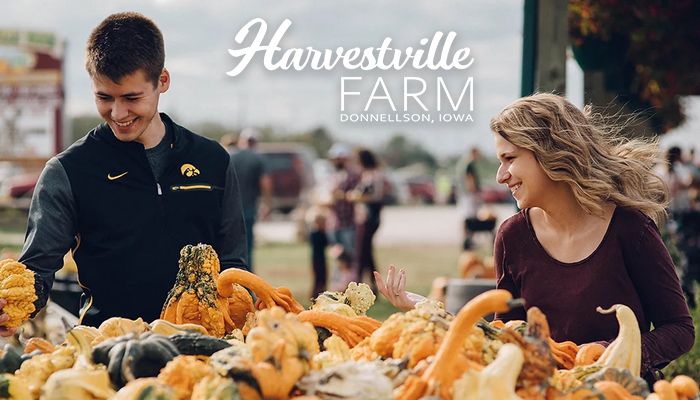 Pumpkins aren't just for carving anymore. They have become social media trending home décor, from the front porch to the dining table.
Harvestville Farms in Donnellson has set out to meet the demand for decorative, unusual and traditional pumpkins. Harvestville grows around 125 different types of pumpkins, squash and gourds.
"We do not just sell the typical pumpkin you could get at your large local retail store," says Harvestville Farms owner and Lee County Farm Bureau member Julie Hohl. "Not that there's anything wrong with buying pumpkins at local retail establishments, we just want to offer unique pumpkins and varieties you wouldn't be able to find anywhere else."
Especially popular the past couple years are Fairytale pumpkins. In muted tones ranging from tan to light blue, they are often featured in high-end designer catalogs.
"We have Cinderella pumpkins that are a beautiful bright red and the size you see in the movie," Hohl says.
Knucklehead pumpkins, covered in large warts, are also outdoor decoration favorites, Hohl says..
"The seed companies are not identifying a particular variety as the 'it' thing this year," says Hohl. "So it looks like the trend for unique varieties will continue, with your dining table adorned with the muted varieties."
Harvestville isn't just a pumpkin patch; it is a working farm that produces traditional crops and livestock, just as it has for more than a century. 
The pumpkin tradition began in 1994, when Julie's husband, Adam Hohl, planted pumpkins as an FFA project, selling them from a wagon on the honor system.
After college, Adam and Julie returned to the farm and expanded the business. Today, the Hohls run Harvestville Farms year-round with Adam's mom, Kathy.
Growing pumpkins can be labor intensive. They must be planted, weeded and harvested by hand. 
The Hohls plant early to get a jump on the fall tourist season that begins Labor Day. 
Cinderella pumpkins spend 95 days on the vine, followed by 10 to 15 days of curing to ripen and harden the shell.
The pumpkins aren't irrigated. "We're at Mother Nature's mercy," says Hohl. "We're lucky there used to be a hog operation here, and our soil is very rich."
Quack-Matzie is a freelance writer from Greenfield.

Return to The Iowa Dish