The lean years remind us of what it means to be "Farm Strong"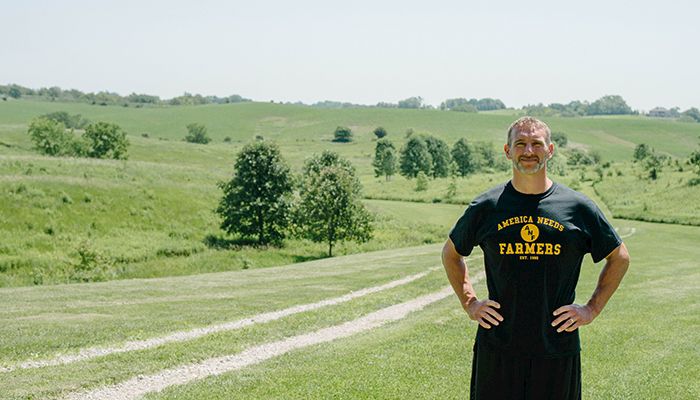 3 – 8
1 – 10
3 – 9
1998 – 2000 were forgettable years for any Hawkeye football fan, a gloomy transition from one legendary coach (Hayden Fry) to the next (Kirk Ferentz).
When I think about Aaron Kampman, the newest ANF Wall of Honor inductee, I recall those lean years, the short-lived "Great Recession" in Iowa football. I think of Iowa's 13-game losing streak in 1999-2000, and I vividly remember rushing the field with my brother and friend to celebrate an upset victory over Michigan State that ended the streak.
In fairness, that speed bump in Hawkeye history was despite Kampman (who played from 1998 – 2001) and his performance. The last of three Aplington-Parkersburg high school standouts to make their way to the University of Iowa, Kampman was an all-time great for the Hawks, earning first team All-Big Ten honors as a senior, before going on to a 10-year NFL career where he reached the Pro Bowl twice.
Kampman was a beast, a leader who helped the Iowa football program rebound to win a bowl game his senior year (which helped springboard the Hawkeyes to an Orange Bowl appearance the year after he graduated).
He was "Farm Strong" – determined to work hard, improve, and fight for his team when the circumstances around him gave him little incentive to do so.
Farmers find themselves in a similar situation today, determined and working hard to support their families while enduring yet another year of down prices and unfortunate weather.
That's what makes Kampman the perfect ANF Wall of Honor inductee for 2018. He's a reminder that integrity and dedication can't take a break during the down years. We might not see results today or tomorrow, but if we persevere and remain committed to doing things the right way we'll give ourselves at fighting chance when an opportunity arises.
By Zach Bader. Zach is Iowa Farm Bureau's Digital Marketing Manager.