Teacher crunch hits FFA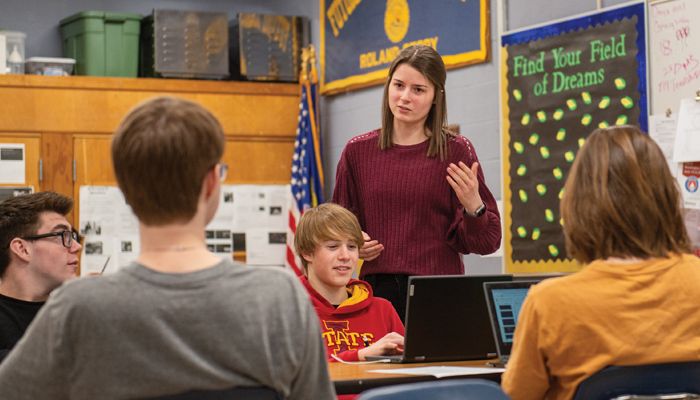 Like so many other industries, education is experiencing labor shortages as districts prepare for the 2022-23 school year. This shortage even extends to ag teachers, a role that, in Iowa at least, traditionally has plenty of applicants in the pipeline.
"Usually, there is maybe one or two positions open at the start of the year," said Scott Johnson, executive director of the Iowa FFA Association. "Right now, we're expecting about 10 positions left open at the start of next school year."
Johnson said there is no single explanation for the shortfall in educators. Reasons range from retirement to people changing careers to others leaving the workforce all together. 
He noted that in Iowa in the last 12 months, there have been 65 position changes and 39 ag teachers leaving the profession. For reference, in 2021, there were a total of 278 ag teachers working in Iowa. That number is less now.
"Last time we saw upheaval like this was the 1950s, just after World War II," Johnson said. That's when there was a shift to the modern public education system and reorganizing districts.
"The problem is not so much that our colleagues are retiring, it's more that between 10% to 15% of our teachers are leaving the profession all together," Johnson said. "We're quickly discovering we have a retention problem."
Growing membership
Despite the challenge of finding teachers, the demand for ag educators in Iowa and around the country continues to grow.
While Johnson doesn't have exact numbers of how many high school students in Iowa are enrolled in ag programs, he sees a big trendline upward in FFA participation.
"Membership in Iowa FFA is up about 15% right now over last year," Johnson said. 
In 2021, Iowa was one of only six states nationwide that grew membership, he noted.
Johnson said this success has only added to the shortage of ag educators, as more and more districts add the curriculum to their educational offerings.
Hands-on learning
"There is a lot of emphasis on offering work-based learning in high school right now," said Katelyn Zimmerman, a first-year ag teacher at Roland-Story High School in Story City. 
She noted that both ag classes and FFA offer a lot of opportunities for this type of learning, which is focused on real-world experiences outside of the classroom that help develop applicable life skills.
A prime example is the community garden managed by the Roland-Story FFA chapter. 
In 2021, the garden produced about 5,000 pounds of food, all of which was donated to families in the community. The chapter also hosts a farm safety event each year for elementary students.
Zimmerman is an example of the change occurring in school districts around the country right now. She took over for Brad Taylor, who retired after 43 years in the ag teacher role at Roland-Story High School.
"It has definitely been some big shoes to fill," Zimmerman said. 
She worked with Taylor for a semester in 2020 as a student teacher ahead of graduating with a degree in ag education from Iowa State University.
A family tradition
Originally from central Wisconsin, Zimmerman comes from an ag education background. Both her parents were also ag educators. Her dad still teaches full time, while her mom now works for FFA's national organization.
That background, as well as a collection of lesson plans and extensive notes left by Taylor, has allowed Zimmerman to jump right into the job.
"I had to relearn some things I learned in high school," she said. "Ag mechanics was a challenging topic to teach."
Despite this, Zimmerman said she loves the job and knows she made the right decision to go into teaching.
"I really focus my curriculum on being interactive with the students and making sure the lessons are relevant to them," she said. "I'm not here to be friends with my students, but I want this class to be more conversational. I treat them with respect, treat them like adults. That's important."
In her role as the district's FFA advisor, Zimmerman has already brought back a dormant tradition. 
"We're going to have an FFA banquet this spring, for the first time in a decade," she said. The event will provide a platform to honor and highlight the hard work students have undertaken during the school year.
Want more news on this topic? Farm Bureau members may subscribe for a free email news service, featuring the farm and rural topics that interest them most!