Taylor County 7th grader Iowa Foundation Heifer Award winner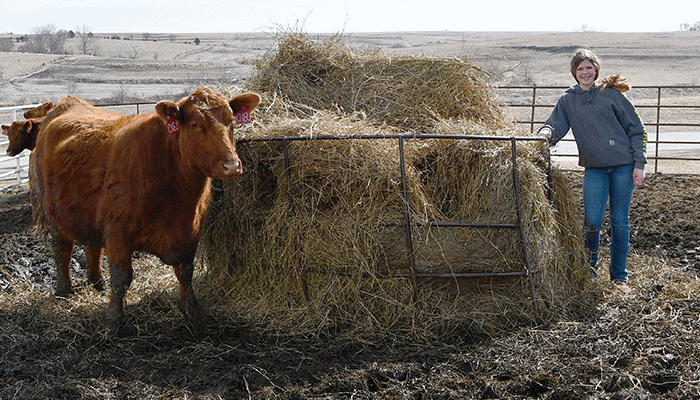 Kali Nickell, 12, of Taylor County, is getting a head start in the cattle industry as the latest recipient of the Iowa Foundation Heifer Award. 
She received three Red Angus bred heifers from Griffin Red Angus to start her own herd under the program coordinated by the Iowa Beef Breeds Council and the Iowa Cattlemen's Foundation.
After five years, Nickell will repay $6,000 to the program to help keep it running for future award recipients.
"My friends think it's cool that someone from a small town got this award," Kali said recently from her family farm near Gravity. She is the daughter of Kevin and Stefanie Nickell and is a seventh grader in the Bedford Community School District.
Butch Neumeyer, who farms near Walker in Linn County, helps oversee the heifer program.
"Our goal is to get young people involved who really want to be involved in the cattle industry," Neumeyer said. "This gives them an opportunity to get a jump-start on their own herd."
He noted that the 10-year-old program has built great relationships with breeders around the state to provide the heifers to winners.
Neumeyer said he was imp­ressed with Kalie's attitude.
"She was a little shy and in a shell," he said. "But she's really enthused about giving some talks about the award and sharing her experience with others."
Nickell has been involved in raising Red Angus heifers for several years, starting to work alongside her parents at age 7 or 8. She also shows cattle, winning many awards and ribbons in just a few years.
Nickell is in her fourth year as a member of the Washington Winners 4-H Club and is involved in several community service projects. She is a member of the Iowa Junior Red Angus Association and the National Junior Red Angus Association.
She has shown cattle not only at her local county fair but also at the Iowa State Fair, Iowa Beef Expo, Iowa Red Angus Field Days and National Junior Red Angus shows.
"It's fun being able to go to shows," Kali said. "Especially the showmanship portion, it's a good experience."
Kali and her sister, Kambri, 10, have always worked with cow-calf pairs, growing up with their dad's Red Angus herd just outside their backdoor.
With the addition of the heifers from this award, Kali's own herd is starting to take shape.
"It's a great learning experience for her," Kevin said. "She can do this through high school and be set up with a decent-sized herd of her own."
Learning valuable life lessons is one significant advantage of being an award winner.
"When I got the award, I knew I would have to talk about it," Kali said. "That makes me nervous."
She also learned about the difficulty of parting with her livestock after selling her first show calf when she was 8 years old.
"I knew I'd have to get rid of her eventually, but it was still really hard for me," Kali said. "It made me feel sad."
She's a lot more comfortable with the processes of raising and selling cattle now, but it took time to learn, she said.
Kevin, a third-generation cattleman, has always raised Red Angus. He said he likes their temperament, as well as the look of the breed.
"We raise crossbred Red An­gus," he said. "They're bred to be docile. They're easy to work with."
He is happy to share his love for the breed with his family and is pleased that Kali brought home this award.
"It's a really nice program that's helping young kids get started," Kevin said.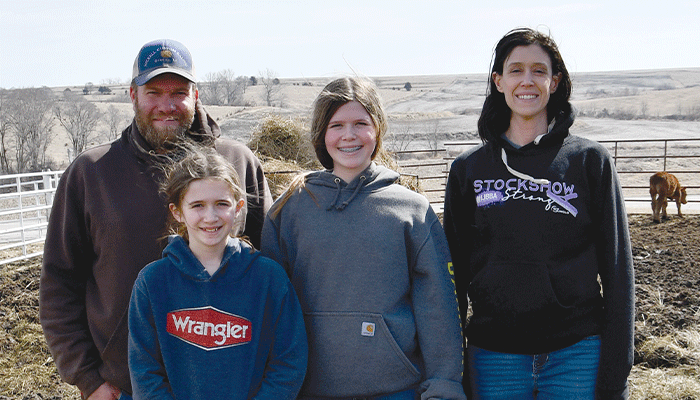 Pictured above: The Nickell family, from left, Kevin, Kambri, Kali and Stefanie, farm near Gravity in Taylor County. Kali is the 2022 recipient of the Iowa Foundation Heifer Award, which donated three bred Red Angus heifers. PHOTO / COREY MUNSON
Want more news on this topic? Farm Bureau members may subscribe for a free email news service, featuring the farm and rural topics that interest them most!