Taking the long look for conservation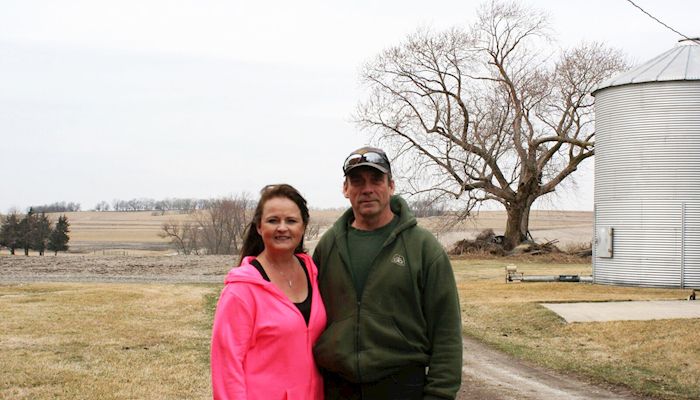 Gary Boswell of Adams County says good conservation requires a long-term plan.
"The goal is to keep soil in place, build organic matter and make a living," says Boswell, who farms with his wife, Lori, on the family farm just south of the tiny town of Mount Etna.
It's not easy land to farm —or conserve. Adams County is known for its steep terrain, and Boswell confronts the added elements of the Middle Nodaway River that cuts through his farm.
His great-grandfather took possession of the farm in 1898, living where Gary and Lori now live and raise row crops and hay. Gary also has 85 beef cows on shares, and Lori operates Bloomers Greenhouse.
Conservation of their land and resources has always been a priority to the Boswells.
"My dad was trained in the 1940s in contour farming," Boswell explains. "It's an art. We have headlands. We have steep ground. It's all contour. We've never planted end rows up and down."
Putting away the plow
Gary returned to the farm from college in 1980 ready to expand on the family's conservation knowledge. He attended no-till seminars and adopted the practice on his steepest ground first, then eventually across the farm. "I haven't plowed since 1987," says Boswell.
He does occasionally deep till isolated compacted areas, though he hasn't seen a real yield benefit in doing so.
No-till practices build soil quality and help with water absorption, reducing erosion on those steep hills in an area that saw a 10-inch rain last summer.
Boswell has considered cover crops for additional benefits, but so far, timing has been an issue. "I have a wagon load of wheat sitting in the shed I intended to plant last fall," he says, "but it was too wet, and I wasn't able to get it in. It's a great idea for increasing biodiversity. It's the bullet that hits the bull's-eye in that picture. It's just difficult to work out time-wise."
He does follow an unusual crop rotation pattern, following a three-year cycle of corn-beans-corn, or beans-corn-beans, with two years of hay and some oats.
"The diversity of crops helps with disease control and improves grain yields," he explains. He is able to seed the hay and oats into no-till ground. "I get a better stand of hay if I don't bury the alfalfa and clover seed."
He has a market for the oats, and sometimes for the hay, helping mitigate the reduced income from land out of row crop production. It pays off in the long term, he says.
Adding waterways
Boswell says his greatest challenge is trying to accommodate large equipment into a no-till conservation system. Compaction can be a problem.
Knowing the land and working with its natural terrain is an essential element of any conservation plan, according to Boswell, who is a firm believer in waterways. "You should have permanent sod anywhere the water wants to travel."
He can't control the river, but would like to. "I'm convinced my greatest contributor to phosphorous and nitrogen runoff is the riverbanks," says Boswell.
The Middle Nodaway cuts a wide channel with banks 17 feet high. It was straightened in places in 1948 to reduce flooding, enabling the land to be farmed. And in terms of that goal, it has worked. The river flooded three times in 2008, the first time since 1972.
But the changes to its course have sped up the flow of water, creating a more powerful force.
"It tries to snake like it should, but just slams into the banks," says Boswell. "Between 2001 and 2011, the river ate away 70 feet of bank — on just one bend. That's 110,000 tons of dirt."
He would like to see the riverbank stabilized with willow trees and boulders. "But that's my opinion. The river will show you otherwise."
Boswell won the 2007 District 8 Conservation Farm of the Year by understanding good conservation requires an individualized approach.
"What works in one spot may not a mile down the river or down the road. We have unique features here. You have to know your ground and rely on the research. And have long-term goals."
Queck-Matzie is a freelance writer in Greenfield.
Want more news on this topic? Farm Bureau members may subscribe for a free email news service, featuring the farm and rural topics that interest them most!