Sukup aids in Ukrainian evacuations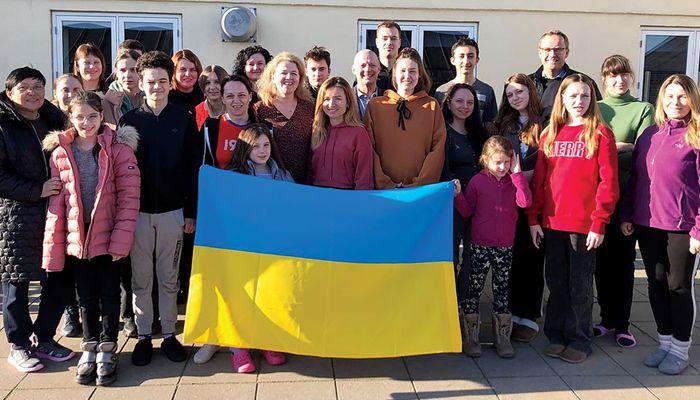 Iowa-based Sukup Manufacturing Co. of Sheffield has helped 64 Ukrainian women, children and elderly, thus far, escape their war-torn country during the past month, as Russian troops continue to bear down on their cities.
The company plans to continue the humanitarian effort through a GoFundMe fundraising campaign and partnerships with other groups in the coming weeks.
Emily Schmitt, Sukup chief administrative officer/legal counsel, said the company has business partners in Ukraine, and as soon as the war began to unfold, she was on the phone overseas to see how Iowa could help, both financially and with humanitarian needs such as food, fuel and lodging. 
"When it happened, we got in contact with them right away," explained Schmitt, a third-generation Sukup family member. "We were in constant contact with our joint manufacturing plant there. We heard personal stories about what was going on."
Sukup's business partner, Grain House Company, manufactures grain bins and material handling equipment, and many of its families were directly impacted by the invasion immediately. 
Also in the mix has been Sukup Manufacturing's European counterpart, Sukup Europe, which has been instrumental in connecting its affiliates with Iowa contacts to help fund the evacuation efforts.
1,200-mile Journey
When Russia invaded Ukraine Feb. 24, almost immediately thousands, and now millions, began fleeing to neighboring countries for safety — among them the most vulnerable.
The Grain House Company and Sukup Europe families were desperate to evacuate. While many men were called up to serve in the military, women, children and the elderly sought safety.
Enter Jens Erik Iversen, Sukup Europe's managing director/sales manager, and Andriy Semenovych, co-founder of Grain House Company. Iowa's Sukup team was put in touch with their banking affiliates to make sure there were funds available for the journey, and the first group got out soon thereafter.
"They had already lined up the bus (in Denmark)," Schmitt said of Iversen and Semenovych.  
Iversen was in Germany at the time, so the bus swung through and picked him up and then traveled to Poland to await the caravan that began in Bila Tserkva, Ukraine, and traveled 1,200 miles to the Polish border. 
"They drove all night and day, got Jens, and met Andriy's caravan at the border and took them back to Denmark," Schmitt said. 
The group couldn't travel at night, so they needed to map the route and find places to stay on the journey through Ukraine.  
"That was the first successful trip. It really transpired fast … we've been making more trips ever since," Schmitt said.
The Iowa team worked from afar to secure lodging and supplies in Denmark, while Iversen and Semenovych did so on the ground in Ukraine and across four countries before the first group crossed into Denmark.
"Our employees have poured themselves into this," said Schmitt.  "They arranged hostels so that (the families) could stay together; they connected to the communities; they brought the mayors there to tell the story, secured food and clothing."
Abby Bohl has worked closely with the international subsidiaries of Sukup since she started with the company seven years ago. She said you feel helpless during a time like this, but "it's encouraging to know that there is an avenue to make a difference even if it's small in the big picture of this unimaginable situation."
Continued effort
Since that first caravan, there have been multiple groups being rescued. Another 29 were on their way to safety in late March.
Although the men had to stay back and fight, they had a burden lifted knowing their families were safe. "They didn't have to worry about the women and children," said Schmitt. "They knew us, and they felt very relieved (we were helping)."
Schmitt gets a little choked up when talking about one farmer she learned was helping those with the evacuation journey. It's someone they all met last fall in Iowa, who has been an integral part in helping the caravan out of Ukraine with supplies, fuel and navigating curfews.
"It's wonderful to personally know so many people who had a huge part in rescuing so many families," she said.
The Sukup Family Foundation has launched fundraising efforts to support the Ukraine Grain House families directly. Donate at https://gofund.me/51a377e5. As of March 30, it had raised more than $14,000.   
Want more news on this topic? Farm Bureau members may subscribe for a free email news service, featuring the farm and rural topics that interest them most!