Smoke the competition at the 54th Annual Iowa Farm Bureau Cookout Contest at the Iowa State Fair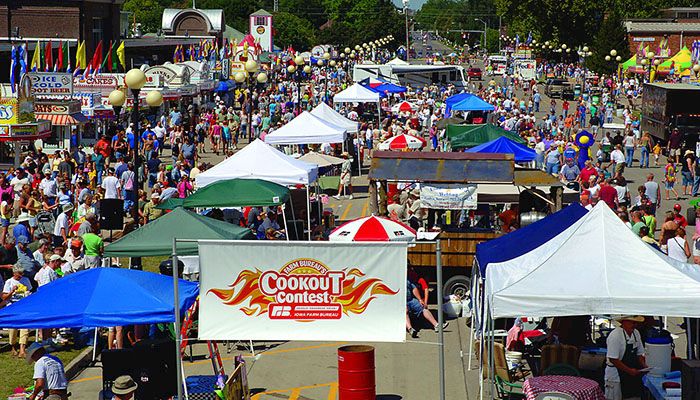 Local Cookout Contests Open Around the State
If there's one source of happiness many Iowans have in common, it is the love of a sunny day out on the patio surrounded by the aroma of a thick, juicy steak, chop or chicken breast on the grill, especially during May's National Barbecue Month. If your dish is the talk of the town and neighbors invite themselves over when you're firing up the grill, you could become a contestant at the 54th annual Iowa Farm Bureau Cookout Contest, held on Tuesday, August 15 during Farm Bureau Day at the Iowa State Fair.
To compete for 'top chef' honors, you must first compete in a preliminary contest hosted by various county Farm Bureau offices around the state. To find the contest nearest you, visit https://www.iowafarmbureau.com/Article/Iowa-Farm-Bureau-Cookout-Contest.
Entry categories include beef (excluding brisket due to time constraints), lamb, pork, poultry, turkey, "specialty" such as fish or goat, or combo which must include two or more meats. A winner in each category will advance to the state cookout.
The contest features a division for youth ages 13 to 18 with the winner receiving a $1,000 valued gas grill donated by the Iowa Propane Gas Association. If your best dish is usually created with a little bit of help, a team category is also available; those with culinary knowledge and flair can compete for the showmanship prize. First and second place winners in each meat, team and showmanship category receive cash prizes, but only one individual will be deemed the Iowa Farm Bureau Cookout Champion.
"Iowa is home to family farms that raise a variety of livestock," said Denny Harding, Iowa Farm Bureau cookout coordinator. "This contest is one way to celebrate and acknowledge not only a popular summer activity, but the tasty result of Iowa's farmers working hard to put food on our plates."
For more information on how to enter the local cookout competition contact your county Farm Bureau office or visit www.iowafarmbureau.com for a list of participating counties, dates and locations.