Small steps, big rewards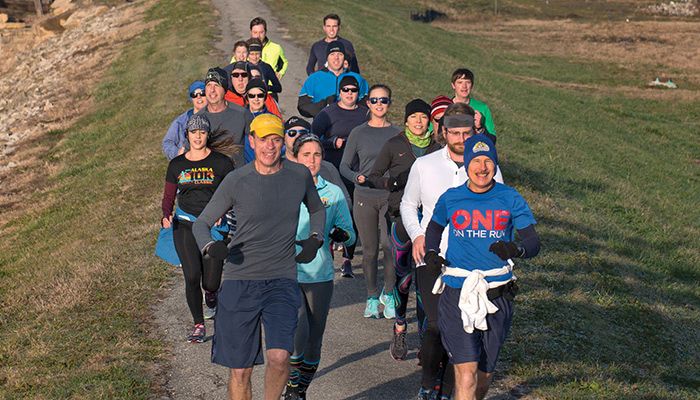 When New Year's rolls around, we start out January with the best intentions, resolving to lose weight, start exercising, eat healthier and get our finances on track.
Yet let's be honest. Life gets in the way. In our often crazy, hectic days, it can be difficult to stick to those resolutions — and even easier to give up entirely when we don't lose the 20 pounds or can't find time to go to the gym.
So instead of focusing on lofty goals, we asked local experts in fitness, health, nutrition and financial well­ness to share simple, easy-to-achieve tips for Iowans to improve their health and well-being in 2017.
Pick and choose which tips work best for you, and you can end 2017 healthier, happier and ready to celebrate many more years to come.
Chuck Long, executive director and CEO, Iowa Sports Foundation: What we try to do with the Iowa Sports Foundation's Live Healthy Iowa program is to promote teamwork, whether it's two people or 10.
Motivation is always the big thing. The biggest chal­lenge is getting out there, being active, working out. And it's so much better to do it with somebody else — with a friend or a family member. Teamwork is always best.
The next 10-week Live Healthy Iowa Challenge starts Jan. 23. For more information and to register a team, visit www.livehealthyiowa.org.
John Montgomery, vice president, Stroke Detection Plus: If you are someone who can't do a 180 degree turn with your bad eating and exercising habits, then start to make small, sustainable changes. Every day that you are making positive choices with your health and wellness is one less day that you are making negative choices. Then you just keep building on the positives. You don't have to be perfect. You just have to start making some small, positive choices. Remember, you have to start somewhere.
Dr. James Davison, M.D., Wolfe Eye Clinic: Keep an eye on your eyes. Your eyes truly are your window to the world. Any loss of vision immediately affects everyday activities. From driving to performing our jobs to basic mobility, vision loss can affect your safety and the safety of those around you. Routine dilated eye exams are critical in identifying and treating eye conditions that could potentially lead to vision loss. Please visit your family eye doctor regularly to maintain a lifetime of healthy vision.
Rachel Wall, R.D., human sciences specialist, nutrition and wellness, Iowa State University Extension: Rethink your drink. Added sugars can add up quickly — especially when you take into consideration the beverages you're consuming.
The 2015 Dietary Guidelines for Americans re­commend con­suming no more than 12 teaspoons of add­­ed sugar each day. In reality, the average American consumes 17 teaspoons of added sugar a day!
One of the leading contributors? Sugar-sweetened beverages. In fact, almost half of added sugars in our diets come from drinks.
So what exactly are added sugars and why are they problematic? Well, added sugars are just like they sound — these sugars aren't naturally found in foods, they're added. Eating and drinking too many foods and beverages with added sugars makes it difficult to achieve a healthy eating pattern without taking in too many calories. Added sugars provide calories, but no essential nutrients.
How can you cut down on added sugars in 2017? There are several small shifts you can make that will have a big impact:
Drink water or low-fat milk instead of pop.
To jazz up your water, flavor with mint, lemon, lime or cucumber slices.
If you choose to have a soda, select a smaller size.
Add 1 teaspoon of sugar to your tea or coffee instead of 2 teaspoons.
For additional resources and in­formation, visit https://health.gov/dietaryguidelines/2015/resources/DGA_Cut-Down-On-Added-Sugars.pdf and www.extension.iastate.edu.
D.C. Lee, assistant professor of kinesiology, Iowa State University: Exercise is a free medicine, which does not have serious side ef­­fects, yet provides com­prehensive total body benefits for your heart, lungs, muscle, bone and brain.
Running is one specific type of exercise that people can do anywhere, anytime without any expensive equipment. A recent study found that leisure-time running provides numerous health benefits including lower risk of obesity, hypertension, dyslipidemia, type 2 diabetes, stroke, osteoarthritis and certain cancers (Lavie et al., 2015).
In our earlier study of over 55,000 adult men and women (Lee et al., 2014), we found that even 5 to 10 minutes per day of running was associated with 58 percent lower risk of death by cardiovascular diseases such as heart attack or stroke. We also found that runners have three-year increased life expectancy com­pared to non-runners. However, find­ing a specific exercise or sport that you can enjoy and have fun is most important, so you can do it throughout your life span.
Dr. Michael Webb, audiologist, ClearValue Hearing: As we age, we may have to try harder to hear certain words. If you are having difficulty hearing someone, ask them to use different words that don't contain the sounds "th", "s" or "f." Words that contain "b", "n" and "v" will often have deeper tones and be much easier to hear.
To see where the sounds that are used in everyday human speech are, please look at the "Speech Banana" graph on our website: http://audiology.link/speech-banana.
If you'd like to learn exactly what parts of speech you can hear well, get a free hearing test by contacting ClearValue Hearing today.
Cynthia Fletcher, professor of human development and family sciences, Iowa State University: We talk a lot in personal finance about how there are so many parallels between physical health and financial health. One example is the energy balance of what you eat compared to the amount of energy expended. Well, there is the exact parallel of income and expenses.
The whole basic idea of living within your means is fundamental to financial health, for a couple of reasons.
One is being resilient, being able to deal with what comes at you, in terms of dealing with what economists call financial shock. And that could be loss of a job, a cut in hours at work or unexpected expenses that you really couldn't plan for. Being able to deal with that, typically through savings or access to credit, so the event doesn't completely destroy financial stability.
In addition, the proactive idea of being able to take advantage of opportunities. And that could range from being able to make a timely investment or having the down payment when the right house becomes available, to the simple idea of being able to take advantage of sales. Simply having enough money that you can buy four items rather than one item and still be able to live within your means.
Some of the most interesting res­earch that really resonates with me has looked at asking people about their satisfaction and how they spend their money. And it shows that people who invest, once their basic needs are met, more in experiences in comparison to things are far more satisfied with life. And I think there is a lot of wisdom in that empirical research.
Brittnay McKinley, wellness spec­ialist, Farm Bureau Financial Serv­ices: My nutritional advice for 2017 is one word, and that is balance. Be mindful of what you have consumed a lot of and what you have not consumed. Balance your foods throughout the day.
For example, if you were short on time and packed a carb-heavy lunch, be mindful of that, and for your next meal, have a more lean and green meal because you did not get as much of that category.
Also, don't throw in the towel if you have something completely unhealthy. A lot of those days happen to us. You don't have to continue to make those bad choices the rest of the day. It's all about balancing out your food groups.
Wes Franklin, wellness specialist, Farm Bureau Financial Services: Make getting fit enjoyable. Pick an activity that appeals to you, since you're more likely to keep to an exercise plan if you like it.
Check out local exercise options. Opportunities to be active in your neighborhood may include leisure centers, sports clubs, parks, walking trails, swimming pools or exercise classes.
Keep some exercise equipment at home. Options include exercise DVDs, a stationary bike, skipping rope or fitness ball.
Get active around the house. Housework, washing the car and gardening are all physical activities that burn calories and help keep you fit.
Invest the whole family in keeping fit. Arrange for outings that are physically active, such as walking in the park, rowing or hiking.
Terry Harrington, president of BASE, employee benefit administration: Goals. It tends to be a keyword at this time of year, and someone who runs any type of farm or business has the weight of both personal and business goals. A lot of times it is important to remember that leaning on others to help you in fulfilling your goals is half the battle.
Personally, it is a great time to really look at your health and assess what you and your family spend on out-of-pocket health care expenses. By looking back, you can maybe find other means of being healthier and spending smarter. Maybe it is as simple as focusing on a yearly check-up or how often you are buying out-of-pocket items like prescription medications, glasses, sunscreen and more. Are you paying more than you need to for these types of items, and are you taking advantage of all the benefit programs out there?
From a business standpoint, this is also a great time to assess the health and well-being of those around you. Statistics show that having healthy employees is im­portant to productivity and cost containment. Being healthy is not only considered a state of well-being, but also financial well-being. That makes a business owner's job two-fold, to ensure those working for them are not only physically healthy to continue performing their job, but also financially healthy.
Are your benefits eating up the dollars in your paychecks? One way to attack this goal is to assess all the different types of benefits and perks you provide, or that are available to you as an employee. There are so many new ways to trim health benefit costs these days to put more money back into your business and keep it in paychecks.
There are easy ways to pre-tax health insurance premiums and out-of-pocket medical expenses to help you achieve financial goals, relieve stress and put you, your family and the people who work for you on the road to healthy living. Educate yourself on simple pre-tax benefit plans that can help your financial health as well as enhance your physical health by calling BASE® at 1-866-550-5525.

Save money in 2017
Farm Bureau members can save on health screenings from Stroke Detection Plus, Wolfe Eye Clinic and Clear Value Hearing. For more information, visit
https://www.iowafarmbureau.com/Member-Benefits
or contact your county Farm Bureau office.