Schools work to recruit young Iowans to ag teaching careers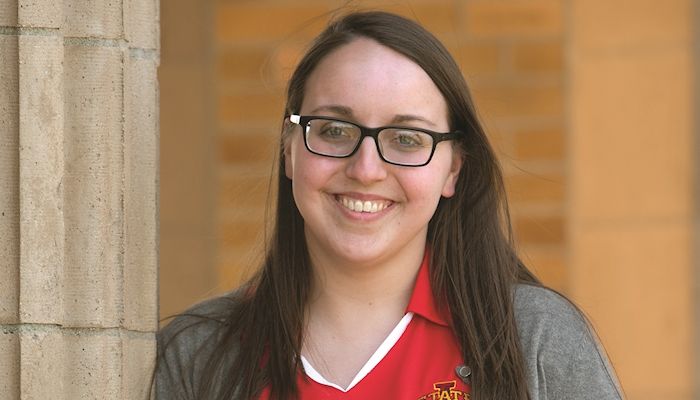 Malayne Meyer (pictured), a senior who is just about to graduate from Iowa State University (ISU), can't wait to get started on her chosen career: teaching agriculture studies in high school and shepherding an FFA program.
She's already set to student teach agriculture this upcoming fall at Crestwood High School in Cresco. When that's completed, Meyer will look for a permanent position somewhere in Iowa teaching the basics of agronomy, animal science and a whole range of other areas that make today's agriculture so dynamic.
"I'm really excited," said Meyer, who grew up on a farm near Charles City and is a veteran of countless hours of 4-H and FFA activities. "I really like agriculture and working with young people, so I think it's going to be a great fit."
School districts around Iowa sincerely hope that many more young Iowans, like Meyer, will opt to make agriculture teaching a career. That's because the supply of high school agriculture educators remains stubbornly tight while school districts struggle to accommodate a growing number of high school students interested in taking agricultural studies and joining their school's FFA chapters.
"The demand for ag teachers continues to be unbelievably strong," said Joshua Remington, executive director of the Iowa FFA Foundation. "We have school districts in the state now that would like to start agriculture education programs, but they just can't because they can't find a teacher."
Adding ag teachers
Even though school consolidation continues in rural Iowa, the demand for agriculture teachers remains strong as many school districts add ag education programs or beef up existing ones, said Michael Retallick of ISU's Department of Agricultural Education and Studies. For example, he noted that many of the suburban districts in the Des Moines metro area have added agricultural studies programs, while the urban Des Moines district now employs two agriculture teachers at its Central Campus magnet program.
"Schools are recognizing that agriculture fits so well with the STEM (science, technology, engineering and math) emphasis that they have today," Retallick said. "High school students are recognizing that there are so many careers that you can pursue by studying agriculture."
Districts are also emphasizing ag education because they are getting support from local businesses and community leaders, Remington said.
"Communities want education to fit into real world experiences, and agriculture works perfectly for that," he said.
At the same time, Remington and others said, demographics are not working in the school districts' favor. A number of veteran ag teachers, many who started their careers during the 1980s farm crisis years, are nearing retirement and districts will need to fill those postions, he said.
Added to that is the fact that ag education graduates, as well as those already in teaching, are often hired by agribusiness companies and organizations, Remington said. "These people have a broad range of knowledge and are adept at communicating with others, so they are attractive candidates for agribusiness jobs."
Creative thinking
The answer to the ag teacher shortfall is finding more young people interested in entering the field and supporting them when they do, current agricultural educators say. And sometimes that takes a little creative thinking.
Last week on stage at the state FFA conference in Ames around 30 young Iowans signed "letters of intent" to become ag teachers. The event, Remington said, was modeled from the signing days for college athletes and was meant to celebrate young people interested in an ag teaching career.
"We are trying to think of everything we can to get more young people interested in teaching agriculture," Remington said.
High schools and community colleges are also trying to identify students who might be interested in teaching, said Brydon Kaster, who coordinates ag education programs at Indian Hills Community College in Ottumwa and is president-elect of the Iowa Association of Agricultural Educators. "It's really important to encourage them and then support their decisions to teach," he said.
Often, Kaster and others said, it's difficult for young people to see themselves teaching agriculture. Added to that, they said, the rigors of the ag education program might discourage young people from considering it.
"It's not an easy road because you have to take a lot of education classes, as well as agriculture classes," Kaster said. "So there's just more hoops to jump through."
Education credits
A new program at Hawkeye Community College in Waterloo works to identify students interested in ag teaching and allows them to get education prerequisites under their belts before going to ISU or another four-year college. "They don't have to come in cold to education classes at a four-year school, like I did," said Brad Kinsinger, ag business instructor at Hawkeye.
In addition, Hawkeye has started having career days centered on ag education, where representatives of ISU, Dordt College and other institutions visit with students about becoming ag teachers, Kinsinger said.
Another key way to spark young people's interest in ag teaching is by mentoring them, said Monty Collins, ag instructor at Pleasantville High School and the current president of the Iowa ag educators association. "If we see a student who has an interest, I think it's good for us to nudge them along a little bit to see if it's a good fit," he said.
That's what happened to Malayne Meyer. She had a strong interest in agriculture growing up and working on the farm with her parents, Floyd County Farm Bureau members Becky and Terry Meyer, and two siblings.
Having a mentor
But it took a bit of encouragement from her own ag teacher, James Lundberg, to get her to think about becoming an ag teacher. "I'd really never considered it, but Mr. Lundberg suggested ag education and it just made a whole lot of sense," Meyer said.
Studying agriculture education at ISU has given her a deep appreciation for all the aspects of agriculture. And she's been able to study farming in other countries, with school-sponsored trips to India and South Africa.
"That appreciation for agriculture here and around the world is something I really want to bring to my classes when I start to teach," Meyer said. "I'm really looking forward to it."
Want more news on this topic? Farm Bureau members may subscribe for a free email news service, featuring the farm and rural topics that interest them most!