School on the farm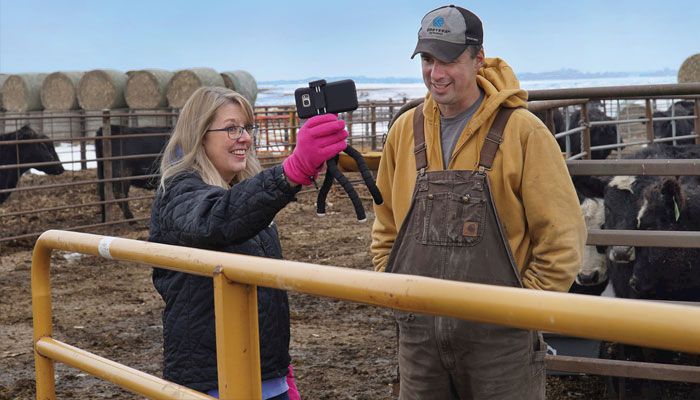 In this era of virtual learning, a central Iowa teacher finds an opportunity to share ag lessons on-site at local farms.
Teaching is Rhonda Osb­orn's passion. Teaching about agriculture is frosting on the cake.
The fourth grade teacher at Des Moines Christian school in Urbandale is the 2020 recipient of the Excellence in Teaching about Agriculture Award, given by the Iowa Agriculture Literacy Foundation (IALF).
"This award is designed specifically to recognize teachers who are innovative in the classroom teaching about ag, and lift them up as a role model," says IALF Executive Director Will Fett.
Osborn was recognized at a virtual ceremony last December. She received a $500 cash award to be used to further her program, and she will compete for national honors when IALF hosts the National Agriculture in the Classroom conference in Des Moines in June.
Osborn was recognized for her seamless integration of ag into her classroom.
She includes one ag unit each quarter, focusing on soybeans, corn, beef and turkeys. Her students build tractors from Legos and grow salads in the classroom. They compare and contrast field corn, sweet corn and popcorn; look at the life cycle of plants; and research technologies used on the farm.
They identify cuts of beef, learn ag vocabulary and explore what it takes to maintain healthy animal production environments.
Osborn says incorporating ag into curriculum is easy.
"Everything about ag fits into nearly every subject. Math, reading, science, social studies — they all apply to ag." Tying ag to STEM is a natural fit.
She also works to ensure her students know what machinery they see in the field and what it is used for, what crops are being grown, and the value of conservation.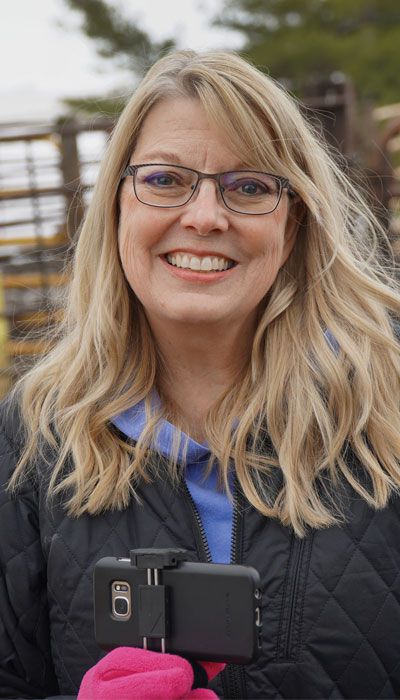 (Photo above: Rhonda Osborn, Des Moines Christian fourth grade teacher)
"You can't have a day without ag," says Osborn. "It's important they know what farmers are doing and understand the Iowa ag economy."
Teachers like Osborn will find application moments that are real and relevant, says Fett.
Osborn credits a supportive principal with her success, along with passion for teaching and interest in agriculture. In her 16th year of teaching at Des Moines Christian, she says she has "found her fit."
Osborn grew up in the small western Iowa town of Lewis, closely connected to her family's farm. She raised the family's food at her grandmother's, spent weekends doing chores with her father at the Walnut Grove research farm and was a frequent visitor to her uncle's dairy farm.
Her parents also imbedded in her a lifelong desire to learn.
She says some teachers are leery of teaching ag because they feel their own knowledge base is lacking. "But I learn along with the students," she explains.
Her class recently took top honors in the IALF's Gobble Up! Turkey Marketing Competition.
"I knew little about turkeys when we started. I had to learn as we went along," says Osborn.
Luckily, the resources were available. IALF serves as a central resource for those teaching Iowa's students about agriculture. It provides student and educator information, lesson plans and online materials like books and project outlines, as well as grant funding and educator professional development resources.
IALF functions as the education arm for Iowa's ag commodity groups and industry stakeholders, with funding from Iowa Farm Bureau Federation, Iowa Corn Growers Association, Iowa Pork Producers Association, CHS Foundation, Corteva Agriscience, Farm Credit Services of America, GROWMARK, the Iowa Beef In­­dustry Council, and Silos and Smokestacks National Heritage Area.
The program allows for more direct industry involvement in education efforts, as well as providing educator resources.
Representatives from the Iowa Turkey Federation were on hand when students in Osborn's class were honored.
"Iowa is an important turkey producing state," said Morgan Minnehan of the Iowa Turkey Fed­eration. "This contest helps students understand about the industry and how turkey can be a nutritious part of a balanced diet."
Not only are programs like Gobble Up! a way for the ag industry to work directly with students, it is a way for students to see ag professionals in action. Much of Osborn's efforts involve teaching kids about possible ag careers.
"Many of them will go into jobs that involve ag," says Osborn. Statistics show at least 1 in 5 Iowa jobs are ag-related. "Even if they don't go into an ag field, it's important they understand the Iowa economy."
The contest spurred students to develop a creative marketing strategy for the turkey product of their choice, learning about the life cycle, eating habits and nutritional value of turkeys, and the skills it takes to develop and sell a product.
For teachers like Osborn, IALF was a Godsend for the sudden change to online learning brought on by COVID-19.
"When we broke for spring break last March, we were about to begin our corn unit," she explains. "When we were told to go online, I wasn't sure how I was going to do it because we had no books. But IALF had the books we needed online, and I was able to teach the unit exactly as I had before."
She sees a continued use of those online resources going forward, along with platforms like Zoom and Google Classroom.
Fett says IALF web traffic has quadrupled from just a year ago.
Osborn is planning future units that will delve into pork and diary. "We get ice cream with that one," she says.
She's anxious for COVID-19 re­­­strictions to end so her students can again have visitors to the classroom and take field trips, elements that help make ag real for city kids.
Until then, she will have to rely on her creativity.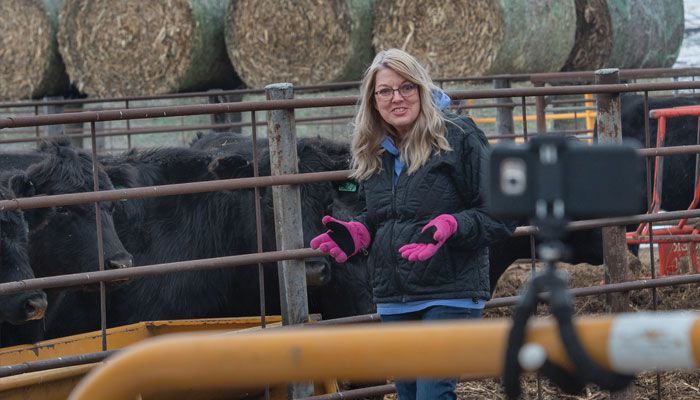 (Photo above: Elementary teacher Rhonda Osborn says the Iowa Agriculture Literacy Foundation, based in West Des Moines, provided valuable resources for helping teachers convert to online ag learning last spring when schools closed due to the pandemic.)
"I love bringing ag into the classroom," says Osborn. "There is no limit to what we can learn."
Of the many ways Osborn shares ag information, she is most excited about her upcoming beef unit.
"I want my students to learn to give back to the community," says Osborn. She has spearheaded Faith in Action projects before, giving blankets to veterans and pediatric health centers.
This time, she is able to give the effort an ag twist.
Students will assemble care packages using beef products. The packages will be donated to the homeless, the Ronald McDonald House or Des Moines area schools.
Soap, toothpaste, deodorant, glue, combs, paintbrushes, crayons and sports equipment like balls are made from beef byproducts, not to mention a multitude of leather items, along with gum and beef sticks.
"This is a chance to learn about byproducts and learn the value of giving at the same time," says Osborn.
She wants students to know learning has a purpose and even 9 and 10 year old kids can pay it forward.
"It all comes back to farming," she adds. "The kids learn to give back to their communities because that's what farmers do. It's part of growing up here."
Queck-Matzie is a freelance writer from Greenfield.
Want more news on this topic? Farm Bureau members may subscribe for a free email news service, featuring the farm and rural topics that interest them most!