Rottinghaus blessed to serve ag, country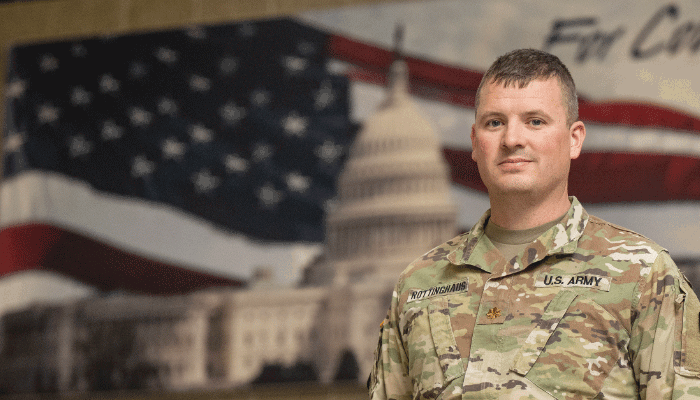 The parallels between military service and the farming profession are well known: hard work, long hours, discipline and a will to see the job through from start to finish.
As we observe Veterans Day Nov. 11 and honor those who have served, there's no better example of service to country and agriculture than Iowa's own Scott Rottinghaus, a Black Hawk County farmer and major in the Army National Guard.
Through three deployments over the past 21 years of military service, Rottinghaus always returned to his roots near Waterloo, where he grew up on the farm and continues farming with his dad, uncles, cousin and brother-in-law, collectively growing row crops and raising hogs.
It's those natural attributes — work ethic and responsibility — that have served Rottinghaus well working not only on the farm but in the military, where he's had the distinct opportunity to combine his love for both, even while deployed.
"Two jobs I truly love, I've gotten to do them both while on deployment," Rottinghaus said. "What more could you ask for?"
Signing up after 9/11
A graduate of Gilbertville Don Bosco High School, Rottinghaus was raised on the family farm along with his two brothers and three sisters. After graduation, he attended North Iowa Area Community College (NIACC) for two years, studying ag marketing/finance.
Rottinghaus was an ag business student at Iowa State University in 2001 during the horrific 9/11 terrorist attack. He decided then and there to enlist and serve his country.
"I had always been interested in the military," he said. "So in March of 2002, I joined."
He attended basic training at Fort Jackson in South Carolina, returned and finished his senior year of college, then was off to advanced individual training at Fort Gordon in Georgia. He saw his first deployment shortly thereafter to Kosovo.
It was the first of three deployments during his career — the second coming in 2010-11 when he volunteered as part of the 734th Agri-Business Develop­ment Team that headed to Afghanistan, and the most recent deployment back to Kosovo in 2021.
"I've had the opportunity to travel and see parts of the world that I never would have gotten to see on my own," Rottinghaus said.
He attended officer candidate training before his second deployment and was promoted to the rank of lieutenant and has since been promoted twice. He now is a major.
Agri-business development
By far one of the most rewarding parts of his military career was being able to combine his love for farming with helping others while deployed in military service. The 734th Agri-Business Development Team was an amazing experience and one Rottinghaus said he's glad to have volunteered for in 2010-11.
"We were a bunch of farm boys from Iowa who went over to Afghanistan with the goal of helping to improve their farming techniques," Rottinghaus ex­plained. 
For roughly a year, the group worked with local farmers to improve upon existing food growing practices.
"We were in the Kunar province," Rottinghaus said. "It was like going back in time. The corn they would grow, they would just scatter it. We were able to teach them how to grow into rows, which was a novel idea for them."
Over the course of the year, the team developed demonstration farms across seven districts, focusing specifically on the economical use of irrigation practices, increasing wheat and corn yields, reducing spoilage and growing in greenhouses the team helped construct. 
Fruits, nuts and vegetables all were grown in the plastic-wrapped greenhouses, outfitted with a drip irrigation system, to help feed a country in need and to battle food insecurity.
"If they had irrigation they'd grow rice; otherwise, they'd grow some wheat," Rottinghaus said. "Our goal was to set up these demonstration farms and show them the difference between how they were doing things, what we suggested and how they could improve."
They purchased a lone tractor with attachments that was shared by farmers across the region, a mountainous area the size of three northeast Iowa counties, to work the ground and operate a stationary thresher for the wheat. "They'd cut it all by hand, and throw it in there," Rottinghaus said.
The Iowa team built on progress made from a California unit, and after a year handed off the progress to another crew. The goal was to have the Afghans continue practices and farming techniques after the units headed home.
Back home
Rottinghaus is a long-time Farm Bureau member, recently elected Black Hawk County Farm Bureau president. He was a 2019 graduate of the Iowa Farm Bureau's Ag Leaders Institute, where he learned about cutting-edge issues and leadership skills and helped to build a network of leaders.
These days, Rottinghaus enjoys farming with his family in an area stretching from Waterloo to Independence. He and his wife of 4 years, Gina, have three girls — Felicity, 3; Lucy, 2; and Veronica, 2 months. 
Rottinghaus and the crew just wrapped up harvest, and despite drought conditions across Iowa, it was a pretty good growing season in their area, he said.
"We were lucky," Rottinghaus said. "We had some pretty good rain. The beans were excellent, and corn yields turned out pretty well."
Having family support to help farm during planting and harvest when he was deployed or at monthly drill weekends has been a luxury he knows not many have been afforded. It has allowed him to both continue farming and serve his country, which mean so much to him.
"I've been blessed," he said. "My family has been willing and able to pick up the slack when I've been deployed and cover for me. Farming with (my family) has been the best."
Want more news on this topic? Farm Bureau members may subscribe for a free email news service, featuring the farm and rural topics that interest them most!