Recipe: Beef & Pasta with Asian Peanut Sauce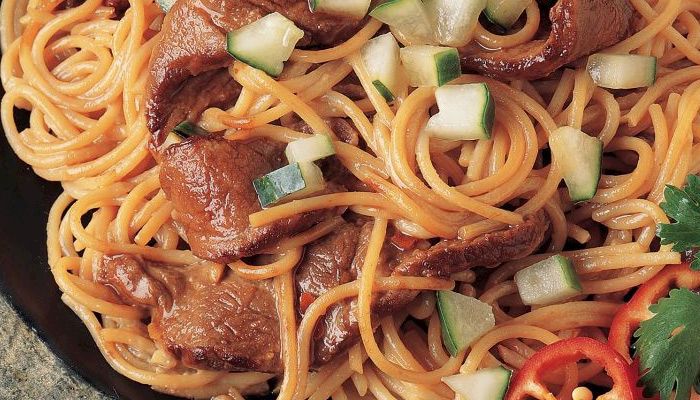 1-1/4 pound beef Top Round Steak
5 tablespoons teriyaki sauce, divided
2 tablespoons creamy peanut butter
1 tablespoon water
1/8 to 1/4 teaspoon crushed red pepper
1/8 to 1/4 teaspoon ground ginger
6 ounces uncooked vermicelli or thin spaghetti
2 tablespoons vegetable oil
1/2 cup seeded and chopped cucumber
Combine 3 tablespoons teriyaki sauce, peanut butter, water, red pepper and ginger. Cook vermicelli in salted boiling water according to package directions; drain and rinse. Toss vermicelli with peanut butter mixture to coat well.
Cut steak into 1/8-inch thick strips. Add remaining 2 tablespoons teriyaki sauce to beef strips; toss to coat evenly.
In a large nonstick skillet or wok, heat oil over medium-high heat until hot. Add beef (1/2 at a time) and stir-fry 1 to 2 minutes or until outside surface is no longer pink. (Do not overcook.) Add to noodles; toss lightly. Sprinkle with chopped cucumber.

Return to The Iowa Dish