Recipe: BBQ Pork Mac 'n Cheese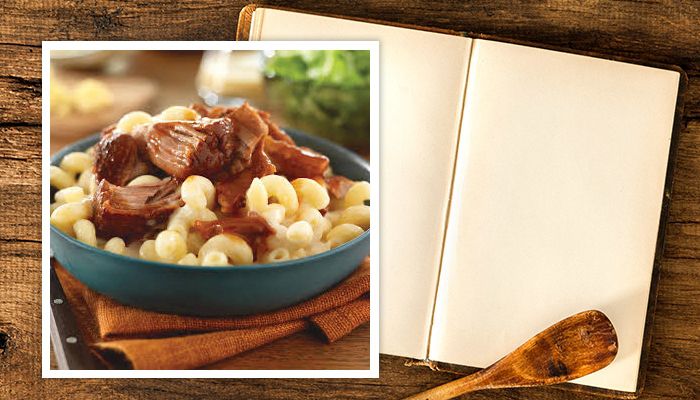 Ingredients:
3 pounds pork shoulder (cut into 3 pieces*)
18 ounces barbecue sauce (any variety or preference)
12 ounces elbow macaroni (or another small pasta)
1 tablespoon olive oil
1/2 red onion (finely chopped)
1-1/2 cups fontina cheese (shredded, can substitute white cheddar)
kosher salt
pepper


Place the pieces of pork shoulder and BBQ sauce into the slow cooker. Cover and place on low heat for 8 hours.
After 8 hours, using two forks, shred the pork while it's still in the slow cooker. Once shredded, let it rest in the slow cooker with the remaining BBQ sauce.
Bring a large pot of heavily salted water to a boil over high heat. Add the pasta, and cook according to package directions. Reserve 1/2 cup of the pasta cooking water, and drain the pasta.
Return the pot to the stove over low heat, and add the olive oil. Once the oil is warm, add the onion, season with salt and cook until golden brown, about 5 to 7 minutes. Stir in the half and half. When the mixture just begins to simmer, add the cheese and whisk until smooth.
Once the cheese has melted, add the pasta and stir to coat. If the macaroni and cheese seems thick, add a few tablespoons of the reserved pasta water and stir to combine. Taste and season with additional salt as needed.
Evenly distribute the pasta to six serving bowls, and add a serving of the shredded BBQ pulled pork on top of the pasta and serve. Reserve the additional pulled pork for leftovers.
Return to
The Iowa Dish