Rain and warm weather help cover crops thrive this fall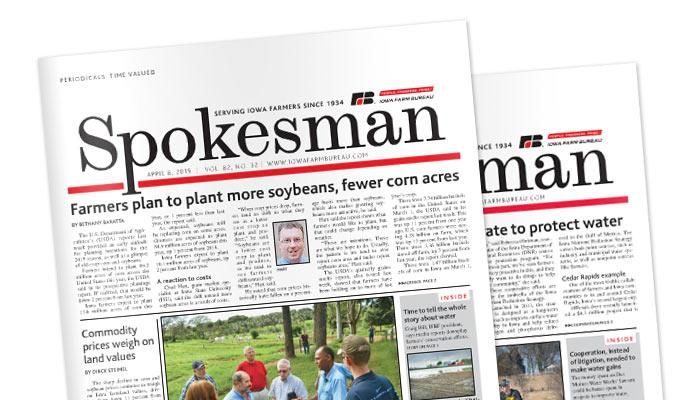 Joel Zeman is experiencing something new this harvest season: A bright, green crop of rye and tillage radishes is covering his newly combined fields.
"It really looks beautiful," said Zeman, president of the Humboldt County Farm Bureau. "The conditions have been nearly perfect for cover crops so far this fall, and the growth has been better than I expected."
Thanks to abundant rainfall and periods of warm weather this fall, 2014 is shaping up to be a banner year for cover crops, farmers and agricultural officials said last week. Winter rye, radishes, turnips and other cover crops are germinating, establishing a strong root system, and most have already grown several inches, they said.
Thriving cover crops are good news for water quality efforts in the state, said Iowa Agriculture Secretary Bill Northey. "This is the kind of year that we needed to continue to show their value," he said. "With their root systems getting established, they will be in good shape to take up the excess nutrients."
Welcome growth
The strong growth is also welcome, Northey added, because many farmers had a tough time getting cover established because of the dry soil conditions during the fall of 2013. "This shows they work well if we get the right conditions."
Cover crops, which are typically seeded by airplanes into standing corn and soybean fields or sown immediately after harvest, are a key part of the Iowa Nutrient Reduction Strategy. The groundbreaking strategy, launched in 2013, is designed to improve water quality in the state and reduce nutrients reaching the Gulf of Mexico.
Water quality gains
Cover crops, according to research by Iowa State University scientists and others, improve water quality by taking up excess nutrients and reducing the potential for soil erosion during the winter and early spring. In addition, cover crops have proven to have agronomic benefits, such as improving soil health, and can provide forage for livestock.
To support the nutrient re­­duction strategy, the Iowa De­­partment of Agriculture and Land Stewardship has offered cost-share incentives for farmers planting cover crops for the first time.
There are approximately 108,000 acres of cover crops in Iowa supported by state cost-share programs this year, on top of some 150,000 planted using cost-share in 2013. Many more Iowa farmers have planted cover crops on their own without cost-share or through other programs.
Zeman planted cover crops for the first time this fall. He had the seed broadcast by airplane into standing crops. "I've wanted to do this for a long time, and there was cost-share in my watershed, so it seemed like a good year to try it."
For Doug Adams, another Hum­­boldt County Farm Bureau member, it's his third year of planting cover crops, and this has been the best, so far.
"We've got both the rain and the heat this year, so it's been good," he said.
Adams agrees with Northey that this year's thriving cover crops will prompt a lot more farmers to consider planting them. "With the cover crops looking so nice and green this fall, it certainly catches a lot of attention."
Want more news on this topic? Farm Bureau members may subscribe for a free email news service, featuring the farm and rural topics that interest them most!