Pumpkins and ponies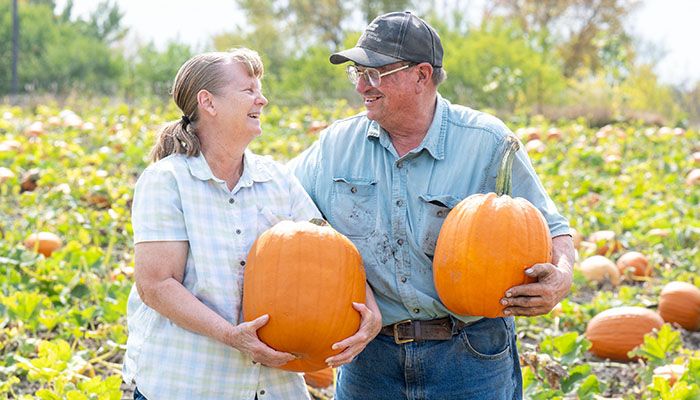 One of Bob and Lonnie Larsen's favorite weekends of the year arrives this Saturday and Sunday, Oct. 14-15, as more than 2,000 guests are expected to visit the annual Pumpkins and Ponies Festival at their Springvale Farm south of Humboldt.
It's a chance for patrons to unwind and take in nature at the picturesque fall destination, where the finishing touches are being wrapped up for the 18th annual harvesttime celebration.
"We want this to be a time when families can come together, do something different … and escape, even for a moment, from clocks, calendars and screens," said Lonnie. "A little reprieve from their busy, hectic life." 
Supporters traditionally have turned out in large numbers. In past years, visitors from 77 communities across Iowa and 11 states, as far away as Arizona and New York, have partaken in the weekend's events, which include covered wagon rides, picking your own pumpkin from the field, pony rides, a petting zoo, antique tractors on display, a corn 
shelling demonstration and the famed Dragonfire Dancing Horses pageantry, just to name a few.
There also will be vendors selling baked goods, honey, kettle corn, homemade ice cream and face painting. The Nedd Freeley Funn Band will entertain, and kids can take part in various activities and games.
"That's what this whole event is about, families making memories," said Bob. "There are people who have been coming out for years."
Pumpkins and ponies
Bob and Lonnie purchased the farm in 1990. After a family vote that included a dozen name suggestions such as Rolling Hills and Green Meadows, they settled on Springvale Farm. Nearby Humboldt was originally tagged as Springvale before a name change in 1863. The area is home to several springs along the Des Moines River.
Over the years the Larsons settled into their 136-acre farm on Lone Tree Road that looks out over the river. They grow corn, soybeans and alfalfa and raised their family — daughters Jen, Jeana and Julie. 
With a scenic beauty easily suited for a Norman Rockwell painting, the landscape is home to timber with towering oak trees, a 6-acre pasture and a pond formed from an oxbow of the nearby river where Bob and Lonnie used to hone their ice-skating skills.
Besides crops, the Larsons managed a cow/calf operation for many years and have raised Missouri Fox Trotter horses for decades. Back in 2004, they acquired ponies to offer riding opportunities for kids in north central Iowa.
Lonnie always was fascinated with ponies from a young age, even though she never had her own. When she was given the opportunity to visit Winkelman Pony Farm by Lohrville as a youth, she jumped at the chance.
"I remember what a special day that was when I got to go ride the ponies," she recalls. She and Bob wanted to provide a similar experience at Springvale Farm.
"We thought there are a lot of kids out there that would like to ride a pony but don't have a place to own one or have one," explained Bob. "We started offering pony rides by the half hour or hour, and people would bring their kids out."
Added Lonnie, "And we had always talked about wouldn't it be fun to experiment with pumpkins, so that was next."
Bob seeded an acre with a variety of pumpkins in 2006. From the first year, it was evident that the land was conducive to growing the crop.
"They were prolific," he said. "There were so many pumpkins we didn't know what to do with them. We thought why don't we have a day where we give both pony rides and sell some pumpkins. 
"Big ones, little ones, white ones, yellow ones, tan ones, orange ones … you name it, we have it."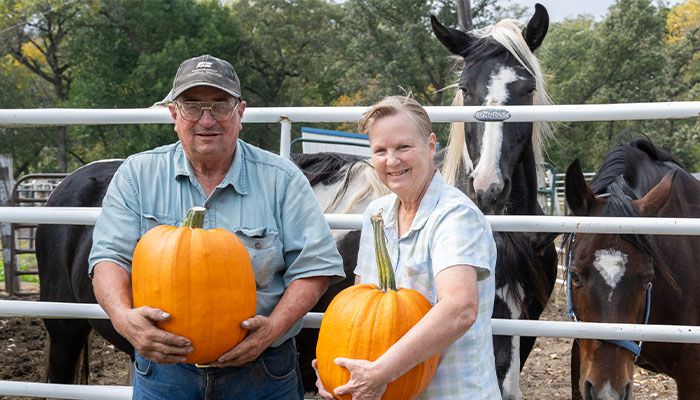 Pictured above: Bob and Lonnie Larson say they enjoy the kids' smiles and visiting with friends and neighbors who attend the festival. PHOTO / CONRAD SCHMIDT
Yearly growth
The festival has become a sight to behold as it enters its 18th year, said Bob and Lonnie, proud 50-plus-year members of Farm Bureau. The first year they sold pumpkins and offered pony and wagon rides, but the celebration has grown exponentially since then.
"That first year before they left, people asked us if we were going to do it again next year," Bob recalled.
Today, it has developed into a weekend jubilee with 23 volunteers who turn out to help and witness the community's enjoyment. They'll sell more than 1,000 pumpkins in total and provide dozens of pony rides. 
Kids love the petting zoo and corn shelling demonstrations.
"We'll have a bottle calf, goats, alpacas, a long-haired Angora goat, rabbits, a pet skunk, chickens and miniature horse," Bob said.
Watching the hand shelling of corn and grinding it into cornmeal is fascinating for children, added Lonnie. "They are just enthralled with that," she said.
While food, pony rides and pumpkins do command a small fee, daily admission has and always will be free. 
They regularly donate proceeds to Riverside Bible Camp in Story City, the local FFA and 4-H chapters and the Honor Flight to provide veterans with the opportunity to visit monuments and memorials in Washington.
The Larsons earn their commission in smiles and stories to tell. "We feel pretty lucky that we've been able to enjoy this property," said Lonnie. "You've heard about harvest festivals. Well, this is a different sort of harvest festival … a harvest of smiles."
Lonnie recalls a grandfather and 7-year-old visiting the farm, and the toddler exclaiming, "Grandpa, this is the best day of my whole life … all 7 years of it!" Then there was the somber older father in a wheelchair who watched the pony rides and visited the pumpkin patch, returning with a smile.
"He was probably of the era where he could have been in the end of farming with horses," Lonnie explained. "He had the biggest grin on his face."
For Bob, it's an account of reconnecting with a Vietnam war buddy after 51 years, who last year traveled from Indiana to Springvale Farm and spent the day talking with family, friends and visitors. He plans a return trip this year. He and his wife will assist during the festival.
"That's what it's all about," Bob said.
Pumpkins and Ponies will be open Saturday, Oct. 14, from 10 a.m. to 4 p.m., and Sunday, Oct. 15, from 11 a.m. to 4:30 p.m., at 2603 Lone Tree Road, Humboldt.
Want more news on this topic? Farm Bureau members may subscribe for a free email news service, featuring the farm and rural topics that interest them most!