Promoting pork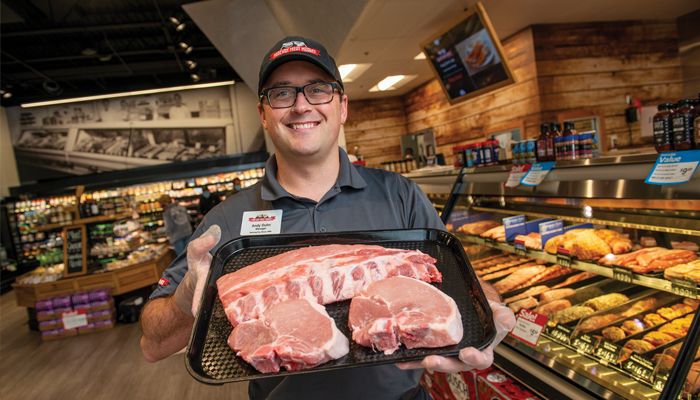 Moving those pork chops from the barnyard to the backyard patio grill not only takes farmers and processors but, often, someone behind the retail meat counter as well.
And while trends and fads come and go, the need to provide high quality animal protein to consumers — especially pork, Iowa's largest contribution to the livestock sector — are still strong. 
Steven Peterson, manager of wholesale meat purchasing for Boone-based Fareway Stores, is one of those in charge of tracking, and adapting, to those fads and changes in demand. 
"In recent years, we've seen a big jump in demand for value cuts like pork belly, butt and ribs," he noted recently. "This change is really driven by home smokers becoming more affordable. It seems like everyone has a smoker these days."
He said he thinks home cooks today are more open to trying new things, experimenting with flavors and cuts of meat.
"Consumers are more educated nowadays and are cooking at home more," Peterson said. "Pork has proved to be a lot more versatile than people thought. I think people like to experiment with pork products."
Premium pork products
This openness to pork was evident at a national level when Target stores partnered with Tyson earlier this year to sell four new premium pork products, including tomahawk chops, tenderloin medallions, ribeye chops and New York chops.
"(These products) align with market research findings … that consumers are looking for unique items and inspiration at the grocery store," a news release on the products from the National Pork Board stated.
Fareway has introduced its own innovations to the retail sector, in a bid to increase meat sales.
For almost a decade, Fareway has offered online meat sales through its meat market website. Customers can buy Iowa Chops, or any other meat item they want, and have it shipped anywhere in the U.S.
"A lot of purchases started with transplants moving away from the Midwest, who still wanted to access the high-quality meats they were used to back home," Peterson said. "Since then it has really expanded."
Standalone meat markets
In 2018, Fareway introduced another meat-focused innovation, unveiling its stand-alone meat market in Omaha. Since then, two more locations in Lincoln, Nebraska, and Ames have opened. The company will add a fourth location in Des Moines next year. 
"I think they've had a tremendous impact on the communities where they're located," Peterson said. "The concept has gained popularity very quickly."
Andy Duhn is manager of the Fareway Meat Market in Ames. He said one of the best parts of the job is seeing new customers come into the store and just take it all in.
"When you first come in the door, it can be a lot to take in," he said. 
The store, which is about the size of a convenience store, is dominated by the meat counter, which runs nearly the length of the building. Sauces, rubs, smoker pellets and other cooking aids are located near the front door. Cheese, artisan sausage, craft beer and liquor are also available, along with pop and chips. 
"I think most folks are coming here for the meat," Duhn said. "It's what Fareway is really known for."
Duhn grew up on a farm and started working at the meat counter of his local Fareway store in high school. He has managed the Ames store since it opened in 2018 and said the experience has been fantastic.
"I love meat. I like the products we sell, and I'm proud to be able to provide that to people," he said. 
Taking pride in meat
Peterson said Fareway as a company takes a lot of pride in recognizing and supporting the farmers who raise the livestock that ends up in their stores.
"We actively promote where our meat comes from," Peterson said. "Almost all the pork and beef we sell is Midwest grown, within 250 miles of the store it's sold in."
This is especially true for pork products. "With pork being such a massive part of our business, we take pride in supporting the people raising these products," he said.
Want more news on this topic? Farm Bureau members may subscribe for a free email news service, featuring the farm and rural topics that interest them most!