Projection shows 2016 will continue string of big crops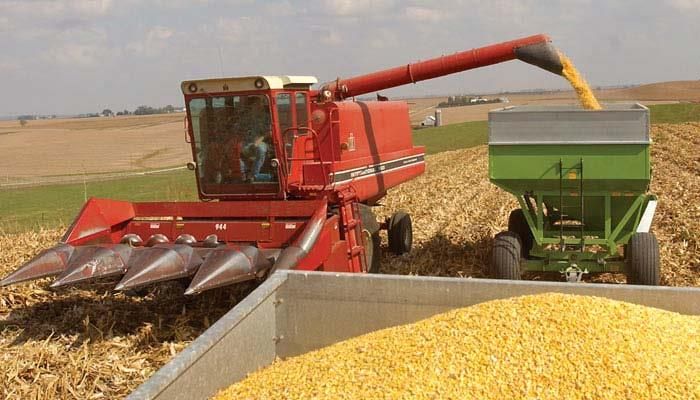 The U.S. Department of Agriculture (USDA) recently completed its first field inspections for the 2016 crops and what they found was record breaking. This year's crops are on pace to smash U.S. production standards. And if these projections hold up, then the string of bumper crops continues. As will the pressure on crop prices. The yield and production numbers are staggering.
The national corn yield is estimated at 175.1 bushels per acre for 2016. That is 4.1 bushels above the record, 6.7 bushels above last year, and would result in a national corn crop of 15.15 billion bushels, the largest corn crop in U.S. history.
Records all over the map
Several states are also set to achieve record yields, including the five major corn-producing states.
In production leader Iowa, corn yields are projected at 197 bushels per acre. Illinois is set at an even 200 bushels.
Nebraska, North Dakota and Wisconsin are also expected to set records. There are a few areas of the country that are expected to produce less corn. South Dakota, Michigan, Alabama, and Virginia are estimated to have yields 10 or more bushels below last year's levels.
But the gains in the central Corn Belt more than offset those losses. While too much moisture hampered the crops last year from Missouri to Ohio, the corn crops in those states this year are much stronger.
The yield gains for the soybean crop are not quite as dramatic, but the production potential is tremendous.
The national soybean yield is set at 48.9 bushels per acre, nearly a bushel above last year's record. That would put national production over 4 billion bushels for the first time ever.
And as with corn, several key states are setting yield records as well. Iowa and Illinois are both projected to hit records. Missouri is expected to reach record yields, with a 7.5 bushel improvement from last year. And Nebraska is a bushel shy of 60 bushels per acre.
Global production also big
And the global production picture is mirroring the U.S. situation.
Record supplies continue globally as well. Argentina and Brazil are projected to see double digit percentage increases in corn production. The same is true for Ukraine and India. South Africa's corn crop is projected to nearly double, as last year's crop was drought stricken. The only major corn-producing countries that are expected to see lower corn production are Canada, China, and Mexico. But only Canada is set to have a truly sizable drop in corn production.
Global soybean production is definitely on the rise, with all of the major producing countries showing production increases.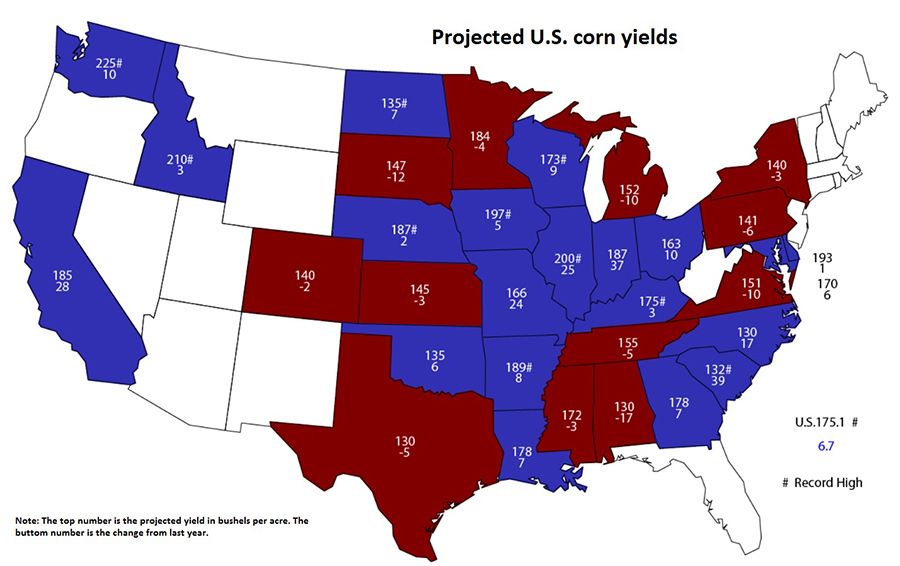 Strong corn demand expected
Along with the yield and production estimates, the USDA updated its outlook for crop demand.
Last year, that update was mixed. This year, demand is also projected to hit records.
For corn, total demand is set at 14.5 billion bushels. The feed demand estimate for the 2016 crop year is 475 million bushels above last year. Projected meat production gains across the livestock sector are fueling this change. But the growth is also coming from the residual part of the category.
Harvest losses are included in the feed estimate. And with this year's record crop, harvest losses are expected to be larger.
Ethanol continues its strong run. The USDA projects a 75 million bushel increase in corn use for ethanol. So the fuel industry remains a significant source for corn demand, utilizing over 5.2 billion bushels. And export demand is projected to continue to rise.
Since the drought of 2012 and the resulting high prices severely limited corn exports, the international markets have provided good demand growth. And despite the strength of the U.S. dollar and the large global supplies, the USDA projects that exports will continue to rise. Currently, the projections show nearly 2.2 billion bushels of corn headed out of the country.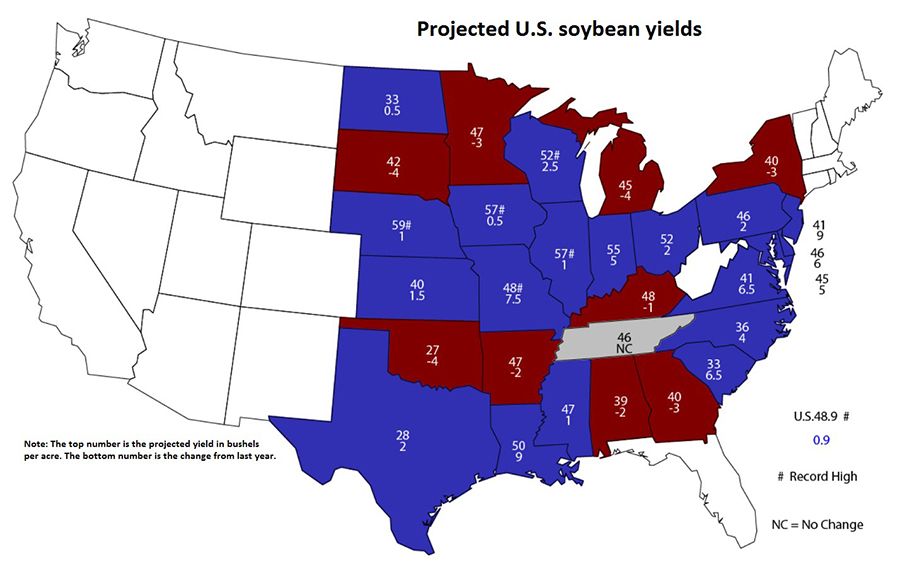 Soybean demand at records
Soybean demand is also running at record levels.
Domestic crush demand is expected to increase by 40 million bushels, with projected increases in use from the livestock and biodiesel industries. Exports are approaching 2 billion bushels. While demand from China has slowed recently, demand from other countries has increased, providing a slightly more balanced global market. Overall, soybean demand is set to consume 4 billion bushels.
Stocks to increase
But despite the record demand, ending stocks are expected to increase. The markets face the same problem they have had for the last couple of years: supplies are growing faster than demand.
Soybean ending stocks for 2016/17 are set at 330 million bushels, up 75 million bushels. Corn ending stocks are projected at 2.409 billion bushels, up roughly 700 million bushels from this year.
And with higher stock levels comes lower price projections. For both corn and soybeans, the USDA lowered the season-average price projections substantially. Corn is projected at $3.15 per bushel for the 2016/17 season, with the lower end of the projection range south of $3.
Soybean prices are targeted around $9.10 per bushel. So both crops are expected to have lower prices for the 2016 crops than they had in 2014 or 2015.
Continued margin pressure
The pressure on crop margins and farm finances looks like it will continue for another year. And the stock level buildup has the potential to dampen significant upward price movement.
Productivity is both a blessing and a curse. It's great to see incredible crops. But those great crops limit pricing opportunities.
Pricing patterns for the coming 12 months will likely replay the pattern from the previous 12. Lowering prices going into harvest, then slow improvement as we move through the winter months. Springtime will bring a modest price rally, on fears of production problems.
But that rally, like this year's, will depend on production issues. If production is cut, then the record demand we have can catch up to the supplies and maintain the price rally. If not, then we are ready to replay the same pattern over again.
Hart is associate professor of economics at Iowa State University and Extension and Outreach crop markets economist.
Want more news on this topic? Farm Bureau members may subscribe for a free email news service, featuring the farm and rural topics that interest them most!