Preparing tomorrow's leaders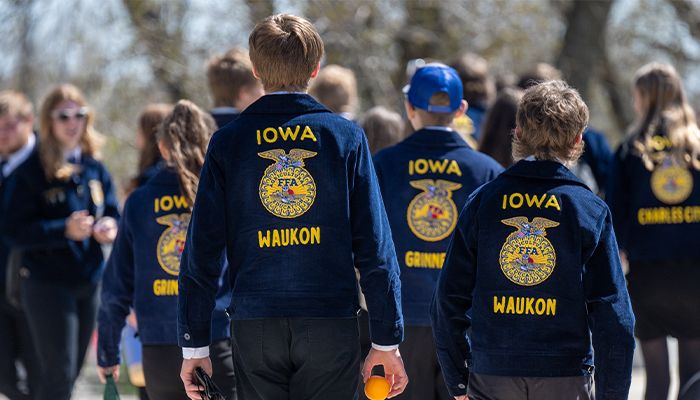 In Farm Bureau, we are looking to the future — from policy shaping the future of agriculture to the innovation driving the future of America's farms and ranches. 
We believe that our future depends on training tomorrow's leaders today. There is a place for everyone in agriculture, and we need the brightest minds and the hardest workers ready to solve agriculture's challenges and explore new opportunities together.
At Farm Bureau, we believe that when we equip, empower and engage with the next generation, our organization and American agriculture become stronger. It's about showing future farmers and ranchers, veterinarians and agriculture professionals, and researchers and innovators how Farm Bureau can help them on their journey.
Offering opportunities
I know firsthand the difference that programs like 4-H and our own Young Farmers & Ranchers can make in a young person's life. 
When this dairy farmer from Georgia went to his first county Farm Bureau meeting as a young farmer, I never would have dreamed of the opportunities that lay ahead, and I know I wouldn't be here today without the training and opportunities I experienced through YF&R. 
I truly felt like an investment was made in me, and that only made me more eager to go beyond my fence rows and give back as a leader. I am constantly amazed by the young leaders I get to meet around the country. From collegiate and YF&R programs to state and national competitions, we are constantly working to help grow and empower future leaders. 
One example of this is our Discussion Meet, a chance for these young members to show off their agriculture knowledge and fine-tune their public speaking skills. We also see them leading through service with programs such as Harvest for All, where in 2022 alone, YF&R members donated 25 million pounds of food and $1 million to local food banks.
On all levels, we work to support young farmers and ranchers through leadership development programs, competitions and service opportunities. And while there are far more examples of what young farmers and ranchers are up to across the country, it's these focus areas that equip them to be our next leaders. We want them to be ready and eager to carry on our mission of providing a sustainable future of safe and abundant food, fiber and renewable fuel for our nation and the world. 
Partnering with organizations aimed at the same goal of cultivating young ag leaders is an important priority. We regularly engage with the National 4-H Council, the National FFA Organization; the National Society for Minorities in Agriculture, Natural Resources, and Related Sciences (MANRRS); and Agriculture Future of America (AFA) to help ensure a brighter future for American agriculture.
Many of our members got their start in these organizations, myself included, and it's crucial to work together to engage the next generation and get them excited for the future of agriculture.
Paying it forward
One fantastic example of this collaboration is our annual convention. Every year, we invite middle- and high-school members of 4-H, FFA and Jr. MANRRS to take part in our Youth Leadership Program. It's a great opportunity — and completely free — for these students to connect with farmers and ranchers from across the United States, receive leadership training and learn about various parts of the agriculture industry. I hope you'll help me spread the word to students and young leaders to reach out about having the registration fee waved to join us in Salt Lake City this January.
I will always be grateful for those who took the time to encourage and equip me along my journey. I have no doubt that's how leaders across Farm Bureau feel. 
Former college football coach Woody Hayes once said, "You can never really pay it back, but you can always pay it forward." 
That is what we are striving for with the next generation in Farm Bureau. We may never be able to pay back the folks who helped shape us into who we are today, but we can pay it forward for the next group of agricultural leaders.
Duvall, a third generation farmer from Georgia, is president of the American Farm Bureau Federation.
Want more news on this topic? Farm Bureau members may subscribe for a free email news service, featuring the farm and rural topics that interest them most!