Plymouth County farmers, Ben and Janelle Johnson, receive Iowa Farm Bureau Young Farmer Achievement Award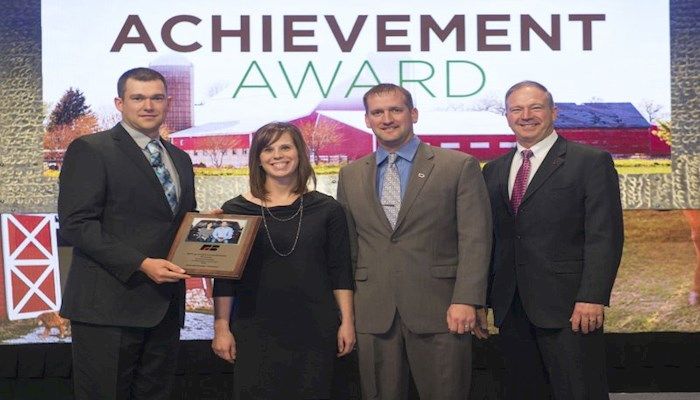 Plymouth County farmers Ben and Janelle Johnson were presented Iowa Farm Bureau Federation's (IFBF) 2015 Young Farmer Achievement Award on Dec. 2 at the organization's 97th annual meeting in Des Moines.
The annual contest honors young farmers who show outstanding management ability in their farming operations and involvement in Farm Bureau and community activities. Ben and Anna Bader of Black Hawk County finished runner-up, and Chris and Jill Ten Napel of Sioux County received third place.
The Johnsons are fifth generation farmers near Ireton and grow corn and soybeans and have a hog operation. While attending college, it became clear to Ben that his passion was back home continuing the legacy of his family's farm. Ben proudly reflects that the farmland he walks across every day is the same soil walked on by his great-great grandparents, and the couple live in the house built by Ben's great-grandfather.
The Johnsons have long been committed to conservation, which Ben attributes to his grandfather who is dedicated to protecting soil health and reducing soil disturbance. "On our farm, we try to do as many conservation practices as we can," Johnson said. "We have riparian buffers, use no till and minimum till on our corn acres, and maintain grassed waterways and terraces to reduce runoff into local streams and waterways."
Ben and Janelle both serve on IFBF's State Young Farmer Advisory Committee and are active volunteers with the Plymouth County Farm Bureau. Ben has served eight years on the county board and has served as the young farmer representative on the IFBF state resolutions committee. Ben and Janelle have each served as the county membership chair and volunteer each summer at Farm Bureau Park during the Iowa State Fair to engage with consumers and answer questions about farming today.
For their award, Ben and Janelle received their choice of the use of a John Deere tractor/loader combo (5-7R Series) for one year or 300-hour lease, or a TX Gator. In addition, the Johnsons will receive expense-paid trips to the 2016 American Farm Bureau Federation (AFBF) Annual Convention in Orlando, and the 2016 GROWMARK annual meeting in Chicago in August.
Second place finishers, Ben and Anna Bader, farm near Jesup growing corn and soybeans and raising hogs. Ben has been an active leader in Farm Bureau as a county board member and county young farmer chair. The Baders are committed to running a sustainable farm that they can pass along to the next generation.
For placing second, the Baders received a Parts on Site Bin (valued at $3,000) and a $500 Fast Stop gift certificate from GROWMARK.
Third-place finishers Chris and Jill Ten Napel farm near Ireton and in addition to growing soybeans and having a hog nursery, the Ten Napels also own a trucking business hauling livestock and grain. Both Chris and Jill have been active members of the Sioux County Farm Bureau and Chris has served on the county board for the past two years.
For their third-place finish, the Ten Napels received a John Deere branded safe, a $1,000 Grainger gift certificate and an iPod unit courtesy of Farm Bureau Financial Services (FBFS).