Plagge family of Franklin County presented Iowa Farm Bureau Young Farmer Achievement Award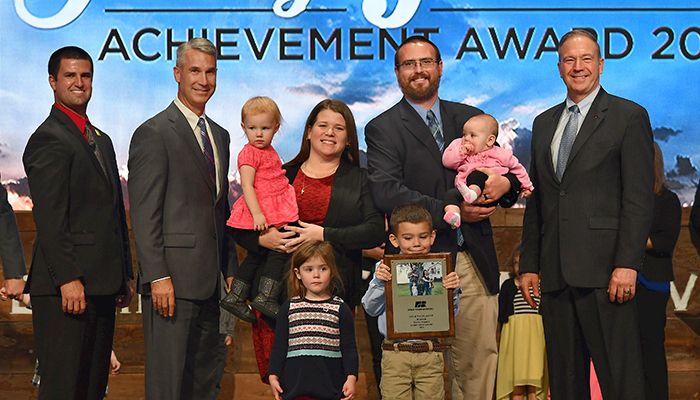 Albright family of Calhoun County and Drewelow family of Chickasaw County recognized for leadership
Ian and Val Plagge of Latimer were named the Iowa Farm Bureau Federation (IFBF) 2016 Young Farmer Achievement Award Winner at the organization's 98th annual meeting in Des Moines, Dec. 6-7.
The annual award honors Iowa farmers between the ages of 18 and 35 who show outstanding management ability in their farming operations and involvement in Farm Bureau and community activities.
Ian and Val Plagge own a feeder-to-finish hog operation and a row-crop farm, near Latimer. The couple make an incredible team; Ian handles the production side of the farm, overseeing the health of the animals and making seed selection, while Val is responsible for the marketing decisions, record maintenance, and helping with seasonal field work. Ian also manages a seed dealership with his father.
In addition to running the farm operation and raising four children, the Plagges are active members of their community and spend time as volunteers at their local church, the county 4-H Foundations, and the Make-A-Wish-Foundation, among other organizations.
Val is an active Iowa Farm Bureau F.A.R.M. Team member and looks for ways to tell the story of agriculture in a variety of ways. No stranger to leadership recognition, in 2014 Val received IFBF's Bob Joslin Award for young farmers who demonstrate outstanding leadership.
As winners of the Young Farmer Achievement Award, the Plagges will receive a John Deere loader/tractor combo (choice of 5-7 Series) for one year or a 300-hour lease, or a John Deer TX Gator. In addition, the Plagges will receive a 90-day no payment, no interest (NPNI) John Deere Financial Certificate, up to $5,000, and an expense-paid trip to the 2017 GROWMARK annual meeting in Chicago.
Next month, the Plagges will represent Iowa in the national Young Farmer Achievement Award competition at the American Farm Bureau Federation (AFBF) Annual Convention in Phoenix. The National Young Farmer Achievement Award winner will have their choice of either a 2017 Chevrolet Silverado or a 2017 GMC Sierra, courtesy of General Motors, and a trip to the 2017 Young Farmer and Rancher (YF&R) Conference in Pittsburgh.
Fifth-generation farmers Ben and Susan Albright of Calhoun County were second-place finalists. The Albrights farm in partnership with Ben's dad and brother near Lytton. Ben is responsible for the crop farming side of the family's farm and manages the day-to-day operation at the family's cattle feedlot. Ben recently took over a local Pioneer dealership to help diversify his farm. Susan manages the farm's recordkeeping and is responsible for accounting and payroll.
The Albrights are active in the community and have held many leadership roles. Ben served as Calhoun County Farm Bureau president and both he and Susan are past members of the IFBF Young Farmer Advisory Committee. Susan is a member of the community library board and is active in the chamber of commerce and parent-teacher association.
The Albrights received parts on Site Bin (valued at $3,000), a 90-day NPNI John Deere Financial Certificate, and a $500 Fast Stop gift card from GROWMARK.
Adam and Brooke Drewelow, who farm near Fredricksburg in Chickasaw County, finished third in the Young Farmer Achievement contest. The Drewelows grow corn, soybeans, and alfalfa, and Adam also feeds cattle in a partnership with his dad. In 2010, Adam started a Precision Planting dealership, and provides installation and maintenance of farm GPS monitors and equipment.
Adam is a past president of the Chickasaw County Farm Bureau and was previously on the IFBF state resolutions committee. The Drewelows also served on the IFBF Young Farmer Advisory Committee.
As finalists, the Drewelows received a John Deere branded 23 cubic foot safe (valued at $1,000), a 90-day NPNI John Deere Financial Certificate, a $1,000 Grainger gift certificate, and an iPod from Farm Bureau Financial Services (FBFS).