Picking apples as alternative crop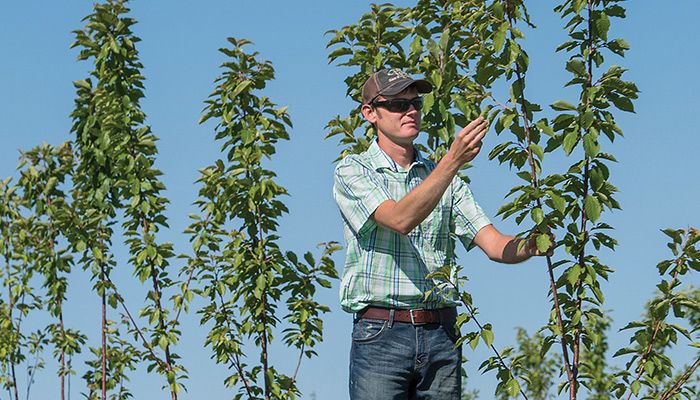 After driving past cattle pastures and farm ponds in rural Davis County, Heath Greiner stops his truck outside a 7-foot deer fence that surrounds a scenic farm near Bloomfield.
"Welcome to Jurassic Park," says Greiner with a laugh. He opens the fence gate to reveal, thankfully, not vicious dinosaurs but rather serene rows of newly planted apple and cherry trees.
A sturdy fence — the taller, the better — is a necessity to keep the deer out when you're starting an apple orchard in southeast Iowa's prime deer-hunting country.
"I call it the deer net," Greiner says. "When we first planted the orchard, (the deer) were destroying the trees. It took about two months to get the fence up."
Greiner, a 31-year-old cattle farmer and Davis County Farm Bureau member, says he planted the orchard as a long-term investment — both as a way to diversify his farm income and for his own future enjoyment, watching the trees grow and bloom in one of the most peaceful spots in Iowa.
Greiner is among a growing number of young farmers in Iowa who are diversifying their traditional row-crop farms by tapping into alternative ag opportunities — whether that's growing tomatoes in hoop houses, renting out goats for weed control or selling apples at the local farmers market.
"If (young farmers) have the time to do it and the manpower, and they can figure out their business plan, then they should definitely try different things," Greiner says.
Greiner says he planted the orchard with financial help and encouragement from an out-of-state investor, who owns the land but prefers to remain anonymous.
Greiner says he grew up working on a local apple orchard that pressed its own cider and thought he could build on that experience.
"It's something different, a different market," Greiner says. "You can sit around and watch the grain markets go up and down, the politics and the weather. We're so vulnerable here in southeast Iowa. Our weather patterns never seem to be the best. So I wanted to try something different, something that used to be."
In total, Greiner has planted about 500 trees on 3-1/2 acres. Most are apple trees, including popular varieties Gala, Honeycrisp, Zestar and Cortland. There are also about 100 cherry trees, which so far are growing well, Greiner says.
It will take about three years for the apple trees to start producing. Greiner says he plans to sell the apples and cherries at local grocery stores and farmers markets.
"The local-grown, farm-to-market thing seems to be the new trend that the public likes," he said. "And even with a few acres, the production off of this is going to be huge in a few years. We are going to have enough apples to feed southeast Iowa."
Return to
The Iowa Dish