Peas to meet you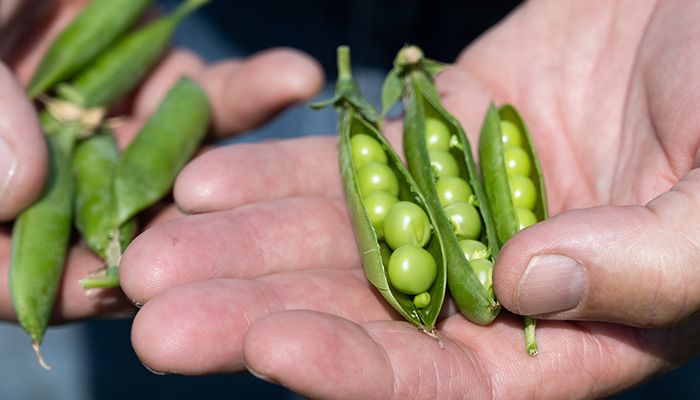 Frozen produce company Birds Eye contracts with Iowa farmers to grow sweet peas, an extra crop for participating farmers.

The sweet peas are planted in late March or early April and are harvested 62 to 63 days later, leaving time to plant soybeans behind them. That means extra dollars in the farmers' pockets, and Iowa freshness for the consumer.

The peas are flash frozen just off the farm to preserve the fresh taste of the Iowa growing conditions. Birds Eye prides itself on its product quality and environmentally sustainable practices, just as Iowa farmers do.

"It's been a good fit," says Brian Young, a Farm Bureau member who farms in Hamilton County.

Young says he and others in the area started growing sweet corn for Birds Eye several years ago. The effort then expanded to peas. Now several growers are on board, producing vegetables for the Birds Eye Waseca, Minnesota, plant.

Young is in his seventh year and has 115 acres committed to peas. The rest of his 1,500 acres of cropland support traditional crops of corn, soybeans and hay.

In Boone County, Farm Bureau member Greg Rinehart is in his ninth season growing with Birds Eye.

His family farm also grows sweet corn, asparagus, tomatoes and more. The Rineharts host a drive-in farmers market on their farm, northeast of Ogden, on Saturday mornings during the growing season.

Growing sweet peas requires some preparation and planning.

Birds Eye requires a five-year crop rotation for disease prevention.

"The rotation helps break the cycle and reduces the disease pressure on the other crops," Rinehart says.

Few pests are an issue in the early growing season.

The crop is fertilized much like corn, and the peas like well-drained soils.

Birds Eye does the planting, coming in with its equipment and crew, traveling from farm to farm to plant the peas and roll the field smooth.
"Then we just watch them grow," says Young. "They're beautiful when they're sprouting in early spring."

Approximately eight weeks after planting, Birds Eye returns to harvest the peas, running two crews in 12-hour shifts for 24 hours of work.

"The only downside," says Young, "is when they come to harvest, they harvest. Even in the pouring rain."

Another benefit is that peas can help prevent erosion, acting as a cover crop to hold soil in place.

Iowa holds an edge on the Minnesota growers in being able to plant soybeans or late sweet corn behind the peas.

The Iowa-grown peas are also high quality and often end up as a microwavable frozen product.

"I enjoy learning about a new crop, and it's neat to watch the peas grow and then see them in the store," says Young, proud to produce yet another crop for Iowa and U.S. consumers. 
Queck-Matzie is a freelance writer from Greenfield.

Return to The Iowa Dish