Partnerships move conservation efforts forward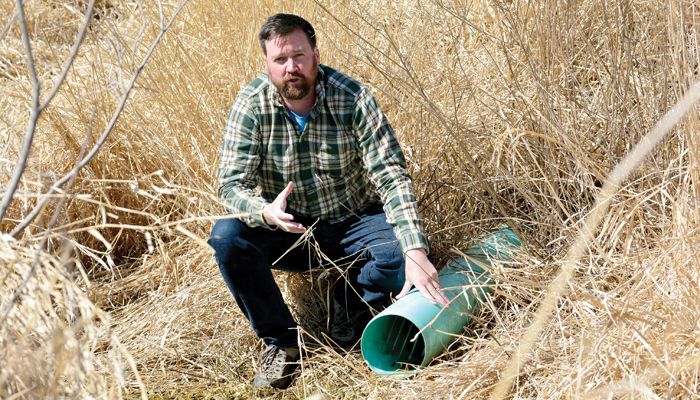 Environmental specialist Colton Meyer explains a watershed in a simple way to elementary students.
"It's like a bathtub," he says. "It doesn't matter where you point the shower head … it's all going to drain. All of these water droplets are eventually going to work their way down to the drain, and that's going to enter into another bigger body of water," which eventually will head to a lake or ocean, he says.
During the program, Meyer provides education about watersheds, conservation practices, water quality and soil preservation. "How water moves through (a watershed) and how we manage the land has a direct impact on what our water quality is," says Meyer, an Iowa Department of Agriculture and Land Stewardship (IDALS) environmental specialist based in Sioux County.
Educational interactions with students ­— coupled with conservation efforts in the region that fostered a project record of 5,586 acres of cover crops in 2020 — helped garner Meyer honors as the 2021 Watershed Coordinator of the Year from the Iowa Agriculture Water Alliance (IAWA).
Credit to farmers
Meyer says he's humbled by the recognition, paying credit for conservation efforts in the northwest Iowa region to those around him, including farmers, members of co-ops, schools and partners such as Farm Bureau and the Iowa Soybean Association.
"I have a really great team around me," he says. The farmers are truly engaged and actively involved in conservation practices to advance water quality initiatives and soil preservation, Meyer says.
"One of my priorities has been to expand the use of cover crops locally," he says. "A lot of guys every year are expanding their no-till or cover crops. We've got new farmers coming into the fold doing practices that they've never done before, which is really exciting."
Meyer's passion has always been helping farmers figure out their stewardship goals to preserve soil resources, and to improve water quality. "Take the land that's not so productive and enrolling that in other beneficial practices," he says.
Reducing tillage, minimizing manure application disturbance and adding cover crops are all practices that can hold soil in place and help water infiltrate the soil.
"When the water either runs off or when it infiltrates and runs to a tile line, that water's going to be clean; less nutrient loading is going to occur," Meyer explains.  "It's going to be better for us, better for wildlife, (reduce erosion) and improve water quality at the same time."
Meyer grew up on a farm north of Everly in Clay County, helping his dad on the farm and showing pigs in 4-H. He developed an interest in nature on walks with his mom, camping with his grandparents and hunting and fishing with his father.
"My whole family was engaged with the outdoors and agriculture," he said.
It led him to Iowa State University, where he earned an environmental sciences degree. He then farmed with his dad for a few years before accepting a job as watershed coordinator for the Sioux County Soil and Water Conservation District (SWCD) in 2016. His efforts centered on improving water quality of the Floyd River's west branch. In February 2020, he joined IDALS as a full-time environmental specialist.
He encourages farmers to view conservation as an entire systems approach. And as farmers add more practices, he's seeing companies jump on board to assist through investing in infrastructure and providing cover crop services.
"One of the biggest opportunities we have in Sioux County is the amount of livestock and the amount of cattle," Meyer explains. "There's a lot of corn grown that gets chopped for silage. That is the best opportunity to use cover crop, (and) that's where we've seen a lot of growth."
Future goals
Meyer said he's looking at additional partnerships and conservation education in the future, such as teaming with the Iowa Cattlemen's Association to outline the benefits of cover crops as a feed source for livestock.
Striking a healthy balance be­tween conservation and economics is a goal, he says.
"Ag is probably the biggest staple in our local economy," Meyer says. "I really like the idea of striking a balance between a robust local economy and high levels of production, but also being back in touch with what Iowa was like pre-settlement" with native grasses, flowers and biodiversity attracting different animals and species.
"That's something that is my goal — strategically locate native pockets of plants to help reduce soil erosion and improve water quality," he adds. He sees his efforts, and those of the farmers he works with, paying off.
"It's very rewarding," he says. "I feel like I'm making the land better. I'm helping to protect the local resources, and to protect them for future generations to enjoy."
Want more news on this topic? Farm Bureau members may subscribe for a free email news service, featuring the farm and rural topics that interest them most!