Orange you glad it's pumpkin season?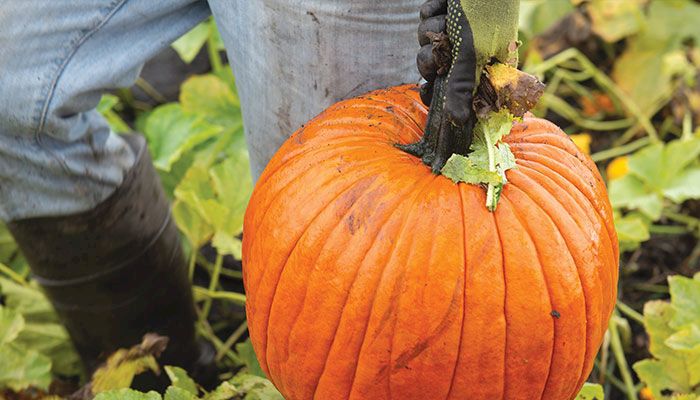 This hasn't been the best year for growing things. But if there's one thing Joanne Roepke Bode has learned in her 15 years of vegetable farming, it's how to be flexible.
Joanne Bode and her husband, Beany, grew up in rural Iowa, graduated from Iowa State University, and left to find their place in the world. Fifteen years ago, they returned to Beany's family farming operation near Algona. They planted vegetables and in 2006 began a Community Supported Agriculture (CSA) program.
Now 70 people receive a weekly box of garden goodies.
Bode's Moonlight Gardens
also sells at the Kossuth County Farmers Market.
"It's fun, but it's a lot of work," says Joanne. "It's a great business for someone who doesn't mind the labor."
When the Bodes moved to Algona, neighbors John and Helen Scuffham took them under their wing. Scuffham's Garden grows vegetables for farmers markets and pumpkins for a pick-your-own patch.
They also sold pumpkins wholesale across the state. When Scuffhams decided to retire from the wholesale business, they looked to Bodes to carry on.
"They trained us in how to grow the pumpkins and handed over all their customer contacts," says Joanne. And they helped work out the logistics of growing and selling more than 100,000 pounds of pumpkins per year.
The Bodes now raise 40 varieties of squash, gourds and pumpkins, including pie pumpkins and mini pumpkins, on 10 acres of farmland, selling them primarily to retail establishments.
"What (the Scuffhams) did was invaluable," Joanne says. "Not just for us, but as an example to other established growers. More people ready to age out need to reach out the way Scuffhams did. There are growers out there who are experts in their niche, survived the farm crisis of the 1980s, and are ready to transition. They have a lot to offer those ready and willing to step up."
Joanne says growing pumpkins is a different kind of farming, but it's still all about ag. The family works as a team.
Beany teaches biology part-time at his alma mater Bishop Garrigan High School in Algona. He uses the farm as an outdoor classroom. "It's not unusual to be out weeding or picking the vegetables and see a yellow bus pull in the yard," says Joanne.
Their oldest son, Hollis, a sophomore in high school, is hailed as the best pumpkin lifter. "With picking, loading, and reloading for sale, every pumpkin is picked up three times. That means we loaded 125,000 pounds of pumpkins last year," says Joanne. "That makes you pretty strong by the end of the season. Tired, but strong." Hollis's friends like to help as well.
At age 13, Violet does some of the lifting as well as vegetable washing and helps at the Farmers Market.
Henry, age 9, likes to help where he can and tries to keep up with the bigger kids.
"We hope our kids appreciate the things they produce by their own hand," says Joanne. "We know they appreciate the food we grow, although, being kids, they don't eat all of it."
Beany's parents, Russ and Maggie Bode, pitch in as well, weeding and driving the tractor for harvest and planting. Russ built the pumpkin planter out of old farm equipment and a couple of desk chairs. Maggie provides fresh bread and homemade cheese to those working in the patch.
"Harvest is a fun and busy time," says Joanne. "We usually pick the pumpkins at dusk, so we're out there under the beautiful night sky, riding the trailer through the night to the house."
The Bodes may eventually open a pumpkin-picking patch. They also may grow mushrooms, and have experimented with micro-greens. Two acres of woods on the farm seem to be screaming to become a haunted forest. "We're never short on ideas," says Joanne.
Queck-Matzie is a freelance writer from Greenfield.
Want more news on this topic? Farm Bureau members may subscribe for a free email news service, featuring the farm and rural topics that interest them most!