Officers elected to lead Iowa Farm Bureau's 2023-24 Young Farmer program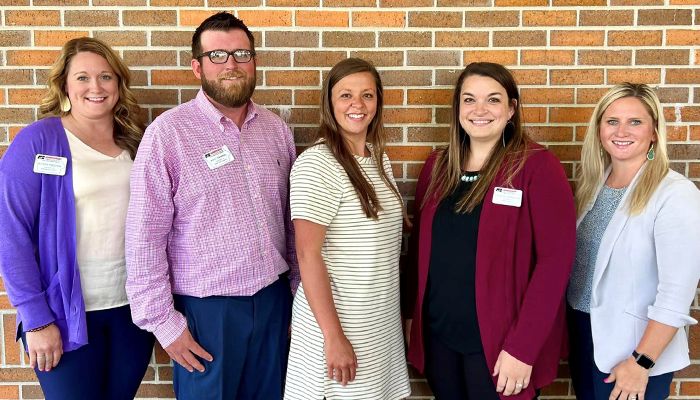 The Iowa Farm Bureau Federation Young Farmer Advisory Committee elected officer positions for 2023-24:
Vanessa Trampel, Hancock County, Chair
Kody Trampel, Hancock County, Vice-Chair
Alyssa Preston, Warren County, Secretary
Megan McAllister, Dubuque County, and Ashley Thompson, Story County, PR Co-Chairs
Officers, along with the entire committee, plan the Iowa Farm Bureau Young Farmer annual conference, which draws 500 agriculturalists across the state in learning and networking. They also organize educational opportunities and family-friendly events in their local communities.
Vanessa and Kody Trampel raise corn, soybeans, alfalfa, hogs and cattle. Vanessa has an off-farm job as a licensed practical nurse, and Kody is a regional sales manager for a seed company. Vanessa is also an Iowa Farm Bureau Ag Leaders Institute graduate. The couple enjoy taking their two children to livestock shows around the state and keep busy in their community by serving on the North Iowa Ag in the Classroom committee. 
Alyssa Preston is a district field manager for Iowa Corn, assisting with local corn board activities and committees. She shares two children with her husband, Zac, who is a shop manager for a local ag service center. Preston serves on the Warren County Extension Council and volunteers with the Warren County Fair. 
Megan McAllister is a dairy farmer who is passionate about sharing her on-farm story via TikTok with her husband, Ted. McAllister is active in state and local dairy promotions and has helped supply dairy products to local food pantries. She is an Ag Leaders grad and a 2021 Iowa Farm Bureau Young Farmer Leadership Award recipient. 
Ashley Thompson raises cow-calf pairs and direct markets beef with her fiancé, Michael McEnany. She's a program specialist at Iowa State University and works part-time at Whatcha Smokin,' a popular barbecue destination in Luther. Thompson serves on the Story County Cattlemen's board, helping plan their annual banquet that benefits fair youth programs. She also supports the local food pantry through yearly produce donations from her garden.
For more information on the Young Farmer program, visit www.iowafarmbureau.com.