Off to a strong start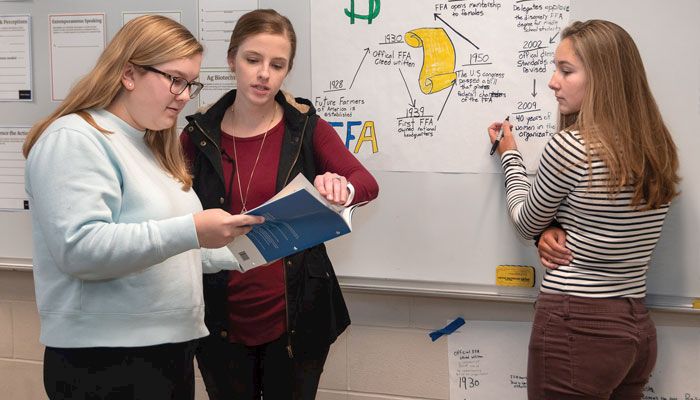 Clear Lake High School's agriculture program and FFA, launched by the north central Iowa district last fall, is off to a strong start thanks to an energetic and talented young teacher, support from the school district's administration and strong backing from the community.
The new Clear Lake ag programs have also benefited from the vision and drive of Jennifer Cash, a former Cerro Gordo Farm Bureau president, who passed away last year after a battle with cancer.
"She was really the driving force behind getting the program started," said Elisa Russ, ag teacher and FFA advisor for the Clear Lake schools. "And when you have community support like that, it really means so much to a new program like this one."
"Jennifer was really our inspiration," added Olivia Brcka, who is a junior at Clear Lake and the FFA reporter. "We really know that this is something that she wanted to happen."
Although she grew up on a farm, Cash didn't have the opportunity to have agriculture classes and join FFA when she attended Clear Lake High School because none were offered then. That was something she wanted to change for future generations, said Charlie Norris, Cash's father and former District 2 director for the Iowa Farm Bureau Federation (IFBF).
"As she became more involved with Farm Bureau through the IFBF Ag Leaders program and other community activities, she saw the need for developing good, young leaders in agriculture," Norris said. "She saw the leadership aspect of FFA as a very important part of building that leadership capability in young people."
Farming with her husband, Todd, and worked as an executive at a local bank, Cash also knew the importance of teaching young people in the community the importance of agriculture and food production. She participated in Ag in the Classroom and other programs to help build a knowledge and appreciation for farming throughout the Clear Lake schools.
"She wanted people in the community to know where their food came from and that it was responsibly raised. She also wanted to show all of the science that goes in the farming today," Norris said.
Cash's interest in starting an ag program at Clear Lake fit perfectly with the vision of Doug Gee, who started as the district's superintendent in the fall of 2016. He had started ag classes and FFA in his previous job at Boyer Valley in western Iowa and believed that Clear Lake High School would also benefit from an agriculture classes and FFA.
"We talked about it when I first started here, and Jennifer really took the ball and ran with it to build community support," Gee said.
That community support and fund raising allowed Clear Lake to fund the new ag program independently for three years, he said.
There are 78 students enrolled in ag classes and in FFA at Clear Lake. Interest in ag programs also strong in middle school, Russ said.
That rapid growth the program, she said, highlights the students' interest in agriculture and ag-related fields. "Clear Lake is sort of thought of as a recreational community, but it has very strong roots in agriculture."
Clear Lake High School students said the new ag programs, along with FFA, have opened new opportunities in learning and leadership development.
For senior Jessica Theobald, who is FFA vice president, the new ag classes and FFA fit perfectly with her plan to major in animal science at Iowa State University (ISU). "I've been riding horses since I was seven, but ag classes are helping me learn about animal science and different livestock species," she said. "It's really helping me get ready for college."
Brcka, a neighbor of the Cashes, said she's excited about the leadership opportunities she's gained from being in FFA. "Being in FFA has really helped me develop those skills and give me the confidence I need to be a leader," she said.
For Russ, who was hired at Clear Lake before she graduated from ISU, starting in a new program has been exciting, and a little scary. However, with a dad and older sister who are both high school ag teachers in Iowa, she had a lot of experience to draw on.
"It was tough to start from scratch, but it was also good. I didn't have any preconceived notions about what to do, so I could start fresh," Russ said.
The support of the Clear Lake community has been instrumental in the success of the ag program, Russ emphasized. Beyond raising funds, people around Clear Lake have offered to host field trips, provide job knowledge and have volunteered to conduct mock job interviews for students.
"The community has really been a big part of our success," Russ said. "It's really been amazing."
Want more news on this topic? Farm Bureau members may subscribe for a free email news service, featuring the farm and rural topics that interest them most!